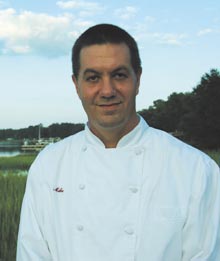 The Culinary Master of Emily's returns to his Sea Island roots with his new gig at Factory Creek Fish Company

Mark Shaffer: What were the biggest challenges in putting this menu together and setting it apart from Emily's?
Chef Mike Long: We definitely wanted a seafood restaurant focusing on fresh local ingredients and seafood. Putting things together wasn't all that difficult. I grew up just a mile down the road and everything I grew up on was definitely not from Australia or Japan. I wanted to give our customers an idea of what our local seafood is all about and support our local fisherman as much as possible.
MS: Apart from the fish, there are some unique menu items. The Café con Carne caught my eye.
CML: That evolved out of something my friends and I do at cookouts. We had some steaks and after a little red wine one thing leads to another and we pour in a little of this or that to see what happens. For this we were sort of inspired by the Steak Au Poivre at Emily's, but I needed ground peppercorns. Problem is I don't have any ground peppercorns. But I've got some ground coffee. Let's try that mixed with the red wine. And since we have this wonderful Roquefort dressing why not put a little of that on top? It just works perfectly. The way it fits together, you're going to love it.
MS: When you sit down for a meal here what are some of your favorite things, the things that you'd really identify with Factory Creek?
CML: That's tough. I love them all. But I would have to say either the Jambalaya or the Café con Carne. It's a toss up. I can't pick one or the other.
MS: Indecision is a good thing in this case.
CML: Actually, I'd like to put that steak right on top of the Jambalaya.
(Laughs)
MS: Maybe we should try that.
CML: You know what? It could work.
MS: You grew up just a mile down the road. Is this something you've always wanted to do?
CML: Absolutely. We used to come down to this dock as kids and toss cast nets and swim – and we'd get run off every once in a while – but you couldn't find a better place to grow up on the water. You learn a lot about local food and how to cook it especially when your mother's cooking it and she instills in you how it's done and how it should be.
And it's so beautiful here. I don't think I could leave if I had to.
MS: This is a pretty relaxed atmosphere. You've got a great bar and deck, a spectacular view. The experience here seems quintessentially Lowcountry.
CML: It is. We get a lot of locals who bring in visitors from all over and we try to be as friendly as possible. I think people see that.
We had a couple from Belgium in here last night. They're traveling all over the United States and they came in and had some local seafood and loved everything. We ended up having a conversation and they wanted to know where they could rent a kayak. I happen to have one under the building so I offered it to them. They're out on the water right now.
Read more about Factory Creek Fish Company (FC2) at Moveable Feast