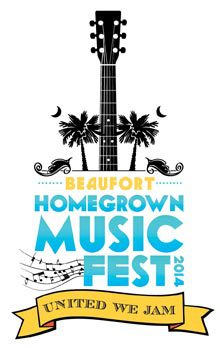 Two days of great music, lots of good food and plenty of local arts and crafts await attendees of Beaufort's own "Homegrown Music Fest" at USCB Center for the Arts on Friday and Saturday, June 6 and 7.
From the opening concerts on the lawn at 1:00 pm to the last performances in the Center for the Arts theatre at 8:40 pm, festival goers will be treated to an exceptional variety of local musicians, from country and western to blues and jazz, with a different lineup of entertainers each day. Attendees are encouraged to purchase a $10, "All Access Pass" for each day they attend, which includes the evening concerts from 6:40 to 8:40 pm in the theatre. The outdoor concerts on the lawn from 1:00 to 5:40 pm are free of charge.
Annual Regional Festival envisioned
"Our vision for this event is to create an annual festival for regional area musicians, bands and music lovers to share their mutual appreciation for great music, food and crafts in an accessible and affordable venue," said Bonnie Hargrove, Director from USCB Center for the Arts. As the festival grows, CFA anticipates having more musicians and attendees from the surrounding counties of Jasper, Hampton and Colleton well as Beaufort.
All-Local Foods, Arts and Crafts
There will be all-local food vendors from 1:00 to 7:30 pm each day, with a wide selection of festival favorites. The Jaycees will sell beer, and CFA volunteers will have sodas and water for sale. No coolers will be permitted during the event but folding chairs and blankets are encouraged to stake out the good spots in front of the Outdoor Stage. An Arts and Crafts Market will be open from 1:00 to 7:30 pm each day, displaying the work of all-local artisans. Sponsoring this new event for USCB Center for the Arts are "Eat, Sleep, Play Beaufort," Beaufort Lifestyle Magazine, and 94.5 the Coast! radio. Sponsorships are still available to local businesses who would like to be a part of the music festival.
Line-up of entertainment
Friday's Outdoor Stage will feature the following musicians: 1:00 – Eric Daubert; 2:10 – The Marine Corps Band Jazz Ensemble; 3:20 – SWIG 4:30 – Far Gone; 5:40 – Amber and the Fossils. Indoor Theatre Stage: 6:40 – The Groovetones; 7:40 – Brewer Band; 8:40 – Bootless.
Saturday's Outdoor Stage: 1:00 – Irene Goodnight; 2:10 – Redemption House; 3:20 – Rick Hubbard, the Kazoobie guy with a concert for kids; 4:30 – Sometimes Later Band; 5:40 – Shark Rodeo. Indoor Theatre Stage: 6:40 – Sweetgrass Angels; 7:40 – Reckless Mercy; 8:40 – Bullgrapes. Performing artists are subject to change. Details are available on the Beaufort Homegrown Music Festival Facebook and CFA's website at www.uscbcenterforthearts.com .
All Access Passes are only $10 per person per day, and include the evening concerts. Get your tickets early since space is limited inside the theatre! Passes will also be available at the Box Office. There will also be drawings for prizes throughout both days of the festival. All proceeds from ticket sales will benefit USCB Center for the Art's programming for the 2014-2015 year to bring even more great entertainment to the Beaufort area.
Event parking
The USCB Campus is located at 801 Carteret St. in downtown Beaufort.
Washington Street between USCB buildings and the theatre complex will be closed off for the festivities. Attendees can park in other USCB lots, along Carteret Street and at the Baptist Church of Beaufort at the corner of Charles and King Streets. Also, the campus is a short walk from downtown Beaufort parking facilities.
Tickets and information
For more information call the Box Office at 521-4145 weekdays between the hours of 10:00 a.m. and 3:00 p.m. For tickets go to the website at www.uscbcenterforthearts.com.