MARK SHAFFER & Friends Do Lunch (& Happy Hour) at NIPPY'S FISH
Editor's note: Each month Lowcountry Weekly invites you to dinner. Or lunch. Maybe even breakfast. This is not a restaurant review. The Big Idea (with apologies to Ernest Hemingway) is to provide you, dear reader, with a vicarious culinary experience, to share something of our rich and diverse food culture and the individuals who labor so hard to put it on the plate. Our "moveable feast" is a sort of loosely organized, roving dinner party seeking out the best eating experiences the Lowcountry has to offer – high end, low end and every end between. We are dedicated, we are hungry and the food is out there.

"Cuisine is only about making foods taste the way they are supposed to taste."
– Charlie Trotter , famous chef
Prologue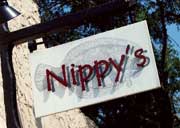 Consider for a moment the noble potato – rich in essential vitamins and minerals, fat free, incredibly versatile, occasional source of political controversy (freedom fries?) and Vice Presidential spelling gaffes (Mr. Quayle's potatoe). Americans consume an average of seventy-three pounds of potatoes per person per year. We love them baked, mashed, hashed, chipped, whipped, roasted and boiled, but most of all we love them fried – french fried. Yeah, that's right, pommes frites , mes amis. Here too, this most versatile of vegetables comes in a staggering variety of styles. To paraphrase Bubba Gump, you got your curly fries, home fries, jojo fries and crinkly fries. There are waffle-cut fries, steak fries, seasoned fries and the ironically named oven fries, which aren't really fries at all. In Baltimore fries come with gravy. In Quebec they add melted cheese curd and mayonnaise for poutine . But our starchy hearts belong to a long, thin cut tater commonly called shoestring or shoe fries. This is what the fast food industry has been trying to get right since Ronald MacDonald was just a gleam in Ray Kroc 's eye.
The simple, ubiquitous fried potato says a lot about a restaurant. They're sort of like culinary fine print. Sitting in the warm breeze at Nippy's Fish awaiting the arrival of my fellow Movable Feasters, the fine print promises good things to come.
The Lowdown
Location: Nippy's Fish, 310 West Street, a block and a half off of Bay, between Port Republic and Craven.
Atmosphere: Back street, family oriented, laid back Lowcountry casual.
Motto: "Tell 'em Nippy sent you."
Cuisine: Fresh local seafood, burgers & dogs.
Alcohol: Beer and wine.
Hours: Monday – Wednesday 11am – 3pm, Thursday & Friday 11am – 9pm, Saturday 11am – 3pm, closed Sunday.
Etcetera: Weekly/seasonal specials. Live music Thursday and Friday from 5:30 – 8:00. Kids and dogs welcome.
When Robin and Diana McGrath found out that a throwback little fish shack was up for sale in historic Beaufort, they couldn't resist the temptation. Besides, the timing seemed right. "We came in when we were looking to get back in the [restaurant] business. We liked the idea of a relaxed, nice little place where it was fun without the long hours." The McGraths had logged plenty of long hours in their Fripp Island establishments, the Sandbar, Savannah's Lounge and the Cabana Club. But after a break from what everyone from dishwashers to owners simply refer to as "The Industry," they were shopping around. "We wanted to be back into it but not into a full scale, upscale restaurant," Diana explains.
What? And forsake that glamorous ninety hour a week lifestyle for, well, a life?
"We wanted to have fun and meet people again." She pauses with a grin, "And make some money. Let's put it this way, we're too young to retire. When we found this place we knew it would be work, but it had…" she pauses to search for the word I already know will pop from her mouth, "… character." Bingo.

On tape:
Shoestring fries. You never see 'em.
Nobody does these.
(Pause as all dig in)
They're pretty close to perfect.
Not too crisp, not too – uh-
I love the little fries.
And malt vinegar. Nice touch.
I rest my case.
The Coleslaw's Good, Too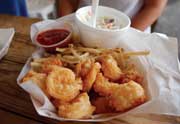 Nippy's (named for a relative of original owner, Lantz Price) is barely a decent shout off of the bustle of Bay Street up West. In a previous incarnation the place was called Bay Street's Back Porch, and that's pretty much how it feels. The old cement block building has been dressed up in stucco, a tin roof covers the open air patio. Inside you can order from the counter or grab a stool by the window in air conditioned comfort. Outside, where an armada of tables spill out into the adjacent parking lot, the comfort level is still up to the discretion of Nature, a fan the size of a World War II fighter prop and the shade of a live oak tree. Thursday and Friday evenings crowds gather at the picnic tables to down shrimp sliders and cold beer and hear live music by local talents like Irene Goodnight, Eric Daubert and Jimmy Basso. "When the weather gets cooler and our hours get longer on Saturdays we might have music on Saturdays, as well," says Diana.
"We're really looking forward to the fall. We're working with the city to make the patio a year round thing with heaters and the like." Robin and Diana would eventually like to have the option of fully enclosing the space against foul weather. "We want to make it a real locals' hangout."
The idea with these gatherings is to try a little bit of everything – or as much of everything as we feel we can get away with. The tasting menu usually includes a mix of the restaurant's choices and our own picks right off the menu. Diana and Robin choose the shrimp basket (a given) and the "back by demand" Philly cheese steak (not so much a given). The table also opts for the fish taco, the shrimp sliders, a mini-burger with the works and one of Moe's Famous Shrimp Dogs , a Nippy's exclusive.
We're outside under the shed and in spite of the temperature, between the shade, the Corsair propeller and a river breeze, it's pleasant. A Sea Island Carriage Tour clops past the historic Tabernacle Baptist Church on Craven. Red tin roofs and white-washed antebellum porches contrast the greens and grays of live oaks and Spanish moss .
On Tape:
Alright, the fried shrimp basket?
Light. The batter is light. The shrimp are –
Large. Large and juicy.
Yeah, that's a lot of shrimp for a basket.
To me they're perfectly cooked, sweet in the middle.
That's the best fried shrimp I've had.
I can't remember the last time I had fried shrimp like this.
Never?

The shrimp basket ($8.25) is an instant hit. The shrimp are indeed fat, sweet, plentiful and perfectly cooked. This is a table of shrimp lovers, save one, and the consensus opinion is four stars. I am a die hard aficionado of certain sub-species of wild caught Decapoda , particularly Penaeus setiferus, our indigenous and delectable Atlantic white shrimp . In four decades of relentlessly unapologetic shrimp gluttony I have witnessed all manner of culinary horrors visited upon these delicate creatures, most commonly in the fryer. The crimes usually share a common culinary "m.o.": anorexic crustaceans entombed within grease-soaked sarcophagi of batter or breading. I was once served tempura shrimp without the shrimp. No kidding. Nippy's shrimp, on the other hand, goes to the head of the class.
Robin obviously knows his way around the fryer – and the grill. The Philly cheese steak ($7.95) takes us seven hundred miles straight up I-95 without apology. The seasoned chopped rib-eye is piled on the bun with grilled onions, red and green peppers then topped with gooey, melted goodness to hold it all together.
On Tape:
This is outstanding. Don't you think?
This is an outstanding Philly cheese steak.
So, "outstanding" is how you'd describe it?
Outstanding. It's a keeper.
Outstanding, then..

The shrimp dog is a surprise hit with the seafood contingent ("it's so very…shrimpy") and Nippy's is the only place in town where you can order up one of Moe Phifer's locally made crustacean innovations with a side of slaw and fries for $7.95. In the land of shrimp burgers, why does a shrimp dog seem so strange? This is a real treat. The key is to avoid the usual impulse to drown it in some sort of condiment. Moe's dogs are real, fresh wild-caught shrimp and you can taste it.

The fish taco, shrimp sliders and the mini-burger cross into the realm of tapas – smaller portions eaten as appetizers or combined to make a meal. None disappoint. The fish taco ($2.95) is a soft tortilla filled with a choice of fried or blackened flounder topped with Pico de gallo and a zesty lime chipotle sauce. There's a fried shrimp version as well. The shrimp sliders ($7.95) – Nippy's riff on the shrimp burger – come two to a basket with fries and slaw. This is perfect Lowcountry pub grub. You need a cold barley-based beverage in order to fully appreciate any of these. Hmm, by coincidence…
And then there is the so-called "mini-burger."
On Tape:
Is that the mini-burger?
That's a regular burger, isn't it?
That's huge.
It's a big "mini."
You're getting what you pay for.
Wow, now that's a burger.


It is also a thing of beauty – literally – this is one sexy burger. Just look at it lying there on it's soft, fresh bun dressed to the nines with thick, juicy slices of tomato and red onion, lettuce, pickles, a velvety golden slab of melted cheddar and – could it be? – sliced jalapenos? Somebody slap me. This is the kind of burger that inspired Jimmy Buffett to write that damn song . And it's the mini? I'm beginning to sense a pattern here, one that has a lot to do with quality, value and pride, three things often mutually exclusive to the American restaurant experience. Food is not entertainment.
Another meeting of the Moveable Feast reluctantly adjourns. Diana and Robin have ushered some new converts into the fold. Giddy with fried shrimp and the sinister perfection of this "mini-burger" they stumble away perhaps a bit spoiled for the remainder of the day. Me? I'm a writer. The writer hangs out.
Later, that very afternoon
I used to live in the Northwest surrounded by water and surreal landscapes which begged to be enjoyed out of doors and preferably with bar service. Oddly, such venues were not only hard to come by, but almost always overpriced, understaffed, overrated and generally not worth the effort. Here, I sit under a mossy oak, sipping a frosty beverage in the shade, surrounded by history, mere blocks from home and work, watching Irene Goodnight and a friend set up speakers and amps under a picnic tent. Buffett's criminally underrated "Havana Daydreamin '" wafts through the patio sound system.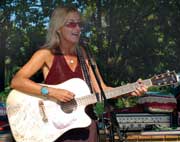 "It's a great place for people to come on Thursday and Friday after work and relax, listen to music, sing along," Irene tells me. "I encourage people to sing along." The late afternoon sun arcs over Charles Street. A few regulars show up to listen to Irene. Robin and Diana take a break. It's been about a decade since the pair pulled up stakes near the shores of Lake Erie and headed to Beaufort.
"We've met a lot of interesting people," she tells me, "particularly since we've had stores like this."
Meaning you're used to a fairly high "character quotient?" I ask.
"Oh yeah."
"Welcome to the South. We call it 'colorful.' It's a cottage industry."
I can't help but wonder how two transplanted Midwesterners managed to get this place so right, to capture something of that informal essence floating in the thick air off the marsh.
"It's the restaurant business," she says. "If it's in your blood, it's in your blood. It is definitely in my blood. Robin enjoys it and we have fun with what we have." Now that truly is the Lowcountry lifestyle.