"Song of the South your music weaves a magic spell. Song of the South, I see the scenes I know so well. Cottonwoods in blossom over my cabin door, pale moonlight on a field of white, you bring them back once more. I seem to hear those gentle voices calling low, out of the long, long ago. This heart of mine is in the heart of Dixie. That's where I belong. Singing a song, a Song of the South." – By Sam Coslow
This time of year always makes me a bit nostalgic. Growing up in eastern North Carolina, the month of May brings back memories of tobacco and cotton fields just starting to turn green and flower. Back in the day, harvesting for both used to begin at just about the same time that industrious teenagers got out of school for the summer. In the late 1970's and early 80's, many of my friends made ridiculously huge amounts of money "putting tobacco on sticks" during our summer vacations. My son-of-a-tobacco-farmer Daddy wouldn't let me toil in the barns, so I made my summer cash by sewing sundresses for my newly wealthy and hard-working girlfriends. If you look in a 1981 yearbook from any of the three high schools in Wilson County, you'll see multiple examples of my handiwork. I think a lot of people believe that North Carolina and South Carolina are pieces of the same puzzle. In reality, the Carolinas are two different planets. I love the scent of South Carolina pluff mud, but sometimes my heart aches for a whiff of cured tobacco and freshly turned North Carolina soil. This week's recipes are some of my favorites from both of the Carolinas. (photography by Mark Shaffer)
Pimento Cheese and Cornbread
16 ounces sharp cheddar cheese, grated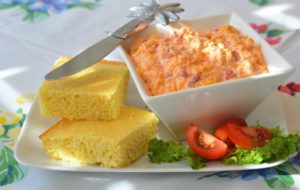 1 (8-ounce) jar chopped pimentos, drained
¼ teaspoon cayenne pepper
Combine all ingredients in a medium bowl. Stir with a fork until thoroughly mixed. Chill for at least 2 hours before serving.
1 tablespoon baking powder
2 tablespoons butter, melted
Preheat oven to 350 degrees. In a large mixing bowl, stir together cornmeal, flour, sugar, baking powder and salt. In a medium bowl, whisk together vegetable oil, melted butter, eggs and milk. Make a well in the center of the flour mixture and pour in the wet ingredients. Stir just until mixture is moistened. Pour batter into a lightly greased 8×8-inch baking dish and bake for 20 to 25 minutes, until top is golden and toothpick inserted in center comes out clean.  Serves 6.
Buttermilk Chicken and Waffles with Maple Gravy
4 boneless, skinless chicken breast halves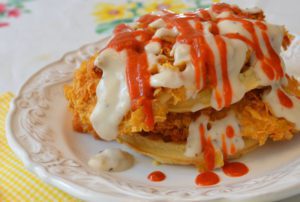 2 cup corn flakes cereal, crushed
1/3 cup grated Parmesan cheese
1 tablespoon mustard powder
½ teaspoon cayenne pepper
4 tablespoons butter, melted
Marinate chicken in buttermilk for a least 8 hours. Preheat oven to 350 degrees.  Combine cereal, cheese, mustard powder, garlic salt, and pepper in a shallow dish or pie plate.  Shake excess buttermilk from chicken and dip each piece in the cereal mixture, coating well on both sides.  Place chicken on a baking rack on a foil-lined baking sheet. Spay the rack with cooking spray.
Drizzle chicken with melted butter.  Bake for 35 to 40 minutes or until chicken is golden brown and cooked through.
Combine flour, soda and salt; set aside. Combine egg yolks, buttermilk and butter; add to flour mixture, stirring briskly until blended. Beat egg whites (at room temperature) until stiff peaks form; carefully fold into batter. Bake in preheated oiled waffle iron.
1 (2.64-ounce) package country gravy mix
Prepare gravy mix according to package directions. When gravy is thickened, stir in syrup and heat through.
To assemble chicken and waffles:
Place of piece of chicken on top of a waffle and drizzle with generous amounts of maple gravy. Garnish with shredded cheddar cheese, crumbled bacon and/or hot sauce, if desired. Serves 4.
Southern-Style Broccoli Salad
1/3 cup sugar
2 tablespoons white vinegar
1 large bunch broccoli, cut into florets
8 to 10 slices bacon, cooked and crumbled
Stir together first 3 ingredients in a small bowl.  Cover and chill the dressing for at least 3 hours.  Mix broccoli, red onion, raisins, bacon and pecans. Toss gently with dressing to coat.  Serve with a slotted spoon. Serves 4 to 6
2 tablespoons butter, melted
½ cup self-rising flour
1 (29-ounce) can sliced peaches
Preheat oven to 350 degrees. Pour melted butter evenly into a one-quart baking dish. In a small bowl, mix together flour, sugar, milk and nutmeg. Slowly pour the flour mixture into the baking dish. Pour the can of peaches into the center of the flour mixture. Bake, uncovered, for 30 to 40 minutes or until cobbler is lightly browned. Serve warm. Serves 6 to 8.
1.25 ounces bourbon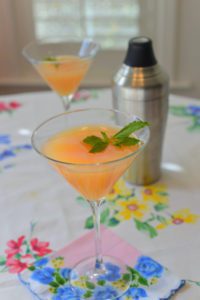 2 ounces freshly squeezed ruby red grapefruit juice
Fresh mint leaves, to garnish
Combine bourbon, grapefruit juice and ginger liqueur in a martini shaker. Add ice and shake. Strain into a martini glass. Garnish with a fresh mint sprig. Serves 1.
The writer owns Catering by Debbi Covington and is the author of three cookbooks, Celebrate Beaufort, Celebrate Everything! and Dining Under the Carolina Moon. For more great recipes and to view her cooking demonstrations, visit and subscribe to Debbi's YouTube channel. Debbi's website address is www.cateringbydebbicovington.com. She may be reached at 843-525-0350 or by email at dbc@cateringbydebbicovington.com.