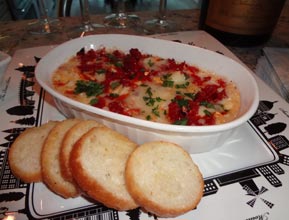 I developed a fascination with French food in high school when our French III class learned how to prepare a number of classic French dishes. French cuisine offers a rich experience that ranges from simple, rustic country dishes to elaborate gastronomic feats.
With basic cooking techniques and a little practice, you can begin enjoying authentic French cuisine in your own kitchen in no time. The recipes and photos this week are from a "Taste of Paris" brunch that I donated to HELP of Beaufort's auction last year. Each course was paired with a French wine donated by Larry Bernard of Dataw Island. Bon Appetit!
Baked Brie Dip with Sun-Dried Tomatoes (above)
1 (16-ounce) package brie cheese
1 cup sun-dried tomatoes, packed in oil, drained
2 cloves garlic, minced
1 teaspoon fresh thyme leaves
Freshly ground black pepper
Remove rind from brie. Cut brie into chunks. Drain tomatoes well and chop into small pieces. Mix tomatoes with brie, garlic, thyme and pepper. Stir to combine. Bake in a small casserole dish for 20-25 minutes or until brie is bubbly and melted. Serve with crostini. Serves 6.
Mesclun Salad with Pears and Blue Cheese  
¼ cup extra-virgin olive oil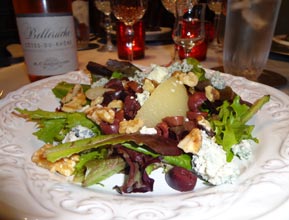 2 tablespoons red wine vinegar
1 teaspoon honey
1 teaspoon Dijon mustard
1/8 teaspoon salt
1/8 teaspoon black pepper
1 (5-ounce) package mixed salad greens
½ cup chopped walnuts, toasted, divided
1 Anjou pear, sliced
½ cup blue cheese crumbles
Whisk oil, vinegar, honey, mustard, salt and pepper in a small bowl. Set aside. Place lettuce in a large bowl; add half of the walnuts. Pour dressing over lettuce; toss until coated. Place equal amounts of salad onto 4 plates. Top each evenly with pear slices, blue cheese and remaining walnuts. Serve immediately. Serves 4.
Chicken Crepes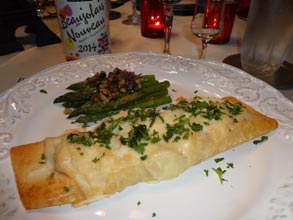 For the crepes:
1½ cups milk
1 cup all-purpose flour
2 eggs
1 tablespoon vegetable oil
¼ teaspoon salt
Combine milk, flour, eggs, oil, and ¼ teaspoon salt. Beat until well mixed. Heat a lightly greased skillet. Remove from heat. Spoon in 4 tablespoons of the batter; lift and tilt the skillet to spread batter. Return to heat; brown one side only. Invert pan over paper towels; remove crepe. Repeat with remaining batter, greasing skillet occasionally.
For the filling:
3 cups finely chopped cooked chicken
1½ cups freshly grated Parmesan cheese, divided
¼ pound chopped fresh mushrooms
1 tablespoon butter, melted
½ teaspoon salt
¼ teaspoon pepper
¼ teaspoon ground nutmeg
1/3 cup butter
1/3 cup all-purpose flour
3 cups milk
1 cup whipping cream
Combine chicken and 1 cup cheese; set aside. Saute mushrooms in 1 tablespoon melted butter until tender. Stir in salt, pepper and nutmeg. Melt 1/3 cup butter in a heavy saucepan over low heat; add flour and cook 1 minute, stirring constantly. Gradually add milk; cook over medium heat, stirring constantly, until thickened and bubbly. Stir in whipping cream. Combine chicken mixture, mushroom mixture and 2/3 cup sauce, stirring well. Spoon 1/3 cup mixture into center of each crepe, and roll up tightly. Place crepes, seam side down, in a lightly greased baking dish. Pour remaining sauce over crepes and bake in a preheated 350 degree oven for 25 minutes. Sprinkle with remaining ½ cup parmesan cheese and bake for an additional 5 minutes. Serves 8.
Individual Apple Crisps with Crème Anglaise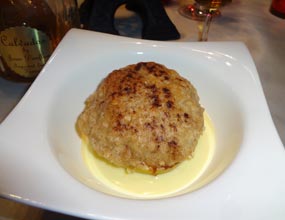 For the cream sauce:
1½ cups heavy cream
1/3 cup sugar
4 large egg yolks
Pinch salt
1 teaspoon vanilla extract
Combine the cream, sugar and salt in a large saucepan. Cook over medium heat until sugar is melted and cream begins to steam. Remove from heat. In a medium bowl, whisk egg yolks with vanilla extract. Slowly pour ½ cup of the hot cream mixture into the egg mixture, whisking steadily to combine. Then, pour the rest of the cream into the egg mixture, whisking steadily to combine. Place a fine mesh sieve over the saucepan. Pour the egg and cream mixture through the sieve, back into the saucepan, to remove any bits of egg that may have curdled. Place the saucepan on medium heat. Stir constantly to make sure the cream doesn't scald. Continue stirring until the mixture thickens enough to fully coat the back of a spoon as is smooth as silk. (You can also check the temperature with a candy thermometer. It should be at least 156 degrees and not exceed 175 degrees. The higher the temperature, the thicker the final cooled custard will be.) Refrigerate until ready to serve. Crème Anglaise will keep refrigerated for about one week.
For the apples:
2 large red cooking apples, halved
2 large green cooking apples, halved
2 tablespoons lemon juice
¼ teaspoon ground cinnamon
¼ teaspoon ground ginger
1/8 teaspoon ground nutmeg
2/3 cup all-purpose flour
½ cup quick-cooking rolled oats
3 tablespoons sugar
3 tablespoons packed brown sugar
¼ teaspoon salt
½ cup cold butter, cut into pieces
Preheat oven to 375 degrees. Grease a 2-quart baking dish; set aside. If necessary, slice a small bit from the peel side of the apples to make them lie flat. Using a melon baller, scoop out the seeds and a bit of the surrounding flesh, making a hollow cavity. Arrange apples, skin side down, in prepared dish. Brush apples with lemon juice. In a small bowl, combine cinnamon, ginger and nutmeg. Sprinkle evenly over apples. In a medium bowl combine flour, oats, sugar, brown sugar and salt. Using a pastry blender, cut in butter until mixture resembles coarse crumbs. Divide crumb mixture evenly among apples, stuffing firmly into the apples' cavities and then mounding over the tops of the apples. Bake apples 25 to 30 minutes or until topping is brown and apples are just tender. To serve, place desired amount of crème anglaise in serving bowls. Top with a hot apple. Serves 8.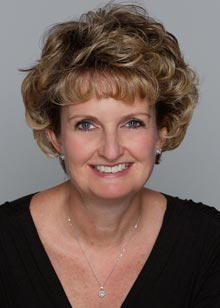 The writer owns Catering by Debbi Covington and is the author of two cookbooks, Gold Medal Winner of the Benjamin Franklin Award, Celebrate Everything! and Dining Under the Carolina Moon. Debbi's website address is www.cateringbydebbicovington.com. She may be reached at 525-0350 or by email at dbc@cateringbydebbicovington.com.