After many months of hot and humid temperatures, our Lowcountry summer is finally coming to an end. Autumn is my most favorite time of the year. Just a hint of cooler weather inspires me with all kinds of new recipe ideas. I'm excited to share some of these latest culinary creations with you. This week's recipes are from a small dinner party that Vince and I hosted last weekend. We didn't entertain much at all over the summer. I took a little time off, we had new flooring installed, did some remodeling and stuff like that. Summer came and went while we dined on tacos, hot dogs and pizza delivery. With a newly whetted appetite for all things delicious, I'm happy to be back in the kitchen. Fall catering is in full swing and photographer/videographer Susan DeLoach and I are taping some new demonstrations for our "My Fabulous Cooking Show" on YouTube. Please tune in. We'll be presenting some tasty new holiday episodes over the next several months. Happy Cooking!
Whipped Feta with Honey and Pita

Velvety rich, sweet and salty. This quick and easy dip is perfect for pre-dinner cocktail time.
4 ounces cream cheese, softened to room temperature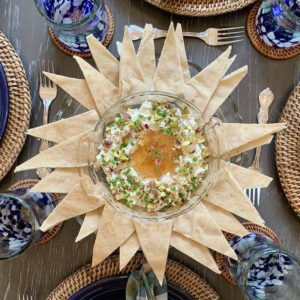 4 ounces crumbled feta cheese
1 tablespoon olive oil
½ teaspoon minced garlic
½ teaspoon dried basil
¼ cup honey
1 tablespoon chopped pistachios
1 teaspoon finely chopped chives
Few grinds of black pepper from a peppermill
Pita bread, sliced
In a food processor, combine cream cheese, feta, olive oil, garlic and basil until smooth and mixed well. Scoop cheese onto a small dish or shallow bowl. Use a spoon to create a well in the center of the cheese. Fill the well with honey. Garnish with chopped pistachios, chopped chives and a few grinds of black pepper. Serve with pieces of pita bread. Serves 4.
Greek Salata
Greek salads are a common addition to any Greek meal. They're also wonderful on their own. Authentic salads consist of chopped tomatoes, cucumbers and red onions and are dressed with an herb-seasoned vinaigrette. Extras such as pepperoncini, kalamata olives, anchovies and feta cheese may or may not be included.
6 tablespoons olive oil
1 teaspoon fresh lemon juice
Salt and pepper, to taste
1 head romaine lettuce, chopped
½ English cucumber, seeded and diced
8 to 12 cherry tomatoes, quartered
½ cup kalamata olives, pitted and sliced
Thinly sliced red onion, to taste
8 pepperoncini, seeded and sliced
4 ounces feta cheese, crumbled
In a small bowl, whisk vinaigrette ingredients together until well mixed; set aside. Place lettuce , cucumber, tomatoes, olives, red onion and pepperoncini in a large salad bowl. Dress with vinaigrette; toss to coat. Top with feta cheese. Refrigerate any unused vinaigrette. Serves 4 to 6.
Grilled Pork Souvlaki with Dilly Cucumber Sauce
1 cup plain Greek yogurt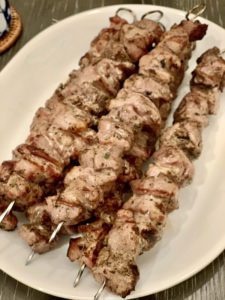 ½ cup diced cucumber, skin and seeds removed
1 teaspoon dried dill weed
Salt and pepper, to taste
2 whole pork tenderloins, cut into 3/4-inch cubes
1½ teaspoons dried oregano
In a bowl, mix yogurt with cucumber and dill weed. Season with salt and pepper. Cover and refrigerate until ready to serve. In a glass bowl, pour wine and olive oil over pork; toss to coat.  Sprinkle with oregano, salt and pepper; toss again. Cover and refrigerate for at least 2 hours.  Thread on 6 skewers.  Grill over medium heat to desired doneness. Serve with prepared sauce. Serves 6.
Roasted Rosemary Potatoes
Variety is the spice of life! Use as many different baby potatoes as are available to make this dish both colorful and delicious.
2½ pounds small potatoes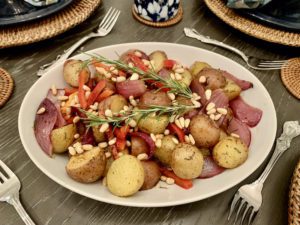 1 medium red onion, cut into wedges
4 tablespoons olive oil, divided
2 tablespoons snipped fresh rosemary
½ teaspoon freshly ground black pepper
2 tablespoons balsamic vinegar
1 medium red sweet pepper, cut into bite-sized strips
3 tablespoons pine nuts, toasted
If potatoes are large, cut them into quarters. Combine potatoes, onion wedges, 2 tablespoons olive oil, rosemary, garlic, salt and pepper in a large mixing bowl. Toss to coat.  Arrange potato mixture in a single layer in a greased shallow roasting pan. Roast, uncovered, in a preheated 450 degree oven for 25 to 30 minutes or until potatoes are tender and lightly browned, stirring twice. Meanwhile, in a small bowl, combine balsamic vinegar and the remaining 2 tablespoons olive oil; whisk to combine. Add the red pepper to the oil mixture. Add the pepper mixture to the roasted potatoes immediately after removing from the oven; toss to coat.  Turn into a serving bowl; sprinkle with pine nuts. Serve warm or at room temperature. Serves 8.
Chocolate Greek Yogurt Cupcakes with Whipped Chocolate Ganache Frosting
These are hands-down the BEST chocolate cupcakes I've ever baked. They're moist, rich and decadent without being too sweet. The frosting is my all-time favorite!
For the frosting: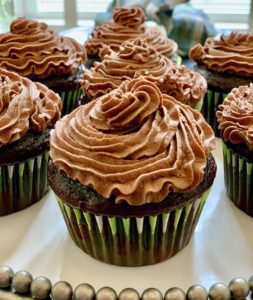 1 cup heavy whipping cream
6 ounces semi-sweet chocolate chips
1/3 cup cocoa powder (I used Hershey's Special Dark)
1/3 cup light brown sugar, packed
½ teaspoon vanilla extract
Heat whipping cream in a microwave-safe bowl until cream begins to steam, but not boil. Stir in chocolate chips until chips are melted and mixture is well combined. Place bowl in refrigerator for 2 hours. Preheat oven to 350 degrees and line a cupcake pan with paper liners. In a large bowl, sift together all-purpose flour, cocoa powder, baking powder, baking soda, sugar, brown sugar and salt. In a larger bowl, blend the egg, vegetable oil, Greek yogurt, vanilla extract and coffee with a hand mixer. Add the dry ingredients to the wet ingredients. Mix until combined. Divide batter into the prepared cupcake pan and bake for 18 to 20 minutes or until a toothpick inserted into the center comes out clean. Let cool completely before frosting. Remove ganache from the refrigerator and beat with an electric mixer until frosting is light and fluffy. Spread on cupcakes. Refrigerate cake until ready to serve. Makes 12.
The writer owns Catering by Debbi Covington and is the author of three cookbooks, Celebrate Beaufort, Celebrate Everything! and Dining Under the Carolina Moon. For more great recipes and to view her cooking demonstrations, visit and subscribe to Debbi's YouTube channel. Debbi's website address is www.cateringbydebbicovington.com. She may be reached at 843-525-0350 or by email at dbc@cateringbydebbicovington.com.