The nonprofit Pat Conroy Literary Center will host Kristen Ness, author of the debut novel At Loggerheads, on Friday, May 26, at 5:30 p.m. Free and open to the public, this special author event will be held at the Conroy Center, 601 Bladen Street, Beaufort. Books will be available for sale and signing. Seating is limited; please call 843-379-7025 to reserve in advance.
"Kristen Ness's At Loggerheads is a thrilling debut novel intertwined with mystery, nature, romance, and betrayal. Set on a lush barrier island, Ness offers the reader a rich sense of place in a whodunit that reflects on the meaning of home."—New York Times bestselling author Mary Alice Monroe
About the Novel: Brooke Edens, a scientist who studies loggerhead sea turtles, has longed for a sense of home and belonging ever since her return to Anders Isle. But something is amiss on the Lowcountry island where she grew up. For years, loggerheads have been disappearing from the beach and development has been encroaching on the island's natural beauty and maritime forest. When a dead body is found on the same day as a mutilated loggerhead, Brooke uses clues from her knowledge of sea turtles to help Detective Drew Young investigate the many big crimes beginning to surface on their small island. This murder mystery includes romance, nature, politics, real estate, and science. With a captivating sense of place, the story unfolds as a love letter to the barrier islands and coastal towns of the South Carolina Lowcountry, where the often-opposing forces of mother nature and human nature influence what people will do for money, for power, and for love.
Kristen Ness grew up mostly in South Carolina, spending countless days with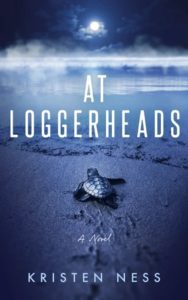 nature and falling in love with the ocean and its creatures on Isle of Palms, where she walks the beach at sunrise each summer in search of sea turtle nests as a volunteer for the Island Turtle Team. While practicing immigration law for the past twenty years, Kristen has been moonlighting in pursuit of her lifelong passion for writing and her obsession with marine biology. Writing, real estate, politics, and even publishing run in her blood as the daughter of an English teacher and a land developer, and the great-granddaughter of the 14th Governor of North Dakota whose family owned and published The Bismarck Tribune. She has a BA in English from Duke University, a JD from the University of South Carolina School of Law, and serves as an appointed member of the South Atlantic Fishery Management Council's Coral Advisory Panel. Kristen lives in Charleston, SC, with her husband, their two children, two guinea pigs, and a cat. At Loggerheads is her first novel.
The Conroy Center is open to the public for guided tours on Thursday through Sunday, from noon to 4:00 p.m. at 601 Bladen Street in downtown Beaufort. Admission is free; donations are always welcome. Learn more at www.patconroyliterarycenter.org.