We eat with our eyes before food ever enters our mouths. In the heat of our Lowcountry summer, what's more inviting than a beautiful, hearty and delicious layered salad? They're also great for picnics, potlucks and parties. Layered salads can be side items or entrees. All fruit, all veggies or a combination of vegetables and protein, layered salads offer endless possibilities. Start with a glass dish or trifle bowl. If your dish is very deep, begin with a thin layer of salad dressing. Build your salad with layers of different colors, being sure to show each layer through the glass of the bowl. Top everything with salad dressing and create an eye-catching final layer with cheese, tomatoes or croutons. The more color, the better. Note: If you're not serving your salad immediately after creating it, offer the salad dressing on the side.
Festive Layered Caesar Salad
I took this beauty to an Opening Night Water Festival party this year. Easy to create and transport, it was devoured.
1 (24-ounce) bottled Caesar salad dressing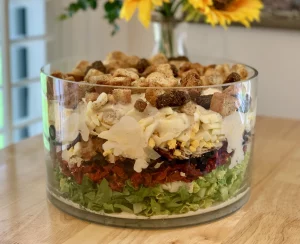 3 hearts of romaine, chopped
3 (3-ounce) packages julienne cut sun-dried tomatoes
1 (6.5-ounce) can sliced black olives, drained
1 pound bacon, cooked and cut into bite-sized pieces
1 (6-ounce) container shaved parmesan cheese
1 dozed eggs, boiled and chopped
1 (5-ounce) bag seasoned croutons
Spread a thin layer of Caesar salad dressing in the bottom of a trifle dish or glass bowl. Add chopped romaine lettuce. Layer with sun-dried tomatoes, black olives, bacon, shaved parmesan cheese and chopped boiled eggs. Top with remaining Caesar salad dressing and garnish with seasoned croutons. Serves 12 to 15.
Ten Layer Garden Vegetable Salad
This heavenly salad is almost as pretty as it is scrumptious. It's healthy, too.
1 heart of romaine, chopped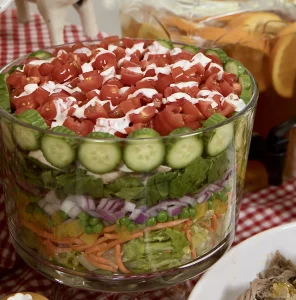 1 cup shredded carrots
1 medium yellow bell pepper, seeded and diced
1 cup frozen baby peas, thawed
½ cup roughly chopped red onion
1 cup sliced radishes
3 ounces baby spinach, roughly chopped
1 (8-ounce) package sliced white mushrooms
1 English cucumber, sliced
3 tomatoes, chopped
Ranch dressing
In a clear glass bowl, layer salad ingredients in the order they're listed above. Serve with prepared ranch dressing on the side. Serves 10 to 12.
Classic Seven Layer Salad
A favorite from my childhood!
5 cups romaine lettuce cut into small pieces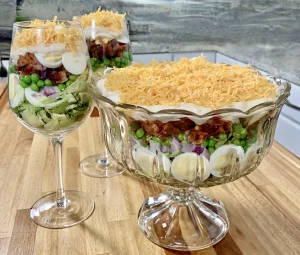 1 cup frozen baby peas, thawed
Chopped red onion, to taste
6 hard-boiled eggs, sliced
1 (12-ounce) package bacon, cooked and crumbled
2 cups salad dressing (Miracle Whip)
2 cups shredded cheddar cheese
Place salad ingredients, in layers, in a large glass bowl or trifle dish. Top with salad dressing and garnish with cheddar cheese. Cover and chill until ready to serve. Serves 12.
Cornbread Salad
In the South, we eat cornbread with everything. Count on a southerner to invent a salad made with cornbread! The name doesn't do this delicious dish justice. Give it a try — it's much better than you might think.
1 (16-ounce) package cornbread mix​
1 (1-ounce) package ranch dressing mix
1½ cups sour cream
1½ cups mayonnaise
2 (15-ounce) cans pinto beans, rinsed and drained
3 ripe tomatoes, chopped
1 cup chopped green pepper
1 cup chopped green onion​
2 (11-ounce) cans whole kernel corn, drained
10 slices bacon, cooked and crumbled
1 cup (4 ounces) shredded cheddar cheese
Prepare cornbread according to package directions.  Cool, crumble, and set aside.  Whisk the dressing mix with the sour cream and mayonnaise. Crumble half of the cornbread in the bottom of a large serving dish.  Top with half the beans.  Layer with half of the tomatoes, green pepper, green onions, corn, bacon, and salad dressing mixture.  Repeat the layers.  Top with cheddar cheese. Cover and chill at least 2 hours before serving. Serves 12.
The writer owns Catering by Debbi Covington and is the author of three cookbooks, Celebrate Beaufort, Celebrate Everything! and Dining Under the Carolina Moon. For more great recipes and to view her cooking demonstrations, visit and subscribe to Debbi's YouTube channel. Debbi's website address is www.cateringbydebbicovington.com. She may be reached at 843-525-0350 or by email at dbc@cateringbydebbicovington.com.