"May the leprechauns be near you, to spread luck along your way.
And, may all the Irish angels smile upon you St. Patrick's Day."
Corned beef is a long-standing American St. Patrick's Day tradition. In Ireland, the St. Patrick's Day meal would most likely be ham and cabbage. Corned beef is a beef brisket or round roast cured in brine which leaves the beef bright red and flavorful. The meat remains pink when cooked, and because the beef is a tough cut of meat, requires longer cooking to render it tender. "Corned" refers to the salt grains used many years ago to cure or preserve meats. The featured recipe this week is an easy crock pot entree that incorporates corned beef and root vegetables into a tummy warming stew. Paired with an Irish Pub Salad, Irish Soda Bread and maybe even an Irish Whiskey cocktail or Irish Coffee, the meal for your St. Patrick's Day celebration is complete. Everyone's a little bit Irish on St. Patrick's Day! There's no better time to sample a few favorite Irish recipes and raise your glass to all things green. Erin go braugh! Ireland forever!
Irish Pub Salad
Fill your plate with vegetables, boiled eggs, pickled beets – all drizzed with the perfect malt vinegar salad dressing.
½ cup mayonnaise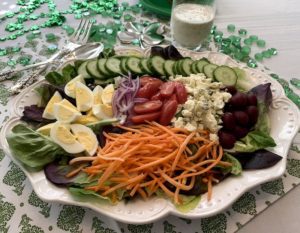 2 tablespoons malt vinegar
1 teaspoon dried tarragon
Salt and pepper, to taste
4 cups butter or bibb lettuce
1 English cucumber, sliced
3 hard-boiled eggs, quartered
4 ounces crumbled blue cheese
Whisk salad dressing ingredients together in a small bowl. Set aside until ready to serve. Place salad greens on a platter. Top with cucumbers, tomatoes, carrots, red onion, hard-boiled eggs, baby pickled beets and crumbled blue cheese. Drizzle with salad dressing before serving. Serves 6.
Irish Corned Beef Stew
A hearty and delightful stew!
1 (3-pound) corned beef brisket (with spice packet)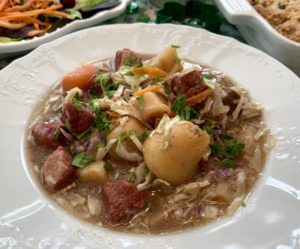 1/3 cup all-purpose flour
1½ pounds baby potatoes, quartered
1 pound parsnips, peeled and cubed
2 cups peeled baby carrots
1 large onion, cut into chunks
1 (12-ounce) bottle Irish stout beer
1 (14.5-ounce) can beef broth
1 (10-ounce) bag shredded cabbage
Salt and pepper, to taste
¼ cup white vinegar, optional
Chopped Italian parsley, to garnish
Trim excess fat from corned beef and cut meat into 1-inch cubes. Place flour in a large bowl and toss corned beef cubes to coat. Place meat in a crockpot. Sprinkle corned beef spice packet over the meat. Mix in potatoes, parsnips, baby carrots, onion, water, beer, beef broth and any leftover flour; Stir to combine. Cover and cook on high heat for 6 hours. When corned beef and vegetables are very tender, lower the heat and mix the cabbage into the stew. Cook until tender, about 35 minutes. Season with salt and pepper. Stir in vinegar just before serving. Garnish with chopped Italian parsley. Serves 8.
Irish Soda Bread
An easy and delicious no-knead bread!
3 cups all-purpose flour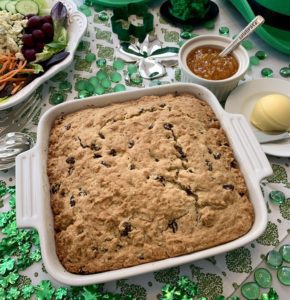 1 cup raisins or currants
2 tablespoons Irish whiskey or orange juice
1 heaping tablespoon sweet orange marmalade
1 tablespoon caraway seeds
Preheat oven to 350 degrees and spray a 9×9-inch square baking dish with cooking spray. In a large bowl, mix together flour, sugar, baking powder, baking soda and salt. Add raisins, Irish whiskey, orange marmalade and caraway seeds to the mixture. Stir in buttermilk and melted butter to make a thick batter. Spread batter evenly in prepared baking dish. Bake for 45 minutes until top of bread is lightly browned and a toothpick inserted in center of bread comes out clean. Serve warm with orange marmalade and Irish butter. *Irish butter may be found on the refrigerated dairy aisle of your local grocery store. Makes 9 servings.
The writer owns Catering by Debbi Covington and is the author of three cookbooks, Celebrate Beaufort, Celebrate Everything! and Dining Under the Carolina Moon. For more great recipes and to view her cooking demonstrations, visit and subscribe to Debbi's YouTube channel. Debbi's website address is www.cateringbydebbicovington.com. She may be reached at 843-525-0350 or by email at dbc@cateringbydebbicovington.com.