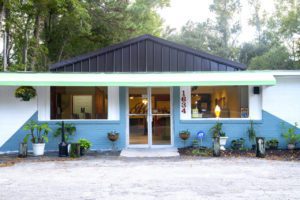 We love sharing restaurant success stories and Beedos Burgers out on Saint Helena Island provides us with a whopper of a tale. We're not talking Burger King's iconic Whopper (which one of us kinda' sorta' secretly likes, BTW). We're talking a restaurant that's been successful since the day they opened their doors last November on (appropriately) Veterans Day, in the former MJ's Soul Food.
Owners Brian and Melissa (aka Mel) Wuttke, who both come from military families, certainly had restaurant chops before they opened Beedos on Sea Island Parkway, thanks to long and successful stints for both of them at beloved Saltus River Grille (and beyond for Brian, a veteran chef and a South Carolina Chef Ambassador from the popular program's initial class). Generally speaking, Brian's the "savory" chef (think apps and entrées) and Mel's the "sweet" chef (think desserts and more) of this dynamic duo, who are both self-taught.
The menu and desired dining experience are loosely based on a restaurant called Summer House that Mel and Brian love up in Southwick, Massachusetts. It remains their go-to spot when they're visiting Mel's family up that way, and an ongoing inspiration for Beedos. Summer House's made-to-order menu features sandwiches and ice cream, including popular burgers and soft serve ice cream – which you'll also find featured on the menu at Beedos. Summer House also features casual inside dining and popular outdoor seating – just like Beedos.
Mel says, "We wanted the kind of place we like to go to before or after heading to the beach." Given how busy they are when they're open (Thursdays through Sunday, 9am to 8pm and Mondays 9am to 3pm), a lot of beach-goers agree. So have a lot of locals from Coffin Point and further afield, who have supported Beedos from Day One last November, when beach traffic had slowed just as the restaurant opened to rave reviews. Here's why.
Let's start with breakfast, when "sandos and biscuits" served with one side start the day for many beach-goers and locals (it's generally served
9am to 11am). As with much of the menu's highlights, their Brekkie Sando is based on a breakfast sandwich Brian and Mel like to make at home on their days off. It features soft scrambled eggs, special-ordered Cooper® sharp American cheese, a choice of perfectly greasy bacon or sausage, caramelized onions, house-made chipotle aioli and one of the best griddled milk buns we've ever put in our mouths.
A whopping word or three about that bun and their breads. Along with the milk bun for the Brekkie Sando, five (count 'em) other breads are made in-house. Trust us, that's really unusual for any restaurant and especially for a fast casual restaurant with a tiny kitchen. They buy their hot dog buns because they really like it – and we do too, ordering their chili cheese dog anytime it's a special.
And another word or one hundred about the eggs, which provide their own whopper of a tale. They come from Kendra and Stephen Myers, owners of nearby Myers Family Farms. Brian and Mel had been consistently buying eggs from them at the Port Royal Farmers Market for their personal enjoyment, pre-Beedos, and they eventually became fast friends, with Kendra and Stephen now supplying all of the tasty eggs used for the breakfast magic happening at Beedos.
Kendra recalls, "We met at the farmers market in Port Royal a few years back. They purchased eggs and bagels from us and, after learning that they lived on Saint Helena Island, we started to hang out on our farm. Our farm now delivers eggs to Beedos weekly. We hope to continue to grow together and become staples for our little community on Saint Helena Island. I can't wait to see what their restaurant grows into."
Of Beedos, Stephen says, "Mel and Chef Brian have taken their masterful fine dining skills and their experience sourcing local ingredients to the perfect arena, their dream burger joint."
If you haven't had a Myers Family Farm bagel and egg sandwich at the Port Royal Farmers Market, just go ahead and get in line next Saturday. We'll be there. Pick up a dozen eggs and a pretzel as well. We will. Standby for a full-fledged feature on "dining" at the Port Royal Farmers Market, in that there's essentially a farm fresh food court there now.
Beyond the Brekkie next come the breakfast biscuits (house-made, natch). The unique Griddled Sausage Biscuit comes with Tillamook® extra sharp cheddar cheese (yes, they like their sharp cheddar), plus tangy yellow mustard. We're not talking Hardee's here, folks. Just saying.
The Fried Chicken Biscuit comes with a honey hot sauce (made using peppers from Pasture Shed Farms) and is served all day, while they last. And don't be upset if they've run out of something while you're standing in line. We love everything.
Sandos and Biscuits come with a choice of sides and there are a lot of options coming out of that little kitchen, from seasonal fruit to crispy crowns [potatoes?] and more. There are also lots of add-ons, including tasty pimento cheese, as well as the option of making the Brekkie Sando or Griddled Sausage Biscuit vegetarian and/or vegan by using options like Impossible sausage, tempeh bacon, or just egg. Other breakfast options include a creative grits bowl, varied steel cut oatmeal bowls, yoghurt parfaits, and more.
Whether it's breakfast or lunch, you also won't go thirsty, thanks to a long list of hot and cold options, including coffee and tea in various forms, lemonade, and lots of flavor enhancements from Torani® Syrups.
Lunch service starts at 11am and, yes, we've been known to eat a burger before noon once or thrice. The namesake Beedo Burger features two
beef patties (featuring house ground sirloin and chuck); the aforementioned sharp cheese, "fancy" sauce (think a much better version so-called "Special Sauce" on a Big Mac®; pickles; griddled onions; and a perfect house made toasted potato bun that provides the perfect ratio of bun to burger and stays together when you eat it, instead of falling apart like many "smash" burgers elsewhere.
The bottom-line is that it's a very good burger and one of us gets it almost every time we go there (and we hear you can have it made with an Impossible burger).  As an aside, Brian and Mel are bog fans of the burger at Lowcountry Produce (in downtown Beaufort, out in Seabrook, and down on Hilton Head Island). Standby for a full Lowcountry Produce feature in coming months. And Kendra of Myers Family Farms eggs fame says they'll top your Beedo Burger with a fried farm fresh egg, if you ask nicely and don't mind paying a couple bucks more.
What's for lunch beyond the burger? Well, there's the Fried Chicken Sando (using a crispy thigh, of course) on a potato bun, the Fried Bologna sandwich on white bread (you gotta' try it), and the Pimento Cheese Sando, which is also served on toasted white. There are lots of free add ons to make your Sando your own, plus small charges for throwing on options like applewood bacon and house made chili (if the chili cheese dog or the seasonal BLT are on special, get them…trust us).
Other lunch faves on the menu include a house salad using local greens and vegetables, a jalapeno and cheddar sausage dog, and a chicken tender basket, as well as cheeseburgers and chicken tenders for the kiddos. There's also a sincere offer on the menu from Mel and Brian that there's no charge for those in need. 'Nuf said.
Whatever Brian's doing for sides, we get them. Butter beans? Check. Seasonal veggies, like local tomatoes and cucumbers? Yep. Fresh Fruit? Of course.
The sides are where Brian especially shines a light on the work of nearby farms. The restaurant is next door to Dempsey Farms, where they get a majority of their produce on-demand, delivered in a golf cart. "They said, 'If you need something, come pick it,'" Brian reports. "We ran out of lettuce one time, and I went over there and hacked some down. Now, that's literally farm-to-table." Along with Dempsey Farms, Myers Family Farms, and Pasture Shed, Brian also mentions Morning Glory Homestead Farm and beloved Barefoot Farms as additional suppliers you'll find on the menu.
The sides also shine come Sunday, when Brian makes a mean "meat 'n three," featuring a smoked meat and farm fresh sides. They open at 9am on Sundays as well and the Wuttkes report they have several regulars lining up for their Sunday special right when they open. For us, there's nothing quite like smoked pork butt on a Sunday morning.
Speaking of lines…you (often) stand in line to place your order (with fingers crossed they're still serving what you want), you pay your tab (please tip!), you get a number, and then you get your freshly prepared food delivered to your table. At Beedos, that line leads to fast casual counter service featuring fine dining food.
Whether it's Sunday or any other day they're open for business, the "desserts" options from Mel remain popular with kids and kids at heart. As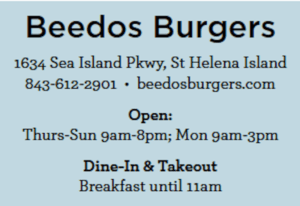 on ode to Summer House, there's soft serve ice cream (chocolate, vanilla, or swirl) and shakes and malts (chocolate or vanilla), with varied toppings and mix-ins for a small charge (ask about the "Michael Scott," which is a mixture of all of them). They use the famed (for us, at least) milk from Hickory Hill Milk up in Edgefield, which is worth a field trip to grab a pint of chocolate milk from their honor fridge (yeap, we've been there, done that, and might have grabbed – and paid for – a most wonderful wedge of Clemson blue cheese made from their milk as well).
In addition, Mel's pastries, oatmeal cream pies, scones, chocolate chip cookie, brownies, and beyond deserve their own stop beyond dessert. In fact, she says that she noticed a trend this summer where people stopped for breakfast or lunch on their way to Hunting Island and then stopped again on their way back for ice cold soft serve and more. It's exactly what Mel and Brian envisioned when they opened Beedos for locals and beach-goers. Ironically, the last time we spoke, they hadn't been to the beach this summer. The Beedos success story has just kept them happily busy.