The Arts Initiative at Palmetto Bluff will host Atlanta-based custom fine jewelry designer, Mary Frances Maker, as their July Artist of the Month: July 21 – 24, 2023. She will be leading several exciting workshops.
A jeweler with a curiosity for the unique and a passion for storytelling, Maker's pieces are inspired by uniquely textured objects in nature where beauty is often found in imperfections. Guided by the belief that jewelry is most importantly about the sentiment — a vessel of past generations' stories being told in new ways for the generations to come — it can signify milestones and accomplishments and the embodiment of our memories. This is how Maker views each and every piece she creates, specializing in designs that transcend time, repurposing family heirloom stones to bring new ideas — and stories — to life. 
The Arts Initiative at Palmetto Bluff is a sweeping program conceived to inspire and enrich lives through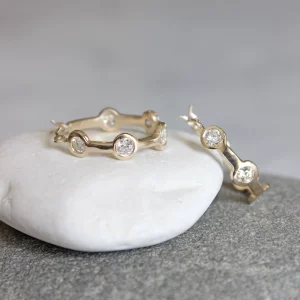 art, in all its forms. Through a diverse curation of artists, craftsmen, musicians, makers, and chefs, the year-round programming emerges from Palmetto Bluff's unspoiled natural canvas and commences a dialogue between art, the community, and the beauty of the Bluff itself. The Artist in Residence program celebrates the arts, fosters creativity, and offers a hands-on education for residents and guests of Palmetto Bluff. Each year, several notable Southern artists, craftsmen, and makers are invited to address varied thematic topics that tie to the values and aesthetics of the community. 
Workshops with Mary Frances Maker
•
Wednesday, July 19, 2023 | 4:30 PM – 6:30 PM:
 A Transformative Welcome with Mary Frances Maker – FLOW Gallery + Workshop | 
76 Boat House St, Bluffton, SC | 
$25
•
Thursday, July 20, 2023 | 10 AM – 1 PM: 
Wax Carving Workshop/Create Your Own Ring – FLOW Gallery + Workshop | 
76 Boat House St, Bluffton, SC | $145
•
Thursday, July 20, 2023
| 3 PM – 5 PM: 
Gallery Hours with Mary Frances Maker
– FLOW Gallery + Workshop | 
76 Boat House St, Bluffton, SC | Complimentary
•
Friday, July 21, 2023 | 9 AM – 12 PM: 
Inspired by the Bluff/Create Your Own Custom Jewelry Piece
– FLOW Gallery + Workshop | 76
Boat House St, Bluffton, SC | $175
•
Friday, July 21, 2023
 | 3 PM – 5 PM: 
Gallery Hours with Mary Frances Maker
– FLOW Gallery + Workshop | 
76 Boat House St, Bluffton, SC | Complimentary
•
Saturday, July 22, 2023 | 
10 AM – 1 PM: 
Wax Carving Workshop/Create Your Own E
arrings – FLOW Gallery + Workshop | 
76 Boat House St, Bluffton, SC | $145
For more information and to purchase tickets, visit: https://www.palmettobluff.com/explore/artist-in-residence/mary-frances-maker/