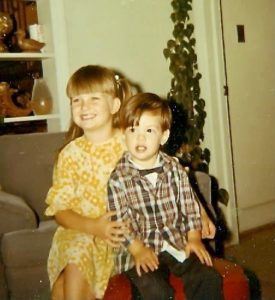 I was making a pot of our Mama's spaghetti sauce this afternoon when I started thinking about my brother, Ray. As much as we loved Mama's sauce recipe, we both adapted our respective versions to omit the heartburn evoking green peppers she always added to hers. I could almost see Ray rolling his eyes and fake belching. Remembering made me smile. It also made me sad.
Ray died unexpectedly last Thursday, just a few days shy of his 53rdbirthday. My heart aches for the things we never got to say to each other, for memories we didn't have the opportunity to make together and for the meals we'll never be able to share. Ray was four years younger than I am and we were different in almost every way possible. He had a dark complexion, dark brown hair and even darker brown eyes. I'm fair with blue eyes and much lighter hair. We didn't like the same music. We were jealous of each other over stupid things. I was more interested in social clubs and pageants. Ray played baseball and won weightlifting awards. We had spats like felines for most of our lives. We'd hiss and spit and occasionally smack, then retreat to our corners and in a matter of minutes, the arguments would be over. Typical siblings, I suppose.
When it came to the important stuff, we were very much alike. We both loved cats, historical fiction and all things Williamsburg. We had a thing for old black and white horror movies, Christmas specials and the Atlantic Ocean. Even with the difference in our ages, we had a lot of the same friends. Most of all, we absolutely had the same taste in foods. We shared all kinds of new dishes with each other over the years. Ray told me about dolmades and tzatziki and I taught him how to roast a perfect beef tenderloin. We used to take photos of what we were eating and text them to each other with a tagline of "Don't you wish you were here? Too bad!" Greek and Mediterranean cuisine were our all-time favorites with Asian, Mexican and Italian falling next in line. I shared Ray's recipe for BBQ sauce in my cookbook, Celebrate Beaufort. He loved to grill chicken, especially chicken wings. He had been known to get frustrated with lighter fluid and pour gasoline on the charcoal briquets from time to time. I choked back those gasoline wings once. Once.
Ray was a force to be reckoned with! He could keep a straight face while making everyone else in the room double over with laughter. He got me in trouble more than once for giggling during a solemn occasion. And then, the varmint would have the audacity to give me a disapproving look in front of the true grown-ups in the room. Anyone who knew Ray knows exactly what I'm talking about. In the end, Ray and I loved each other. We weren't always able to say it, but we both knew it. Blood is blood, after all. Besides Vince and me, my brother leaves behind a son Ray III, two aunts, an uncle, a bunch of generations of cousins and lots and lots of friends. It's impossible to sum up a lifetime of memories in a few paragraphs, so instead I'm going to share recipes for three of Ray's favorite foods. Call your brother or sister, if you're lucky enough to have a sibling. Life can change in the blink of an eye.
P.S. I taught my nephew a new word today. Actually, it's an old word from the 80's. Not only is it politically incorrect, it's also socially unacceptable. My brother would have been proud.
Ray-Ray's Redneck BBQ Sauce
Ray's BBQ sauce is by far the best I've ever eaten. Besides being delicious on grilled chicken, it's a fabulous sauce on grilled ribs.
1/3 cup buffalo wing sauce
Combine all ingredients in a medium bowl. Use when grilling chicken or pork. Makes 1½ cups. Refrigerate any unused sauce.
Ginger Chicken with Broccoli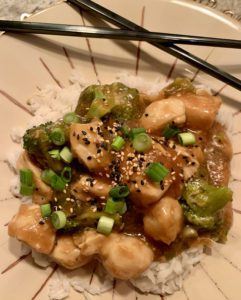 Ray ordered this every single time that we went to P.F. Chang's at Crabtree Valley Mall in Raleigh, NC. Every single time! This recipe is my copycat version.
For the chicken marinade:
2 tablespoons vegetable oil
1-1¼ pounds boneless chicken tenders, cut into bite -sized pieces
Marinate chicken for at least 3 hours. Mix eggs, vegetable oil, cornstarch, salt and pepper in a bowl. Add chicken pieces and stir to coat well. Cover and refrigerate until ready to cook.
½ cup chicken broth or stock
2 tablespoons rice wine vinegar
Mix all ingredients in a small bowl. Set aside until ready to cook.
For the chicken and broccoli:
3 cups chicken broth or stock
2-2½ cups broccoli florets
1 tablespoon vegetable oil
2 tablespoons minced fresh ginger
Hot cooked jasmine rice, to serve
2 tablespoon chopped green onions, to garnish
Black sesame seeds, to garnish
Toasted sesame seeds, to garnish
Drain marinated chicken in a colander. Drain well but do not rinse. Pour 3 cups of chicken broth in a large skillet. Bring broth to a boil. Add chicken pieces to the hot broth; cook for several minutes until chicken is cooked through. Remove chicken with a slotted spoon and drain on paper towels. While the broth is still hot, add broccoli florets and cook until crisp-tender. Remove from broth and add to paper towel lined plate with cooked chicken. Discard the chicken stock and wipe the skillet dry with a paper towel. Return skillet to stove top and add vegetable oil. Heat the oil over medium heat. Add ginger and garlic and saute for a few seconds. Add the str fry sauce and simmer for a few minutes. Add the chicken and broccoli back into the sauce and cook for several minutes. In a small bowl, mix ¼ cup cornstarch with ½ cup water until smooth. Add to chicken and sauce mixture in the skillet. Stir in the sesame oil. Simmer for a minute or two until sauce thickens. Serve over hot cooked jasmine rice. Garnish with green onions and sesame seeds. Serves 2 to 3.
German Chocolate Cake
Ray's all-time favorite cake! The frosting recipe is ancient. It's Mama's from when we were growing up in Wilson, NC. You'll notice that the sides of the cake aren't frosted. I think that's traditional. If you want to frost the whole cake, just double the frosting recipe.
1 (15.25-ounce) box German chocolate cake
Oil, eggs and water to make cake
1 teaspoon vanilla extract
Bake cake mix in two round 8" or 9" pans according to package directions. Cool completely on wire racks. To make the frosting: pour beaten egg yolks, evaporated milk, sugar and butter in a small stockpot. Cover over medium heat for about 12 minutes, stirring constantly, until mixture thickens. Remove from heat; stir in coconut, pecans and vanilla extract. Spread on cake layers. Serves 8 to 10.