Why is it that almost everything tastes better when it's been cooked over an open flame? Meats, vegetables, breads and even some desserts (like grilled pineapple) just don't taste as good when they're roasted in an oven. There's nothing quite as delectable as the smoky charred flavor that only fire can forge.
While I tend to be more of an "indoor girl," Vince is patiently teaching me how to cook outside –- over a mini inferno encased in an iron box. So far, fresh vegetables are my favorites. I absolutely adore a grilled romaine heart salad with charred tomatoes. There are so many yummy options. Grilling meat is a bit trickier. There's an art to knowing when it's rare or well-done and every cut is different. I'm always learning. As it turns out, you CAN teach an old cat new tricks. I hope you'll enjoy these three scrumptious offerings from the grill. 
Grilled Zucchini Rolls with Feta and Basil
Serve these yummy rolls chilled, at room temperature or even warmed through. They're delicious!
1 medium zucchini
2 teaspoons olive oil
Salt and pepper, to taste
1 cup crumbled feta cheese 
¼ cup fresh basil leaves, chopped 
3 tablespoons diced pimentos, divided
1 tablespoon extra-virgin olive oil
Fresh basil leaves, to garnish 
Slice the zucchini lengthwise, using a mandolin. (If some of the slices break, it's okay, you can piece them together.) Drizzle each zucchini strip with olive oil on both sides. Season lightly with salt and pepper. Place on a preheated grill or grill pan and cook for about 2 minutes on each side or until tender. Cool completely. Place feta cheese, basil leaves, 2 tablespoons pimentos and extra-virgin olive oil in food processor and process until smooth. Stir in remaining tablespoon of diced pimento. Place the zucchini strips on a cutting board, piece broken slices together, if needed. Divide the cheese mixture evenly on one end of each of the zucchini strips and roll them up. Garnish with fresh basil leaves. Serves 2 to 3.
BBQ Grilled Lamb Chops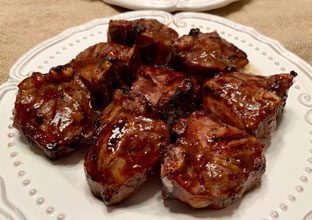 This is my go-to favorite barbeque sauce. It's a rip off of one of my Daddy's recipes.
1½ pounds lamb loin chops 
Salt and pepper, to taste
¼ cup bottled BBQ sauce
¼ cup Heinz 57 Sauce
2 tablespoons buffalo wing sauce
Season lamb chops with salt and pepper. Mix remaining three ingredients in a small bowl. Place lamb chops on a medium-high grill and sear on both sides. Cook until desired level of doneness, basting with BBQ sauce several times on both sides. Serves 2 to 3.
Grilled Asparagus and Tomatoes with Kalamata Olive and Feta Vinaigrette
Kalamata Olive and Feta Vinaigrette is perfect on a salad, too.
For the vinaigrette:
3 tablespoons extra-virgin olive oil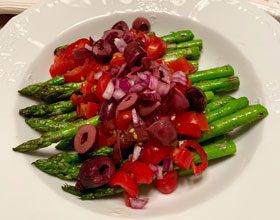 3 tablespoons red wine vinegar
3 tablespoons crumbled feta cheese
12 pitted kalamata olives
1 tablespoon chopped red onion 
1 garlic clove, minced
1 tablespoon dijon mustard
1 tablespoon honey 
½ teaspoon oregano
Salt and pepper, to taste
For the asparagus:
1 pound asparagus, trimmed
1 teaspoon olive oil
Salt and pepper, to taste
1 tablespoon chopped red onion
8 kalamata olives, sliced
5 to 7 grape tomatoes, chopped 
Mix all vinaigrette ingredients in a blender until smooth. Refrigerate until ready to use. Toss the asparagus spears in olive oil. Season with salt and pepper. Grill over medium-high heat until crisp-tender and slightly charred. Serve topped with red onion, olives, tomatoes and vinaigrette. Serves 2 to 3.
The writer owns Catering by Debbi Covington and is the author of three cookbooks, Celebrate Beaufort, Celebrate Everything! and Dining Under the Carolina Moon. Debbi's website address is www.cateringbydebbicovington.com. She may be reached at 525-0350 or by email at dbc@cateringbydebbicovington.com.