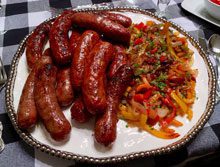 Vince recently had a hankering for grilled Italian sausages with onions and peppers. Just a hint of autumn in the air makes us both miss North Carolina and the NC State Fair that's held every October in Raleigh. Raleigh, besides being the place of my birth, is also known as THE Capital to NC native Andy Griffith fans.
Back in the day, when I was growing up in Wilson, NC, at least one (two if Daddy wanted to see a particular exhibit, and three if my date could get the keys to his Mama's car) hour-long excursions to the larger-than-life annual event was a must. A typical fair day started out warm and sunny. We'd visit the agricultural exhibits, go see the livestock competitions and sample some of the goodies from the baking and canning competitions. At night, the temperature dropped considerably, lights from the carnival rides lit up the entire fairground and the smells of all kinds of fried foods, corn dogs, cotton candy – and especially sausages, onions and peppers filled the air. When I was a young girl, it was kind of magical. There's no other experience of my life that can quite compare with the NC State Fair. Vince and I decided to attempt to share a few of our fair food experiences with some of our friends on Friday night. We began the evening by offering all of our guests an antacid. I love fair food but I know that spicy sausages, onions and peppers can sometimes be tough on the digestive system. Better safe than sorry. Along with the sausages and fixin's, we served a couple of foods that would likely be found at the fair. I altered them a smidge in an attempt to conform to a bit of a healthier diet. At the fair, some form of homemade pimento cheese would be served on straight-up sliced white bread and the apple turnovers most certainly would be deep fried. I do realize that salads aren't exactly fair food but there's no way you'll be invited to dinner at our house and not be served some kind of a salad. As much as I love South Carolina, I sometimes miss my home state. So tonight, in my mind I'm going to North Carolina. And, by-the-way, North Carolina claims James Taylor, too.

Pimento Cheese Spread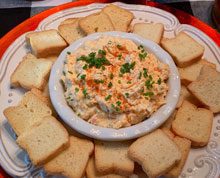 I think this would be good served heated, too. Place cheese spread in an oven-proof dish and heat in a preheated 350 degree oven until warmed through.
4 ounces cream cheese, at room temperature
1 cup pimento cheese (homemade or store bought) 
2 teaspoons chopped fresh chives
Dash cayenne pepper
Mix all ingredients until well combined. Place in a serving dish. Serve with toasts or crackers. Serves 6.

Festive Caesar Salad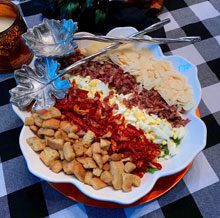 This delicious and easy to prepare salad recipe uses bottled salad dressing instead of the traditional dressing that includes the yolk of a raw egg.
3 large heads romaine lettuce, chopped into bite-sized pieces
Bottled caesar salad dressing, to taste 
6 boiled eggs, chopped
12 ounces bacon, cooked and crumbled
2 (3-ounce) packages of julienne cut sun-dried tomatoes
1 cup freshly grated parmesan cheese 
2 (5-ounce) packages caesar flavored croutons
Place chopped lettuce in a large serving bowl. Dress with salad dressing, tossing well to coat. Top with chopped boiled eggs, crumbled bacon, sun-dried tomatoes, grated parmesan cheese and seasoned croutons. Toss before serving. Serves 12 to 15.
Grilled Italian Sausages with Peppers and Onions 
Nothing smells quite like the combination of onions and peppers in the autumn air. It always makes me a little homesick for the NC State Fair. (pictured at top)
12 Italian sausages (combination of hot and sweet)
12 Hoagie buns
Dijon mustard
Ketchup
For the onions and peppers:
1 medium red bell pepper
1 medium green bell pepper
1 medium orange bell pepper
1 medium yellow bell pepper
4 medium sweet onions, sliced
5 tablespoons salted butter
1 tablespoons chopped fresh chives
Heat the grill to medium heat. If you don't have an outdoor grill, you can use a grill pan and cook the Italian sausages inside. Place the sausages directly on the grill and grill for 5 to 7 minutes per side, or until cooked through. When the sausages are done cooking, transfer them to a dish or plate and tent in foil to keep them warm. In the meantime, slice peppers into strips, discarding the seeds and white pith. Cut the onions in half and then into slices. Melt butter in a large skillet over medium-high heat. Add peppers and onions and cook until tender. Remove from heat and stir in chopped chives. Serve the sausages with peppers and onions on a hoagie roll. Garnish with mustard and ketchup, if desired. Serves 12.

Apple Turnovers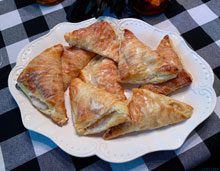 This is a super-simple, no-fail fall dessert. 
1 (17.25-ounce) box frozen puff pastry, thawed in refrigerator
1 (21-ounce) can apple pie filling
1 egg, beaten
1 tablespoon sugar
½ cup confectioner's sugar
2 tablespoons heavy cream
Preheat oven to 400 degrees. Line a baking sheet with aluminum foil. Spray with cooking spray. Using a rolling pin, gently roll the puff pastry sheets just enough to seal the seams. Cut each piece into 4 squares and place on prepared baking sheet. Spoon 1/3 cup of pie filling into the center of each puff pastry square. Brush the edges of the pastry with the beaten egg. Fold pastries over to form triangles, enclosing the filling completely. Press edges to seal. Brush turnovers with remaining beaten egg and sprinkle each with sugar. Bake in preheated oven for 18 minutes or until turnovers are puffed and browned. Cool on wire racks. In a small bowl, mix confectioner's sugar with heavy cream until smooth. Drizzle over cooled turnovers. Serve warm or at room temperature with freshly whipped cream. Serves 8.
The writer owns Catering by Debbi Covington and is the author of three cookbooks, Celebrate Beaufort, Celebrate Everything! and Dining Under the Carolina Moon. Debbi's website address is www.cateringbydebbicovington.com. She may be reached at 525-0350 or by email at dbc@cateringbydebbicovington.com.