Inviting friends over to celebrate is one of the greatest pleasures of the holiday season! If you've been dreaming of hosting a neighborhood Christmas party, take a tip from Santa Covington this year – make a list and check it twice! List-making will help you put the multitude of holiday chores and activities into perspective. And, these quick and easy recipes will keep your kitchen chores to a minimum. Invite your neighbors to a come-as-you-are Christmas Tea and plan a menu of easy-to-eat hors d'oeuvres. Stay low-key with the decorations, then dim the lights and add candles for sparkle. Ask your newest neighbor to pass the tea sandwiches, and recruit others to refill serving dishes and help with the clean up.  At the end of the evening, you'll have new friends and a great sense of satisfaction. Merry Christmas!
Brewing a pot of tea can be a pleasure!  It's a comforting circle of ritual and tradition —- and the opportunity to use your precious china cups and saucers.
8 cups water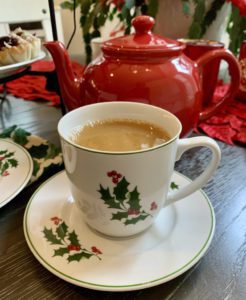 1 family-sized tea bag or 4 individual tea bags
Bring water to a boil in a medium saucepan. Add cinnamon stick and cloves and simmer for 15 minutes. Remove saucepan from heat. Remove cinnamon and cloves and discard. Add tea bag to hot water and steep for 15 to 20 minutes. Remove and discard tea bag. Warm tea over medium heat and add sugar; stirring constantly until dissolved. Add orange juice and lemon juice and continue stirring until tea is heated through; being careful not to boil. Serve hot. Serves 10.
Cream Cheese Sausage Balls
1 pound hot pork sausage, uncooked
1 (8-ounce) package cream cheese, softened
4 ounces shredded sharp cheddar cheese
1¼ cups baking mix (Bisquick)
Preheat oven to 375 degrees. Mix all ingredients in a large bowl until well combined. Roll dough into 1-inch balls and place on lightly greased baking sheet(s). Bake for 15-17 minutes or until browned. Serve hot. Makes about 60.
Pimento Cheese Tea Sandwiches
Use a cookie cutter to make bread rounds. I like to garnish with thinly sliced grape tomato slices.
1 pound sharp cheddar cheese, shredded
2 (4-ounce) jars diced pimentos, drained well
White or wheat sandwich bread
Place cheddar cheese and mayonnaise in a large bowl; mix to combine. Fold in diced pimentos; season with cayenne pepper and hot sauce. Refrigerate for at least one hour before serving. Serve on sandwich bread.
Cranberry and Pecan Chicken Salad Tartlets
Chicken salad loaded with dried cranberries and toasted pecans make delicious tea sandwiches or tarts.
3 cups cooked diced chicken breasts
½ cup dried sweetened cranberries
½ cup chopped pecans, toasted
2 tablespoons chopped green onion
Salt and pepper, to taste
Place chicken, cranberries, pecans, celery and green onion in a large bowl. Add mayonnaise, Dijon mustard, garlic powder, salt and pepper and mix well. Serve in mini tarts or on sandwich bread.
3 large flour tortillas
1 (8-ounce) container vegetable cream cheese spread
1 pound thinly sliced ham
Spread 1/3 of cream cheese spread evenly on each flour tortilla. Top with a layer of baby spinach. Top evenly with 6 to 7 slices of ham. Roll the tortillas with filling. Wrap each roll with plastic wrap and refrigerate for up to 8 hour. Slice the tortillas into rolls using a serrated knife. Makes about 24.
Double this recipe to fill an unbaked deep dish frozen pie crust.
8 mini pie crusts (flour or graham cracker)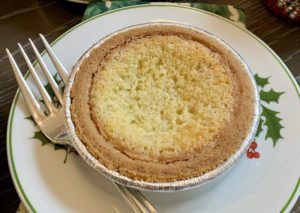 1½ teaspoons all-purpose flour
2 tablespoons salted butter, melted
2 tablespoons lemon juice
Combine sugar, flour, cornmeal, and salt. Add butter, zest, lemon juice, and milk; mix well.  Add eggs, one at a time, beating well after each addition.  Pour into pastry shells. Bake in a preheated 350 degree oven for 20 to 25 minutes or until centers are set. Serve chilled. Makes 8.
The writer owns Catering by Debbi Covington and is the author of three cookbooks, Celebrate Beaufort, Celebrate Everything! and Dining Under the Carolina Moon. For more great recipes and to view her cooking demonstrations, visit and subscribe to Debbi's YouTube channel. Debbi's website address is www.cateringbydebbicovington.com. She may be reached at 843-525-0350 or by email at dbc@cateringbydebbicovington.com.