When Vince and I were first married, back in the old days when I used to have weekends off, watching Nathalie DuPree's cooking show on PBS was one of the highlights of my Saturday mornings. Nathalie was always dressed in a colorful apron with matching oven mitts and hot pads. I loved her style of cooking and her recipes and her amazing ability to make everything she cooked look doable for a home cook. Never in a million years would I have imagined that I'd have the opportunity to meet my favorite television chef, let alone be able to call her my friend. 
The first time that I actually met Nathalie DuPree, we were both on an on-stage panel at the University of South Carolina-Beaufort with Sallie Ann Robinson, and Matt and Ted Lee, all of us cookbook authors. After the panel discussion, we sat together for a group cookbook signing and had the opportunity to get to know each other. It was incredible, and a little bit surreal. The really cool thing about the whole experience was sharing our food stories and the camaraderie. Best of all, I left the day with a new friend. Nathalie has been so very supportive of my cooking ventures, adventures and misadventures. We're in touch, mostly on Facebook, but if I have a question or need a bit of encouragement, Nathalie always answers me right back. Nathalie has a philosophy she calls "The Pork Chop Theory," when it comes to supporting other women. She says, "If you put one pork chop in a pan and turn the heat on high, the pork chop will burn. If you put two or more pork chops in a pan and turn the heat on high, they will feed off the fat of one another." I'm blessed to be one of Nathalie's pork chops.
In April 2018, my cookbook, Celebrate Beaufort and Nathalie's cookbook, Mastering the Art of Southern Cooking were released at about the same time. During this hubbub, Nathalie was also being inducted to the South Carolina Academy of Authors. Guess who was invited to interview her? With help from the Pat Conroy Literary Center's Director, Jonathan Haupt, I showed up at the Technical College of the Lowcountry for Nathalie's on-stage interview. It was my first time in the interviewer's hot seat and I was a wee bit nervous. Within a minute or two, Nathalie had wowed the audience with her foodie tales and made my job a breeze. The fates have graced me once again, and I'll be interviewing the Queen of Southern Cuisine (as dubbed by Southern Living Magazine) on Tuesday, July 28th at the Pat Conroy Literary Center. This time we'll we discussing Nathalie's 14th cookbook, Nathalie DuPree's Favorite Stories and Recipes. Please join us. The interview will begin at 5:30 p.m. with limited seating. Please call the Conroy Center to make a reservation. Since we'll be social distancing, and since you won't want to miss the mayhem and merriment, you can watch our antics streamed live on Facebook Live. The interview will also be available for viewing on the following day on YouTube. 
Lucky interviewer that I am, I received an advanced copy of Nathalie DuPree's Favorite Stories and Recipes. So far, I've tried six of Nathalie's recipes. Vince and I have loved them all. The Fennel-Olive Relish was a surprise hit! I love fennel, lemon zest and capers. The easy to make result was fabulous. The Grilled Roman-Style Lemon Chicken is sure to be a new favorite, too. It was also my first time removing the backbone from a chicken and cooking a whole bird, beaten into submission and grilled/roasted in a scorching hot oven. Yes, you read it correctly, preheat your oven to 500 degrees. The cooked marinade and pan drippings are luxurious. Beautiful presentation, even yummier chicken. Social Circle Macaroni Pie is one of the BEST macaroni and cheese dishes I've ever tasted. Absolutely delectable. Best of all, was the Lazy Girl Peach Batter Cobbler. Served hot, or even warm, the sticky, crispy, buttery crust around the edges of the dessert was divine. However, I digress. Getting back to the whole reason for my column and dissertation, I hope you'll join my friend, Nathalie DuPree, and me on Tuesday, July 28thas we discuss her latest cookbook, stories from Nathalie's foodie career and other fun stuff. Nathalie is a natural born storyteller. Don't miss it. 
(Recipes from Nathalie DuPree's Favorite Stories and Recipes are reprinted with the permission of the author.)

Grilled Roman-Style Lemon Chicken
1 (3-pound) whole chicken
½ – ¾ cup lemon juice
2 tablespoons lemon zest
4 tablespoons oil, cook's preference, divided
Salt
Freshly ground black pepper
1 lemon, sliced, for garnish
With the chicken breast facing down, remove the backbone by cutting up either side of the backbone with a sharp knife or kitchen scissors. Flip the chicken over with its breast on top. Crack the breastbone using both your hands and spread the chicken as flat as possible. Use a small knife to make small vertical slits where the wings and legs join the body, without removing them, in order to flatten it. Turn the chicken over and lay a sheet of plastic wrap over the top. Using a meat pounder or the bottom side of a heavy skillet, pound it out as flat as possible. Remove plastic. Move the chicken to a large ziplock bag or roasting pan. Mix lemon juice, lemon zest, and 2 tablespoons of the oil together in a small bowl and pour over the chicken. Season with salt and pepper. Close bag or cover pan and refrigerate for 2 to 3 hours to marinate. Remove from refrigerator about 30 minutes before ready to cook. Preheat oven to 500 degrees. Preheat a flat, oven-proof grill or griddle pan on top of the stove over medium heat. Remove chicken to a paper towel-lined plate, drain marinade into a small saucepan, and set aside. Pat chicken dry. Wrap a heavy ovenproof skillet or a brick with aluminum foil. Add the remaining 2 tablespoons oil to the hot pan, then the chicken, skin-side down. Weigh down with the heavy skillet. Brown over medium heat, about 5 minutes. Carefully move to the hot oven with the weight on top. Cook 10 minutes. Meanwhile, bring the marinade to a boil and boil a few minutes. Remove the weight from the chicken. Brush the chicken with reserved marinade and flip chicken over. Cook until chicken reaches an internal temperature of 165 degrees on an instant-read thermometer, about 10 to 15 minutes. When chicken is done, move to a board to rest. Brown the lemon slices lightly in the pan juices, about 4 to 5 minutes. Garnish chicken with the sliced lemons. Add any remaining pan juices to the reserved marinade. Served the cooked marinade and Fennel-Olive Relish alongside the chicken. Serves 4 to 6.

Fennel-Olive Relish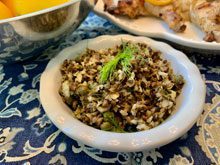 2 garlic cloves
1½ cups pitted black olives
½ fennel bulb, root and stems, with fronds removed and reserved
1 teaspoon lemon zest, no white included
1-2 tablespoons lemon juice
Freshly ground black pepper
1 tablespoon chopped fresh parsley
1 tablespoon finely chopped fennel fronds
2 tablespoon chopped capers, optional
Ad garlic to the bowl of a food processor fitted with the metal blade and pulse until finely chopped. Add olives and pulse a few times until chopped. Thinly slice fennel and add to food processor; pulse until evenly chopped, 4 to 5 times. Remove to a bowl, add lemon zest and lemon juice. Season with black pepper. Chop the fennel fronds. Stir in the parsley and chopped fennel fronds. Add capers, if using. It will last in a container refrigerated for a week. Makes 1½ cups.

Lemon-Lime Pot Roast with Tomatoes and Garlic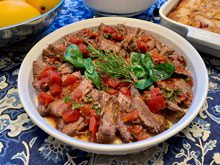 1 (2 to 3-pound) chuck round or sirloin tip roast
4 garlic cloves, chopped
Grated rind and juice of 2 or 3 limes, no white attached, divided
Grated rind and juice of 2 lemons, no white attached, divided
4 tablespoons bacon fat or drippings, or oil, cook's preference
1½ cups beef stock or broth
1 (14½ -ounce) can diced tomatoes with juice
Pinch of sugar, optional
1-2 tablespoons chopped fresh rosemary
1-3 tablespoons chopped marjoram, lemon thyme, or other fresh herbs, optional
Salt
Freshly ground black pepper
Remove any tough pieces of fat or sinew from the roast. Mash the garlic together with 1 tablespoon of each of the grated rinds and rub over the meat. Move the meat to a plastic ziplock bag or covered container. Add 2 to 3 tablespoons of the citrus juices to the bag and marinate 1 to 8 hours in the refrigerator, turning occasionally. Set remaining citrus juices aside. Remove the meat, reserving the marinade, a pat dry with a paper towel. Heat the drippings or oil over medium-high heat in a large Dutch oven. Add the meat and brown on one side. When mahogany brown, turn and brown on second side. Continue until all sides are browned. Remove the meat and set aside. Remove all but 1 tablespoon of the fat, if desired. Add the stock, reserved marinade and tomatoes to the pan, and bring to the boil; boil for 1 or 2 minutes. Taste and add a pinch of sugar, if necessary. Reduce the heat to a simmer and add the meat back to the pot. Cover with foil then a lid, and cook covered until the meat is tender, 1½ to 2 hours on the stovetop or in a 350-degree oven. Remove the roast and allow to cool. Remove any obvious fat from the top of the sauce. Bring to the boil and boil until thick, about 15 minutes. If possible, chill to remove all the fat when it comes to the top (preferably after sitting overnight). Slice the cold meat and return it to the sauce. When ready to eat, add herbs, season to taste with remaining lime and lemon juice, salt, and pepper and reheat on the stovetop. Serve hot, topped with some or all of the remaining grated rind of limes and lemons. Any extra rind can be wrapped and refrigerated or frozen, separately. Serves 4 to 6.

Social Circle Macaroni Pie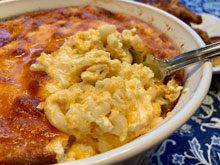 3 cups cooked and drained spaghetti (macaroni)
4 tablespoons butter, melted
4 large eggs, beaten to mix
3 cups milk
1½ teaspoons Dijon mustard
2 teaspoons salt
Freshly ground black pepper
1 teaspoon ground hot red pepper, optional
1 pound sharp cheddar or Gruyere cheese, grated
Preheat oven to 350 degrees. Roughly cut the cooked spaghetti into 3-inch pieces and toss with half the butter. Lightly whisk the eggs with the milk in a large bowl. Add the mustard, salt, peppers, and half the cheese. Put half the spaghetti into a greased 3-quart baking dish, sprinkle with cheese to cover and 1 tablespoon of the butter. Ladle on half the egg/cheese mixture, top with the rest of the spaghetti. Ladle on the remainder of the mixture and enough cheese and the remaining butter to cover the top. If the dish is deep, it may not need all of the cheese. Move to the preheated oven. If the dish is less than three inches deep, bake for 30 minutes; if deeper, bake for about 45 minutes. Check and reduce the heat 25 degrees if the cheese is browning too much or the custard is bubbling. Cover lightly with foil and continue to bake until a fork inserted in the custard comes out clean and the top is golden brown, up to 40 minutes more, depending on the thickness of the baking dish. Serves 6 to 8.

Lazy Girl Peach Batter Cobbler
1 cup granulated sugar, divided
2 cups sliced peaches
½ cup unsalted butter
1 cup commercial or homemade self-rising flour
1 cup whole milk
Sprinkle ¼ cup of the sugar over the peaches and let sit while melting the butter. In an 8×11-inch baking dish or decorative oven-to-table dish, melt butter in the oven while the oven preheats to 375 degrees. (The butter crisps the edges, so I (Nathalie) say "the bigger the dish, the better." If you prefer a deeper cobbler, use a smaller baking dish.) Whisk together the flour, milk, and remaining sugar. It can be a bit lumpy. When the butter has melted, remove the hot pan and pour batter into the hot butter in the pan. Don't worry if the batter puffs up a bit on the sides. Sprinkle the peaches evenly over the top of the batter. Bake until the batter has risen around the fruit, the top is light brown and "cobbled" looking, and the sides are darker brown, about 30 to 45 minutes. An inserted fork should come out clean. Serve hot. It can be made ahead and refrigerated or frozen. Reheat before serving. Serves 4 to 6.

The writer owns Catering by Debbi Covington and is the author of three cookbooks, Celebrate Beaufort, Celebrate Everything! and Dining Under the Carolina Moon. Debbi's website address is www.cateringbydebbicovington.com. She may be reached at 525-0350 or by email atdbc@cateringbydebbicovington.com.