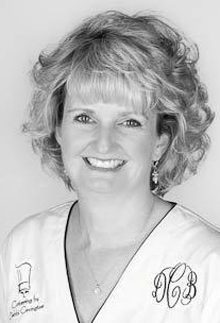 Seafood is a favorite choice for a small and casual party. All three of the recipes in this issue are delicious and easy to prepare and two of them can be made the day before serving. It's easy to be a hostess! This is how we do it in the south.
Offer your guests a refreshing beverage and pass a tray of Cornmeal Fried Oysters with Jalapeño Aioli as they arrive. Cold Poached Salmon with Dill Sauce is an excellent buffet item for a luncheon or dinner. For an entree, Baked Shrimp with Feta Cheese may be served buffet-style, as tapas or served over hot pasta. Most importantly, don't forget to have fun! (Food photography by Susan DeLoach Photography)
Cornmeal Fried Oysters with Jalapeño Aioli
Sweet and salty South Carolina Lowcountry oysters are the best on the planet!

For the aioli:
1 tablespoon diced jalapeno peppers
½ cup mayonnaise
1 tablespoon fresh lime juice
1 tablespoon chopped fresh Italian parsley
For the oysters:
Vegetable oil, for frying
1 pint oysters, drained
½ cup all-purpose flour
1 cup cornmeal
Salt
Dash cayenne pepper
Freshly ground black pepper
Place jalapenos, mayonnaise and lime juice in a small bowl; mix well. Stir in parsley; set aside. In a deep fryer, heat oil to 350 degrees. Combine flour, cornmeal, salt and peppers in a shallow dish. Place some of the oysters in the cornmeal mixture and toss to coat well. Shake off excess. Fry the oysters, in batches, until they are crispy and golden brown, about 2 minutes. Remove and drain on paper towels. Serve with aioli. Serves 4 to 6.
Cold Poached Salmon with Dill Sauce
Delicious served chilled or at room temperature. It's always a hit!

For the dill sauce:
¼ cup fresh dill weed, chopped
1 cup sour cream
½ cup mayonnaise
1 teaspoon dried tarragon
1 teaspoon Dijon mustard
Salt
Freshly ground black pepper
For the salmon:
1 (2-pound) center-cut salmon fillet
4 cups water
½ cups dry white wine
1 stalk celery, sliced
½ red onion, sliced
1 carrot, sliced
1 lemon, sliced
½ teaspoon whole black peppercorns
¼ teaspoon salt
Suggested garnishes:
Red onion, chopped
Hard-boiled eggs, chopped
1 lemon, sliced thinly
1 small jar capers, drained
Fresh dill weed
Make dill sauce by combining all ingredients in a small bowl; refrigerate until ready to serve. To prepare the salmon, place all ingredients except for the salmon in a shallow pot or fish poacher. Bring to a boil and let let simmer for 15 minutes. On extremely low heat, add the salmon fillet and cover. Poach for 12 to 15 minutes or until desired doneness. When salmon is cooked through, remove from cooking liquid to a platter. Cover and chill for at least 3 hours before serving. Assemble salmon on platter with chopped red onion, chopped hard-boiled eggs, lemon slices, capers and fresh dill weed. Serve with dill sauce on the side. For appetizers serve with water crackers or toasted baguette slices. Serves 10.
Baked Shrimp with Feta Cheese (Girades mi Feta)
A fabulous Greek recipe that's perfect for small plates and great served over hot pasta!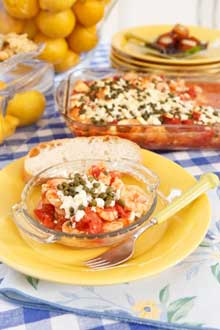 1 tablespoon olive oil
1 teaspoon minced garlic
1 teaspoon dried oregano
½ teaspoon red pepper flakes
1 (28-ounce) can diced tomatoes
1 (3.25-ounce) jar capers, drained
Salt
Freshly ground black pepper
1 pound fresh shrimp, peeled and deveined
4 ounces crumbled feta cheese
Crostini
Heat olive oil in a large skillet over medium-high heat. Add garlic, oregano and red pepper flakes. Sauté briefly, without allowing the garlic to brown, about 1 minute. Add the tomatoes, stirring well, and bring to a boil. Simmer, stirring frequently, until juices are reduced and sauce is slightly thickened, about 5 minutes. Add capers and season to taste with salt and pepper. Spread half of sauce in a lightly greased baking dish and top with the shrimp. Top with remaining sauce and sprinkle with the crumbled feta. Bake for 15 to 20 minutes, in a preheated 350 degree oven, until bubbling hot and the shrimp are pink. Serve with crusty rustic bread or crostini. Serves 6 to 8.
The writer owns Catering by Debbi Covington and is the author of two cookbooks, Celebrate Everything! and Dining Under the Carolina Moon. Debbi's website address is www.cateringbydebbicovington.com. She may be reached at 525-0350 or by email at dbc@cateringbydebbicovington.com.