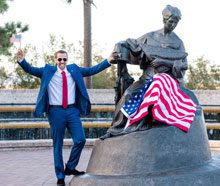 On Saturday, October 26, Beaufort will honor its newest Americans at Celebrating Citizenship, a public event in the Waterfront Park Pavilion, from 2 – 4 pm.
Celebrating Citizenship committee member Kathy Folsom says, "We are recognizing the history and incredible positive impact of the people in our community who have come from other countries and earned their US citizenship. We will be celebrating over 1,800 Beaufort County Naturalized Americans and their contributions."
The event will feature several speakers – including USCB Professor Emeritus, Dr. Larry Rowland and US Representative Joe Cunningham – and music by the Lowcountry Community Concert Band. There will be tables of information about citizenship and free refreshments will be served. People are asked to bring their own chairs.Below, a few of Beaufort's 1,800 naturalized Americans share their stories…
Labi Kryeziu 
(picured above)

I was 29 when I came to live in Beaufort five years ago. It was my third trip to Beaufort and my fifth trip to the US. My first trip was in 2010 visiting California.

My first visit to Beaufort was in 2012 and it was so different from everything in CA! Later that year I came as a guest of Community Bible Church when I represented the church in my home at the 2012 World Missions Conference. Eighteen months later I came back to marry my wife, Lycia, and build a life together in this wonderful community. She and I met in my country in 2001, where she lived as a missionary for 13 years.
I am from Kosovo where I grew up in a village. It was a simple life with a village school, family farm and family gatherings. Then came a terrible time of war and ethnic cleansing. My teen years were filled with stories of suffering, civilian massacres, the sound of enemy jets, tanks and guns in distant villages. The enemy army was systematically advancing from village to village to run my people from their homes and destroy everything and everyone they could. Our local militia, the Kosovo Liberation Army (KLA), would notify villages of the enemy's approach. In 1998 I had to flee from my village with my mom, grandparents, sister, and two younger brothers. I was 13 years old. My 16 year old brother and my dad had to stay hidden in the mountains because any adult male, if found with his family, was in danger of being taken by the enemy and never heard of again. For a year we moved to three different villages and hid in the mountains until the enemy found us and forced us to leave Kosovo as refugees to Albania. None of us knew if we'd ever see our homes or my dad and brother again. 
As refugees in Albania we received water, food and shelter in a refugee camp, and then with an Albanian family who hosted us for four months. During that time America came and saved my country and my family by defeating our enemy. It felt like a miracle when everyone went home. We cried tears of sorrow and tears of joy as we remembered the lost, saw our village burned down and reunited with brothers, fathers, cousins, and uncles. Freedom is good, but freedom isn't free. 
A Christian Missionary organization was there providing aid after the war. A retired Marine, now a pastor, and his wife led the mission and later established a church which became our beacon of hope.  I became a Christian and helped with the church.  Our pastor died suddenly from a heart attack and many years later his widow, Lycia, became my wife.
The process of becoming a US citizen was interesting and exciting.  What I wasn't prepared for was how emotionally powerful it was to actually take the oath of citizenship. Earning a US Passport felt like I'd won my freedom all over again. I am the first in my family to become a US Citizen and I am passionately patriotic. This country is unique. It doesn't matter who you are or how you get here. The US is the only place on this earth that offers the opportunity to work hard, learn and establish yourself. Anyone can achieve their American Dream! It bothers me to see young people, who have so much opportunity, be lazy and unproductive. We settled in Beaufort where my wife had lived with her late husband. It is a great place with a wonderful quality of life and many opportunities. I started a business in real estate investing where I purchase distressed houses, renovate and sell them. I also have a business in financial services to help other middle Americans achieve their financial goals and dreams. 
I want my story to inspire people of all ages, races, and creeds. I want to make a difference by sharing the lessons I continue to learn about God, life, business, and being a contributing member of the community. You never know, if I stay in Beaufort I may become mayor! 
Connie Kling
At twenty-two I left County Clare in Ireland and came to Hilton Head. I was amazed at the beauty of the area. This was paradise! Literally, I knocked on the door of some Irish connections on the Island and they took me in. I was working in the food and beverage business which later led me to manage a bar in Beaufort, where I met my husband to be. We married and soon after I purchased an existing business called Deals, a lady's clothing store on Bay Street. I also carry men's Irish caps and rugby shirts along with a variety of Irish jewelry, fragrance, throws, etc. Thanks to the support of locals and tourists, my business has been successful for over 30 years. I came to America and was warmly embraced and I feel especially patriotic when I hear our National Anthem. I am deeply moved and thankful to be part of this wonderful country.
Babet Villena-Alvarez
With a title, Professor of French, Spanish and Global Studies, Babet's path to Beaufort traversed three continents.  Born in the Philippines and a graduate of the University of Paris Sorbonne, a joint degree program with the University of Cincinnati brought our distinguished linguist and energetic leader to the United States.  Her first impression; "so clean with wide open spaces!" Her first-year struggle "not having a car.  Cars are so important in America."  What surprised her?  Acceptance by others.  "I was an Asian teaching a European language to American students!  The students did not see anything wrong with that." For over twenty years Beaufort has been fortunate to have Babet and her family as a part of our community.
Cesar Etanislao
As a teenager, we visited the United States many times. "Every Dominican has family in New York!"  The skyscrapers and energy of New York City thrilled me.  As a single person I was attracted to New York but I made my career as a teacher and marketing consultant in the Dominican Republic. Then, seven years ago, I went to the bus station, and by chance ran into a woman I had dated long before.  She was now the widow of a retired Marine, living in Beaufort.  We started dating, flying back and forth to see each other.  We married four years ago and with my son, I moved to Beaufort. My wife has a good job at Parris Island but I had to "start from zero."  I wanted the best for my son and Beaufort provides a quiet, safe place to raise him.  I also wanted him to become a citizen, which happened this year after I completed the citizenship process.  My hope is, by showing him that if you work hard you can succeed, he too will have a good life as an American.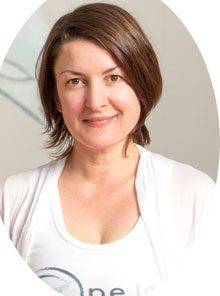 Dragana Pavic-Zappia
I left Serbia as at the age of 21 after graduating Polytechnic Academy in Belgrade and moved to Greece.  In Athens I attended and graduated Athens University of Economics and along the way my Greek friend introduced me to her Greek- American friend's stepson.  The rest is history.  When I first came to the U.S., I was amazed how friendly and kind people were and the huge difference in how they lived.  On my second visit we got married and later started my path to citizenship.  A few years later we visited my in-laws, then in Beaufort, and moved here in 2004. I began my yoga journey at Yoga Chandra on Whitehall Plantation and I worked retail and architectural design. With the encouragement of my husband and fellow yoga teachers six years ago I started One Yoga Sanctuary in the Lady's Island Marina.
Jay Patel
Like many Indians of my age, I went first to England for schooling and college and then on the United States. When I arrived in Los Angeles I was surprised by the amount of space and, of course, the LA freeway-style driving. It was not difficult for me to adjust. I had family here already to live and work with, first in Berkeley, then Georgia.  On a visit to Savannah, friends suggested looking in Beaufort.  I bought a motel and Beaufort became my home for the last forty years.  I am a fortunate man.  I raised my family here and have been "blessed" by many people.  "Whether you read the Bhagavad Gita or the U.S. Constitution, our common thread is humanity."  I remember, with gratitude, Dick Jennings lending me a generator after a hurricane.  Almost fifty years ago a dear friend, club singer in Mumbai, suddenly died.  That night people put flowers on the chair where he always sat.  Last week a wonderful Beaufort friend died.  At the next meeting people also put flowers where he always sat.  We are all part of the same humanity.
And then, there was the customer who took grape fruit that I was giving away.  He offered to pay but I would not take his money only a donation for the Rotary-sponsored eye surgery program in Nepal.  He gave me money to pay for one surgery but came back the next day giving more, saying "people can do so much more with two eyes rather than one." I try to give back to my community.  The sign at my counter states, "Service may vary according to my mood and your attitude!"
Corinne Woodman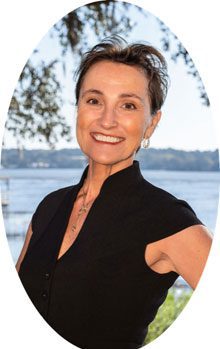 I remember the day I arrived in America like it was yesterday:  the day was July 31st, 1985. I was amazed by how the country and everything looked so grandiose to me. Because I had a good working knowledge of the English language, I had been asked by my French company to temporarily manage their operations in Summerville, near Charleston, SC.   In my high school and college years, I had studied British English and learned to say things like "open the boot of the car, nice trousers"!!  My daily dealings and responsibilities at work included dealing with customers by phone nationwide.  Numbers , counting and spelling were so difficult at the time and sometimes still are.   I survived and prospered.  Three months became six years!  
Then I attended a Christmas party for all of the businesses in our building and met my future husband.  In quick succession, I decided to stay in the US after I had already planned my return to France.  We got married, bought a house, had a child and I quit my job.  My whole life was completely changed in only a matter of months.  We then went to the Immigration Service to start my green card application process which would allow me to stay legally in the United States since I was no longer employed and my inter-company visa expired.  I remember my husband and I thought would the immigration officers think we were just a marriage to allow me to stay here?  Obviously, it all worked out.  Later, when we started to think about moving away from Charleston, I "Googled" waterfront homes for sale.  The first house that came up was one in Pleasant Point.  Without walking into the house, my husband saw the beautiful settings, back yard, the marsh and the water and said "let's buy it".  

34 years later, I am still here, and America is now not only my home, it is also my happy place!
Anjali Patel
By the time I was fifteen I had lived on three continents.  First Africa, my father owned a factory in Zambia.  Then I went to school in India.  Next, we moved to California.  My Indian friends thought it was a "big deal" that I was moving to America. But I arrived in San Francisco on a Friday and started high school the next Monday.  I was just "the new kid" so I focused on my studies, but I also had my family.  After a year, we moved to Redding California, at the base of the Sierra Mountains.  It was a small town.  I learned that if I wanted something done to do it myself. I remember, at age fifteen, going to Sacramento and taking the citizenship test. We all gave up our Zambian citizenship and became Americans. 
I was a "nerd" but that served me well in college.  Shortly afterwards I went to a party in Dallas with a group of Indian-Americans where I met my future husband who is from Beaufort.  A decade later we have three beautiful children and "Papa" has stepped aside so I manage the family business.  I have come a long way from what was Northern Rhodesia!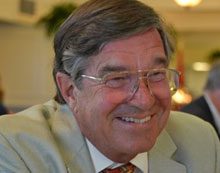 Jerry Schultz
I grew up in post-war Europe in an apartment in a bombed-out industrial city.  I remember playing with other kids in an abandoned tank. My father had lived in the US before the war and deeply regretted not becoming a citizen. When I was eight, we moved to New Jersey.  I did not know any English but learned quickly.  As soon as I was eligible for citizenship my father "promptly marched me down to the post office to apply."  I was also fortunate to get a very good education during which my roommate asked me to "escort" his sister to a college party.  I have been "escorting" her for almost fifty years!  Along the way work took us around the world while living in Canada, Germany and New England. Twenty years ago, water and weather brought us to Beaufort but community has kept us here.
Rosa Maria Cannales 
I came to the United States from Columbia for the first time when I was forty-three years old. It was a dream come true!  So Wonderful.  The many opportunities available to people. Education, jobs, and the wide variety of food was overwhelming.  The lifestyle so different.  More than anything I wanted to become a citizen.  My biggest challenge has been to learn English.  I worked at it a long time before I could speak and understand English well enough to use it at work.
Becoming a citizen was difficult.  I could not have done it without the many people who have helped me. The teachers, tutors and volunteers at Beaufort County Adult Education provided English as a Second Language classes and tutoring for Citizenship Preparation. I worked very hard to study, learn English and to pass the civics test.  Now that I am a Citizen I feel that I can relax. I don't feel so afraid of the police and the challenges of always having to prove I have the right papers and documents to stay here.
My family loves Beaufort, it is a good and beautiful place to call home. I would like to encourage others to become citizens. It is not easy. You must be willing to work at it.  Being a citizen is a privilege and I am very proud.
Z Prather
Z passed away on September 24, soon after giving this interview. We would like to honor her and her contributions to our community.

My journey to America took many twists and turns.  I grew up in Poland, then a Communist country.  I had a gift for languages which gave me opportunities to study in London and Copenhagen where I met my first husband.  Because those were the days of the "Iron Curtain" it was not easy for me to come to here.  I was being interviewed just hours before our flight to the U.S. What an amazing country. Where I came from you had to have the "right" papers, the correct certificates.  America was a country of opportunity.  "Show us what you can do."
First, I got a job teaching languages at UC San Diego.  Later I taught at the prestigious Monterrey School of Languages.  I met many future diplomats and military leaders.  When my husband and I separated I had my Green Card but lost out on an opportunity because I was not a U.S. citizen. I then had to petition the Polish Parliament for permission to give up citizenship and become an American.  With my Marine officer second husband I traveled the world.  When he was assigned to Washington, I became a technical translator. In 1987, the Marine connection brought me to Beaufort and I have been here ever since.  What a beautiful place to live.