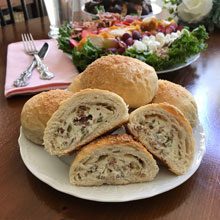 It's the middle of the morning on Friday and I'm still in my pajamas. Actually, it's closer to noon on Friday and I'm still in my pajamas. Vince is on his way to visit his mother in Florence for a couple of days so Belle and I are home alone having a girls weekend.
(For those of you who haven't seen the zillion photos of Belle on my Facebook page, she's my eleven-year old kitty cat.) The deadline for this column was last Tuesday. I'm playing catch up. This past week has been a whirlwind of what my LCW editor, Margaret Evans, has deemed the "Debbi Covington Cookbook Roadshow." Celebrate Beaufort has been selling very well. I'm so pleased at the response. Book signings have been exciting and fun – and kind of exhausting. I find that I'm a bit rattled and behind on just about everything. Thankfully, LCW publisher, Jeff Evans, extended my deadline to today. I've had a few recipes in mind that I've been wanting to try, so before I had even finished my cup of tea, I got cranked up in the kitchen. This morning has been the most no pressure fun that I've have in a long time. Cooking and creating is the best form of therapy! Eating isn't so bad either. I hope you'll like these new offerings. I think they're good picnic and beach food recipes. As for me, I'll get a couple of meals from the salad. I'll share the biscuits and sweet treats with some of my friends. And, I'm already planning a nap with Belle later this afternoon. Yay for a day off!
Cream Cheese and Bacon Biscuit Bombs (above)
I used Grands biscuits. These goodies are literally bomb-sized! Best straight out of the oven, they're also delicious at room temperature.
1 (16.3-ounce) can refrigerated biscuits
1 (8-ounce) package cream cheese, softened
½ cup real bacon bits
2 tablespoons diced jalapeno peppers, drained
¼ cup grated Parmesan cheese
1 teaspoon garlic powder
1 tablespoon butter, melted
1 tablespoon grated Parmesan cheese
In a medium-sized mixing bowl, mix together cream cheese, bacon bits, jalapenos, ¼ cup Parmesan cheese and garlic powder; mix well. Open can of biscuits and separate each biscuit. Mash each biscuit out flat. Take a spoonful of the cream cheese mixture and place it in the center of each biscuit. Fold edges of the biscuit dough over until the cheese is covered. Pinch edges to seal. Preheat oven to 350 degrees. Lightly grease a baking pan with cooking spray. Place stuffed biscuits on the prepared pan. Brush each biscuit with melted butter and sprinkle tops with 1 tablespoon Parmesan cheese. Bake in preheated oven for 15 to 18 minutes or until golden brown. Makes 8.
Southern Cobb Salad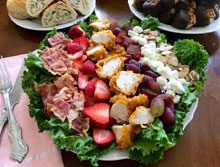 I bought fried chicken tenders from the deli at Publix and reheated them in a 350 degree oven for about 8 minutes the next day. Keep it simple.
For the dressing:
1/3 cup Greek yogurt
2 tablespoons apple cider vinegar
2 tablespoons vegetable oil
2 tablespoons honey
¼ teaspoon salt
¼ teaspoon Dijon mustard
2 teaspoons poppy seeds
For the salad:
6 to 7 fried chicken tenders
1 (5-ounce) bag salad greens
1 quart fresh strawberries, sliced
1 cup red grapes, halved
½ pound bacon, cooked and crumbled
¼ cup crumbled goat cheese
1/3 cup candied almonds
Whisk dressing ingredients together in a small bowl; set aside until ready to serve. To assemble the salad: Cut the chicken tenders into bite-sized pieces. Place salad greens on a large serving platter. Top greens with strawberries, grape halves, chicken tender pieces, crumbled bacon and goat cheese. Garnish with candied almonds. Serve with salad dressing on the side. Serves 4.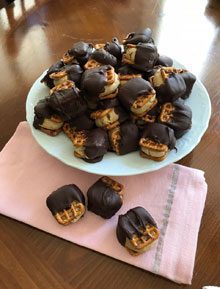 Peanut Butter Pretzel Bites
You'll only use about half of the bag of pretzels. In this Lowcountry heat, you may prefer to store these yummies in the refrigerator.
1½ cups extra-crunchy peanut butter
1 stick butter, softened
1 teaspoon vanilla
3 cups confectioner's sugar
1 bag square pretzels
4 cups semi-sweet chocolate chips
Line a large baking pan with parchment paper. In a large mixing bowl, beat peanut butter, butter and vanilla until incorporated. Add confectioner's sugar and mix well to combine. Using your hands, roll peanut butter mixture into small balls. Once all of the balls are rolled, place peanut butter balls between two square pretzels. Press down gently being careful not to break the pretzels. Melt chocolate chips according to package directions. Dip each peanut butter pretzel bite into the chocolate and place on parchment paper. Place in refrigerator for 30 minutes or until chocolate has hardened. Store in an air tight container. Makes between 60 and 70.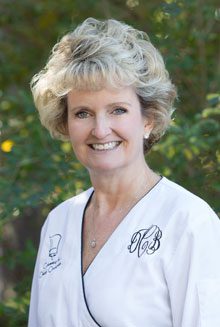 The writer owns Catering by Debbi Covington and is the author of three cookbooks, Celebrate Beaufort, Celebrate Everything! and Dining Under the Carolina Moon. Debbi's website address is www.cateringbydebbicovington.com. She may be reached at 525-0350 or by email at dbc@cateringbydebbicovington.com.