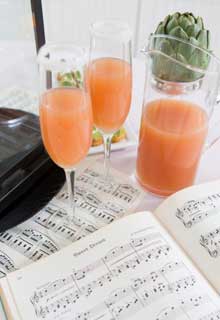 The weather is beginning to get warm (downright hot some days) and no one wants to spend a lot of time in the kitchen! The recipes this week are all short, easy and delicious! Whip up a pitcher of Sweet Dreams to sip while you put together this simple supper. (Be careful, there's a reason why they're called Sweet Dreams! Too many of these potent beverages and you'll be in la-la land!)
Avocado and Goat Cheese Toasts are a yummy appetizer and offer an unexpected taste treat. The combination of unique flavors is amazing! Crispy Garlic Shrimp is super-easy to prepare and can be served as a tapas-style hors d'oeuvre or as an entree. Add your favorite fresh salad and you have a complete meal. Enjoy! (A great big thank you goes out to Susan DeLoach Photography for the great photos and to Plum Productions for the beautiful tablescape!)
 Sweet Dreams

The ULTIMATE Girly Drink!



½ cup coconut rum

½ cup vodka
1 cup cranberry juice

1 cup orange juice


Combine all ingredients in a glass pitcher. Chill before serving. Serves 4.
Avocado and Goat Cheese Toasts

The unique combination of flavors is amazing!


1 skinny baguette, sliced and toasted

1 cup deli guacamole

4 ounces goat cheese

Fresh mint


Spread guacamole evenly over each toast. Top with goat cheese. Garnish with a fresh mint leaf. Serves 6 to 8.


Crispy Garlic Shrimp

Serve this as a tapas-style hors d'oeuvre or as an entree.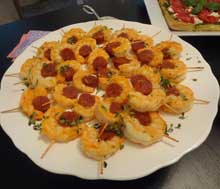 1 pound raw shrimp, peeled and deveined

4 cloves garlic, minced

2 tablespoons dry white wine

Salt and freshly ground black pepper, to taste

4 tablespoons melted butter

½ cup panko bread crumbs

2 tablespoons chopped fresh Italian parsley


In a bowl, combine shrimp with garlic and white wine. Spread shrimp mixture evenly in a lightly greased baking dish. Season with salt and pepper. In another bowl, use a fork to mix melted butter with panko and parsley. Using your fingers, sprinkle mixture evenly over shrimp. Bake in a preheated 425 degree oven for 15-18 minutes or until shrimp are cooked through. Serves 4.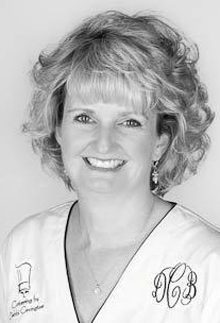 The writer owns Catering by Debbi Covington and is the author of two cookbooks, Celebrate Everything! and Dining Under the Carolina Moon. Debbi's website address is www.cateringbydebbicovington.com. She may be reached at 525-0350 or by email at dbc@cateringbydebbicovington.com.