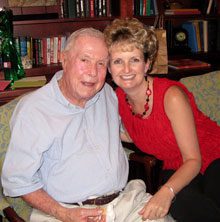 I was thirty-something years old when I got the idea in my head, "What would I do if someone kidnapped me and I could get their gun away from them? I don't know how to shoot." I'm almost certain my concern was from watching way too many episodes of Criminal Minds, but that didn't matter. I immediately went to my Daddy for advice. He was like, "Sugar, I'll give you one of my pistols. It needs some work, so you get it repaired and you'll have a gun." Well, that gun was a .32 caliber Smith and Wesson revolver that was in 4 pieces, wrapped in a waxed paper-like thing and looked like it had spent 10 years soaking in Dr. Pepper. It was sticky and nasty. Determined, I asked another grown up, "How do I get this thing fixed?" The adult was Neil Trask, who sent me to Ricky's Gun Shop/Shooting Range in Burton.
Neil took me over to meet Ricky and his father, Bob. They both thought I was nuts for wanting to salvage the gun. I paid way more than the firearm was worth and had it repaired, probably to the chagrin of my father who was likely afraid of what I harm I could do to myself with an actual loaded weapon. Anyway, I retrieved the revolver from the gun shop and asked Neil if he'd teach me how to shoot it. If you ever met Neil, he had a sweet and quiet voice and he took a long pause before he gave me an answer. "Okay, he said. We'll come back next week and see what you can do." 
The next Tuesday at lunchtime, he picked me up from my office at First Presbyterian Church. At the time, I was the church secretary. I was dressed in a skirt and heels and had my new prize .32 wrapped in a piece of felt, with a box of bullets purchased from Bass Pro Shop in my purse. We went back to Ricky's. I could tell that Neil was apprehensive. For real, he had agreed to teach a girly-girl how to shoot, hoping all the while that I didn't hurt him, me or anyone else at the range. Patiently, Neil showed me how to load the revolver. He purchased my first paper target and attached it to the electric target hanger thingy. We only shot paper bullseye targets. Neil pressed the button to push my target back a few feet, put his ear protection on my head, gave me his goggles and helped me aim my new revolver.  He stood back and watched while I squeezed the trigger. I missed the target completely. I was afraid that he'd give up on me but instead Neil said, "Let's try my .22. This revolver may be a bit strong for you." 
I watched as he loaded the magazine for his .22. He racked the slide, put it in my hands and told me what to do. Bang! I hit right outside of the bullseye. I looked at Neil, he looked and me and we both grinned from ear to ear. "Do it again," he said. And I did. I unloaded the entire clip into that paper target. About 30 rounds later, Neil brought the target back, unclipped it from the electric target hanger thingy and presented it to me. I rolled it up and took it back to show my husband Vince and anyone else who came through the church office that afternoon. I bought a brand new .22 caliber Browning the following weekend. 
After that, Neil and I went shooting every Tuesday for close to ten years. When he'd pick me up from church, I'd remove my gun case from the trunk of my car. Neil would secure both of our gun bags in the back of his truck and we'd head out on our weekly date to Ricky's. We shot side by side. Neil taught me how to use many different types of firearms and over the years actually gave me several guns. He always gave me ammo for Christmas. After I'd unloaded 100 rounds (a small box) from my .22, we would almost always go out to lunch. We both loved the Tuscan pizza at Panini's on Bay Street. Of course, he always had to get anchovies on his half. And, iced coffee. He taught me to love it. But I only drank it with Neil. 
On other days, Neil would drive me around Beaufort and Burton and tell me stories about when Beaufort County was mostly farmland, country woods and green fields. Neil showed me the pecan trees that his father planted. The trees still line the drive to Pickpocket Plantation, his old family home. (I've named a recipe in my cookbook, Celebrate Beaufort, Pickpocket Plantation Pecan Pate in honor of the Trask pecan trees.) In addition to teaching me how to shoot straight, Neil taught me how to manage money, when I should keep my mouth shut, and how to be kind to and patient with people. He was my other father after my own Daddy died in 2009. Neil and Becky Trask took me under their wings, their protection and their loving care when I was 27 years old. I'm now 55. The last time that Neil and I spoke with each other, Christmas Day 2018, when he realized that I was in the room, he opened his eyes long enough to say "We sure had some good times together, didn't we?" We most certainly did. Fighting back an avalanche of tears, I squeaked out a "Merry Christmas" and an "I love you." He looked into my eyes and told me that he loved me, too. It was a precious few minutes. We don't get to choose our family. Thank you, God, for letting our friends who turn into family choose us. My world won't ever turn the same without Neil. Please keep the Trask family in your prayers.
This week I'd like to celebrate the life of Neil Webster Trask, Jr. by sharing recipes for some of the foods that he loved. So many happy memories!
Roasted Cream of Tomato Soup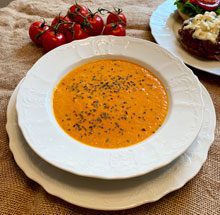 Neil owned a bunch of farmland in Beaufort County. Much of the land is tomato fields. In the summertime, it was almost impossible to visit Neil and Becky without heading home with a bag full of fresh Beaufort tomatoes. I ended up with so many 'maters last year that I created this easy and delicious recipe to use them all. Best thing is, this soup freezes beautifully and is a wonderful side dish with a grilled ham and cheese sandwich in the cold winter months.
3 pounds fresh tomatoes, quartered
1 sweet onion, halved and quartered
2 to 3 tablespoons olive oil
2 teaspoons salt
Freshly ground black pepper
4 to 5 cups chicken or vegetable broth
3 cloves garlic, minced
2 teaspoons dried basil
½ cup heavy whipping cream
¼ cup ketchup
Preheat oven to 400 degrees. Line a large baking sheet with aluminum foil. Spread tomatoes and onion in a single layer on prepared baking sheet. Drizzle with olive oil. Season with salt and pepper. Roast in preheated oven for 30 to 40 minutes or until tomatoes and onion and are tender. Bring chicken broth, garlic and basil to a boil in a large stockpot. Add tomato-onion mixture;  reduce heat and simmer for 10 minutes. Remove pot from heat. Using an immersion blender, blend soup until completely smooth. Stir in heavy cream and ketchup; mix well. Simmer for an additional 5 to 10 minutes before serving.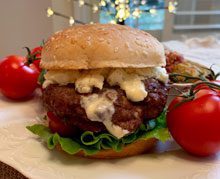 Clemson Blue Cheese Burgers
A fan of both blue cheese and Clemson University, this burger recipe is dedicated to Neil. When Vince would grill hamburgers we'd often deliver Blue Cheese Burgers to Ribaut Road for Becky and Neil to enjoy. Medium-rare beef and piquant blue cheese was a love all four of us had in common. 
1½ pounds ground beef
1½ pounds ground sirloin
1 tablespoons dried minced onion
1 tablespoon worcestershire sauce
2 eggs
Salt and pepper
Hamburger buns
Horseradish sauce, mayonnaise or dijon mustard
Green leaf lettuce 
Fresh tomatoes, sliced
Salt and pepper 
Crumbled blue cheese
Place the ground beef and ground sirloin in a large bowl. Add dried minced onion, worcestershire sauce and eggs. Season with salt and pepper. Using your hands, mix the meat with the other ingredients until combined. Divide the beef mixture into 8 equal portions and form into patties. Place the patties on a large tray. Heat a gas or charcoal grill to 400-450 degrees. Place the patties on the grill over direct heat. Grill to your desired doneness, flipping a few times during cooking.  (Internal temperature should be – Rare burgers: 125 degrees/Medium-Rare burgers: 135 degrees/Medium burgers: 145 degrees/Well-Done burgers: 160 degrees) Let meat rest for 5 minutes. To assemble the burgers: place a hamburger bun on a plate, spread both sides of the bun with your choice of condiment. Add a piece of lettuce and a slice or two of fresh tomato. Season tomatoes with salt and pepper. Top with a hot burger and sprinkle with crumbled blue cheese. Makes 8 sandwiches.
 Okra and Tomatoes
While it's probably a sin to serve canned tomatoes to a tomato farmer, Neil loved Okra and Tomatoes. I took him a batch late last summer after buying a bunch of fresh okra at the Port Royal Farmers' Market. Per his request, his caregiver Lisa Ramsey, served it over white rice with a slice of cornbread. Neil was always a country boy at heart.
¼ to ½ pound sliced bacon
2 cups chicken stock
½ large vidalia onion, chopped
4 to 5 cups sliced fresh okra
1 (28-ounce) can petite diced tomatoes, undrained
Salt and pepper, to taste
In a heavy-bottomed stock pot or Dutch oven, cook bacon until brown and crispy. Remove bacon and drain on paper towels; crumble and set aside. Add chicken stock and onion to the pot and cook over medium-high heat until onion is tender. Add sliced okra and cook for 2 to 3 minutes or until okra begins to get tender. Stir in tomatoes. Cook until okra is desired tenderness. Season with salt and pepper, to taste. Top with crumbled bacon before serving. Serves 8 to 10.
Mocha-Almond Ice Cream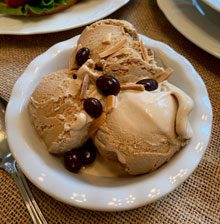 Neil loved ice cream and he loved iced coffee. This easy ice cream recipe is doing double-duty.
1 cup whole milk
3 (1-ounce) squares semi-sweet chocolate, chopped
¾ cup sugar 
2 tablespoons instant coffee crystals
¼ teaspoon salt
1 cup half and half 
2 cups heavy whipping cream
1 cup slivered almonds, toasted
Garnish with toasted almonds and chocolate-covered espresso beans, if desired
Combine milk and chocolate in a saucepan. Cook over medium heat until chocolate is melted. Remove from heat. Whisk in sugar, instant coffee crystals and salt. Stir in half and half, whipping cream and almonds. Cover and refrigerate for 30 minutes. Prepare as directed in a 2 quart ice cream maker. Serves 12 to 16.
The writer (pictured at top, with Neil Trask) owns Catering by Debbi Covington and is the author of three cookbooks, Celebrate Beaufort, Celebrate Everything! and Dining Under the Carolina Moon. Debbi's website address is www.cateringbydebbicovington.com. She may be reached at 525-0350 or by email atdbc@cateringbydebbicovington.com.