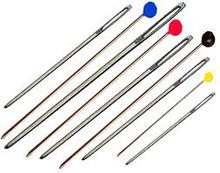 Pins and needles: A pricking tingling sensation in a limb growing numb or recovering from numbness.
On pins and needles: in a nervous or jumpy state of anticipation
– Merriam Webster
2018 took the cake. For me, it was easily the most challenging year ever. Assorted ailments and hospitalizations, including a kidney stone and lithotripsy to blow it up like a scene from London circa 1940, losing 50 pounds and then my most darling wife. Though I finally got off prescription pain medication, the arthritic pain in my lower back accelerated and kept me largely immobilized. 
I entered an extended period of feeling on pins and needles. 'Now what's going to go wrong?' Is my heart about to explode and blow through my chest? This was reinforced, albeit accidentally, by one of my nurses. She queried, "Are you feeling pins and needles?" I thought she must be kidding. They had already medicated my heart back into its corral, but every day brought a parade of nurses and techs who needed to draw blood or give me a shot in the stomach to 'retard blood clotting.' So yeah, plenty of needles, Nancy.  
Here in Boston, not far from where I went to grade school in Wellesley, the winter cold and wind are offset in part by a seemingly endless stream of terrific restaurants. Yin and yang. While at one of them, Fuji, my son Jack ordered a Thai version of sea bass. Sure enough, that's what he got: a whole bass served dorsal side up with sweet and sour sauce, onions and sweet peppers. Those dorsal fins looked and felt like pins, and we all agreed he should be extra careful in navigating around them. I swallowed a northern pike bone on a father and son fishing trip in high school and memory of the gagging irritation managed to stay with me. Still, Jack enjoyed his fish and left a plate of bones with none poking out of his neck.
With no more phenobarbital or hydroxyzine to help keep my anxiety in check, I turned to more organic (holistic?) forms of treatment. Jane, Jack and I used to go to Christmas services on vacations in Nantucket. Small churches, warm, inviting, beautifully lit. And oh, those choirs. I've been a complete sucker for church choirs for a long time, stemming back to listening in awe to our lovely high school choir perform.  
So on Christmas Eve, off we trundled to the Cathedral of the Holy Cross, the largest Roman Catholic Church in New England. The basic service was straight line Catholic, complete with incense thuribles, parables and communion. Even though we had to use the church basement due to extensive renovations upstairs, it was gorgeously decorated, warm and inviting. Every seat was taken, including a sea of folding chairs. The angelic choir of about 20 was accompanied by a marvelous organist and small brass section. The antidote to pins and needles, made all the more poignant by a brown haired young man in a wheelchair with warm eyes who caught my attention. His useless legs were barely offset by severely distorted hands. The TV doctor in me wondered if he had dystonia or Boutonniere deformity or maybe even muscular dystrophy.  What he surely had was a giant dose of spirituality. 'There but for the grace of God' marinated my soul.  
Tears trickled down my cheeks as the choir sang to the rooftops and I kept thinking about the fellow in the wheelchair. Music has continued to play a major role in my extended recovery. I've been listening to former child prodigies Derek Trucks and Quinn Sullivan when they were thirteen and eight, respectively. Happy freaks of nature, I call them, playing the blues on their electric guitars. In Sullivan's case, he's been taken under the wing of blues great Buddy Guy, now 82 and still smoking his repertoire, including "Damn Right I've Got the Blues."
Then there's my musical guru, Eric Clapton. How many times have I listened to one of his classics, a song that speaks to me directly:
Don't you know what's wrong with me?
I'm seeing things I don't want to see.
Sniffing things that ain't no good for me.
I'm going down fast, won't you say a prayer for me?
It's got to get better in a little while.
It's got to get better in a little while…
Eric Clapton, Got to Get Better in a Little While
Not just a towering musician, Clapton is also kind and grounded. As a friend of mine wrote to me this week, "I love the Crossroads stuff because the proceeds are used to help support the clinic in Antigua where my sister in law has worked. She was down there in November for an anniversary party for the clinic and she said that he is as nice and unassuming in person as he appears onstage. He, too, has been through a lot of trials and tribulations and has used those opportunities as a stepping stone for doing a lot of good things. Very inspirational."
I'm beginning to conclude that although very uncomfortable at times, feeling on pins and needles has a utility all its own. Studies showed many years ago that students performed best on exams when they felt moderately anxious and therefore energized. How many of us, if managing a major league baseball team in the World Series, would want their ace reliever to enter the game absent any pins and needles? And clearly, that very feeling of nervous anticipation probably fueled countless joyous marriage ceremonies.  
I'd like my medical team to feel something like a small dose of pins and needles.  Maybe the air traffic controller if not the pilot, Olympic swimmers and skaters if not gunmen (50m rifle, 3 positions, 10m air rifle).  Prosecuting attorneys if not judges. You get the idea.
If most of our lives are gigantic, moment to moment balancing acts, then feeling on pins and needles needs to be offset, neutralized by soothing if not relaxing experiences. Yoga anyone? Meditation? Playing with children for sure. Prayer and music.
That said, I've got an acupressure session this afternoon. It seems to be helping my back so far but if we falter, there's always acupuncture. And maybe some healthy 'needling' from my friends.