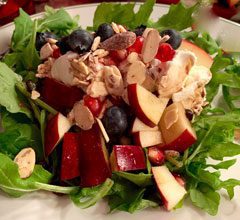 An impressive weeknight dinner doesn't need to be complicated. I completely agree that our freakishly hot weather hasn't been very inspirational as far as winter recipes are concerned. Typically this would be the season for soups, stews and chilis. January makes me think of gooey grilled cheese and crusty buttered breads. Not this year. Not in Beaufort, South Carolina anyway.
This week I'm sharing three recipes. The entree is an old stand-by. The salad features one of my new favorite things, burrata. And the dessert is a creation inspired by a photograph that I saw in a magazine. They're all good, easy and tasty. Happy Cooking!

Burrata and Fresh Fruit Salad
If you can't find burrata, fresh mozzarella is a close substitute.
For the vinaigrette:
¼ cup olive oil
2 tablespoons red wine vinegar
½ teaspoon garlic salt
¼  teaspoon freshly ground black pepper
¼  teaspoon sugar
For the salad:
8 cups organic mixed greens
2 medium red delicious apples, cubed
1 cup Blueberries
Burrata or fresh mozzarella, sliced
½ cup toasted sliced almonds
Place all vinaigrette ingredients in a small jar and shake to mix. Place salad greens in large salad bowl and toss lightly with vinaigrette. Place dressed greens on on chilled salad plates. Top with apple, blueberries, burrata slices and toasted almonds. Serves 6.

Hot Chicken Salad 
This recipe is my version of the hot chicken salad recipe that's featured in Sea Island Seasons, the Beaufort County Open Land Trust cookbook. The popular cookbook has been in print since 1980 and is now in its 10thprinting. I realize that the OLT recipe calls for mayonnaise but I prefer Miracle Whip. It's your choice.
3½ cups cooked diced chicken breasts
1 cup mayonnaise or Miracle Whip
1 cup diced celery
2 tablespoons finely chopped onion
1 tablespoon lemon juice
½ teaspoon dried tarragon
½ cup toasted slivered almonds
Salt, to taste
½ cup shredded cheddar cheese
1 cup crushed potato chips
Mix chicken with mayonnaise, celery, chopped onion, lemon juice, tarragon and toasted almonds. Season with salt, if desired. Spread into a lightly greased 8×8-inch casserole dish. In a small bowl, mix shredded cheese with crushed potato chips. Top chicken salad with potato chip mixture. Bake, uncovered, in a preheated 350 degree oven for 20 to 30 minutes or until cheese is melted and chicken salad is warmed through. Serves 6.

Chocolate Swirl Dessert 
The addition of two eggs makes this chocolaty dessert taste more like a custard than a pudding.
1 (5-ounce) package cook and serve chocolate pudding
3 cups whole milk
2 large eggs, beaten
1½ (13.31-ounce) boxes swiss cake rolls
2 cups heavy whipping cream
¼ cup confectioner's sugar
Cook pudding mix with 3 cups whole milk over medium heat according to package directions. Remove pudding from heat. Beat 2 large eggs in a small bowl. Whisk ½ cup hot pudding into beaten eggs to temper. Pour egg mixture into hot pudding, whisk well to combine. Place pudding back on heat and cook for 1 to 2 minutes, whisking constantly, to cook the eggs. Remove from heat and cool in the refrigerator for 30 to 40 minutes. In the meantime, slice each swiss cake roll into six slices. Reserve pieces of broken chocolate to garnish top of the dessert. Line the inside of a 9-inch springform pan with swiss cake roll slices. (Cooking spray is not needed.) Spread cooled pudding evenly in center of pan. Top pudding with a layer of swiss cake roll slices. Chill in refrigerator for 30 minutes. With an electric mixer, whip heavy cream with ¼ cup confectioner's sugar until stiff peaks are formed. Spread whipped cream on top of swiss cake roll layer. Garnish with broken chocolate pieces. Refrigerate for at least two hours. Remove springform pan ring and serve. Serves 12.
The writer owns Catering by Debbi Covington and is the author of three cookbooks, Celebrate Beaufort, Celebrate Everything! and Dining Under the Carolina Moon. Debbi's website address is www.cateringbydebbicovington.com. She may be reached at 525-0350 or by email atdbc@cateringbydebbicovington.com.