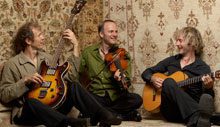 I suspect that the name of the band from Toronto, Sultans of String, was inspired by the famous song "Sultans of Swing" by the British rock group Dire Straits, which hit the top ten charts world-wide in 1979 and celebrates musicians, albeit in London. Ask the Canadian Sultans, when they play on Fripp Island January 27, if I hit the nail on the head.
Yes, you must come to Fripp and have the Sultans of String set you on fire. They were, after all, said to have "talent to burn" (Maverick Magazine UK) and are one of "Canada's hottest new musical exports, dynamically embodying their homeland's values of tolerance and respect for diverse cultures" (International Celtic Connections Festival, UK). One of the many stops on their special fundraising tour up and down the southeastern seaboard is Fripp, where they will perform in the Community Centre, 205 Tarpon Blvd. on Sunday, January 27, at 5:00 pm. Adults $30 (check or cash only), students free. You should stay after the show for the complimentary catered reception and talk to the Sultans about their name, their music, the fellow band members they left behind freezing in Toronto, and their charitable work.
The band started about ten years ago with guitarist Kevin Laliberté and violinist Chris McKhool. Their different musical backgrounds (Chris's ancestral home is Lebanon) and their synergy created the Sultans of String's signature sound, the intimate and playful relationship between violin and guitars, crossing international musical borders and fusing popular genres such as folk, pop, and country with gypsy-jazz, flamenco and Celtic sounds, with Arabic, Asian and Cuban rhythms. In Chris's words: "When we're writing songs, we throw all our influences into a musical blender and hit puree." The dynamic duo soon grew to include bassist Drew Birston—rounding out the trio you will hear on Fripp—and other virtuosic talents that propelled the group to hit #1 across Canadian radio charts, garnered countless music awards and accolades and three JUNO (Canada's Grammy) nominations. The band's US manager, David Wilkes, who has promoted luminaries like Bela Fleck, Emmylou Harris, and Joan Baez, said that he has not worked with composers more talented than Chris McKhool and Kevin Laliberté, and that he considers them not only a superb writing team, but also amazing arrangers and musicians. 
Forgive me for quoting more rave reviews, like that from the Vancouver Province: "It's world music that transcends place and time with a heavy dose of playfulness added in."  Or Bill MaClean from the Beach Metro News: "The music is exquisite, with wildly infectious rhythms, soaring violin parts, and rapid-fire guitar riffs.  And there is joy in their playing that is obvious in their faces. The crowd erupted in wild applause after each number, and called them back for more!" 
The Sultans of String have been crisscrossing North America for the last several years, equally at home in folk and jazz clubs, festival settings, or, when playing with symphony orchestras, in elegant concert venues like Koerner Hall, the Carnegie Hall of Toronto. And they will feel at home in Beaufort. Just come to Fripp and see!
Aside from the Sultans's fiery, enchanting music, I like their big heart. On Monday, after their Fripp show, they will play for and teach Beaufort school kids for free. And they are fundraising partners with the United Nations Agency for Refugees, the world's leading organization aiding people forced to flee their homes due to violence and persecution, providing shelter, food, water, medical care and other life-saving assistance to refugees around the world. Donations can be made at https://fundraise.unhcr.ca/sultansofstring 
When you attend the concert on January 27, which is sponsored by the Fripp Island Friends of Music and supported by the SC Arts Commission, you'll get a free pass at the Fripp gate, and don't forget, you are invited to the catered reception after the show, where you can toast the Sultans and chat with them about their name and their various activities. www.frippfriendsofmusic.com or call 843-263-5916.