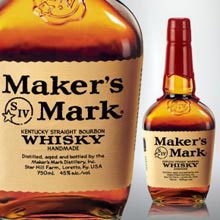 This is my 249th Everyday Gourmet column.  Jeff, Margaret, Mark and the rest of the Lowcountry Weekly gang left our house only a few minutes ago. We just wrapped up a little 250th column celebration and photo shoot for the March 25th issue.
Without inspiration and already a day past the deadline, I'm having to force myself to sit at the computer and write number 249. Slowly, it starts to hit me that without a really good idea, this could very well be my Jan Brady column. You know what I mean, uncelebrated and slightly neglected, kind of like warm beer and potato chips – just a few more recipes leading up the the big 250. "This cannot be," I say to myself. "I need to think about something that I genuinely love and make number 249 a fabulous column."
Suddenly, a single word pops into my head. "Bourbon." Redemption.The recipes this week are from a bourbon pairing class that I taught with Larry Bernard back in February. If you only try one recipe, make the Bacon-Bourbon Butter. Actually, I take that back. Make them all. The Bourbon Vinaigrette is amazing. The Whiskey Kielbasa is always a hit. And, the Bourbon Baked Beans with Ham are delicious, too. Of course, sipping on a bit of bourbon is a must while preparing any or all of them. p.s. Please be sure to pick up a copy of the March 25th issue. I'll be featuring some really fun party recipes to commemorate my 250th column – including food and celebration photography by Mark Shaffer.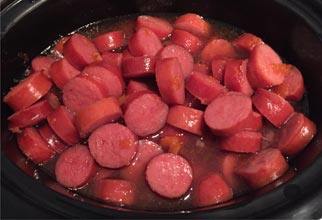 Whiskey Kielbasa
2 pounds kielbasa
1 (9-ounce) jar apricot preserves
½ cup light brown sugar, packed
¼ cup bourbon
Slice kielbasa and place in a large bowl. Combine preserves, brown sugar and bourbon in a small bowl. Mix well. Pour bourbon mixture over sliced kielbasa and stir gently to coat. Pour kielbasa into a crock pot and cook on low for 2 to 3 hours. Serves 8.
Bourbon Baked Beans with Ham
1 (15-ounce) can black beans, rinsed and drained
1 (15.8-ounce) can great northern beans, rinsed and drained

1 (16-ounce) can navy beans, rinsed and drained
1 (16-ounce) can dark red kidney beans
1 (16-ounce) can pinto beans, rinsed and drained
1 (15.5-ounce) can spicy chili beans, undrained
1 (10-ounce) bag frozen seasoning blend (onions, celery, bell peppers)
8 ounces ham, diced
2/3 cup ketchup or barbeque sauce
1/3 cup cup bourbon
1 tablespoon worcestershire sauce
¼ cup light brown sugar, packed
½ teaspoon black pepper
Preheat oven to 350 degrees. Combine all ingredients in a large bowl. Turn into a large casserole dish. Cover and bake for 45 minutes or until heated through. Serves 12 to 15.
Bacon-Bourbon Butter
2 slices smoked bacon
1 stick salted butter, at room temperature
1 teaspoon bourbon
1 tablespoon brown sugar
Cook bacon in a small skillet over medium heat. Remove from skillet, drain on a paper towel, cool and crumble. Place butter in a small bowl. Add bourbon, brown sugar and crumbled bacon. Using a fork, vigorously whisk until well combined. Cover and chill until ready to serve. Before serving, let butter come to room temperature for ease in spreading.
Berry Salad with Bourbon Vinaigrette
For the vinaigrette:
1/3 cup apple cider vinegar
2 tablespoons light brown sugar
3 tablespoons bourbon
2 teaspoons Dijon mustard
¾ teaspoon salt
½ teaspoon black pepper
½ cup vegetable oil
For the salad:
Baby arugula
Blueberries
Strawberries, hulled and sliced
Combine the vinaigrette ingredients in a small bowl. Whisk to combine. Place arugula and berries in a large bowl. Drizzle with vinaigrette, to taste, and toss. Refrigerate leftovers.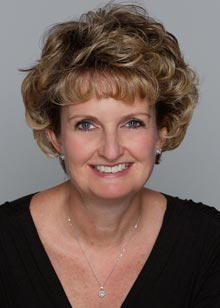 The writer owns Catering by Debbi Covington and is the author of two cookbooks, Gold Medal Winner of the Benjamin Franklin Award, Celebrate Everything! and Dining Under the Carolina Moon.  Debbi's website address is www.cateringbydebbicovington.com. She may be reached at 525-0350 or by email at dbc@cateringbydebbicovington.com.