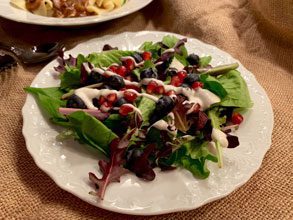 The first couple of weeks in January are my quiet time, a kind of calm after the holiday storm. Christmas decorations have been taken down and put away. The new year has just begun. Catering doesn't usually start back in full swing until around the 12th. The days are typically cloudy and chilly and nighttime comes too early.
This is the time of year when I catch up on the piles of paperwork that I dismissed in December, fill in event dates in my work calendar and start creating new menus. Since it's just Vince and me, often our meals are pieced together with leftovers and staples from the pantry. I always keep salad ingredients in the refrigerator. As long as you have some crispy greens, the addition of almost any fruit or vegetable topping can produce a tasty salad. I prefer vinaigrettes. Vince likes creamy dressings. Believe it or not, blue cheese dressing on fresh fruit is actually quite delicious. We had a piece of beef tenderloin in the freezer left over from a Christmas dinner party. It was the inspiration for my new Beef Tenderloin Gravy recipe. It's super easy and a great comfort food. I served it over hot egg noodles. On top of rice. mashed potatoes or even creamed cauliflower it would be just as good. As far as that goes, pork tenderloin would work, too. The rum cake recipe was fashioned from the Southern Comfort Cake receipt from my cookbook, Celebrate Everything! I substituted dark rum for Southern Comfort. The result was scrumptious. You see, putting together a meal doesn't have to be hard. Sometimes it just takes a little creativity. Happy New Year!
Winter Salad with Blue Cheese Dressing
For an extra kick, add thin slices of red onion to the salad.
For the dressing:
¾ cup mayonnaise
½ cup sour cream
¼ cup buttermilk
1 tablespoon cider vinegar
1½ teaspoons garlic powder
Salt
Freshly ground black pepper
For the salad:
Organic mixed greens
Fresh blueberries
Pomegranate arils
Combine mayonnaise, sour cream, buttermilk, cider vinegar and garlic powder in a blender. Pour into a bowl, fold in blue cheese, and season with salt and pepper. Refrigerate until ready to serve. Place salad greens on chilled salad plates. Top with blueberries and pomegranate and drizzle with the dressing. Serves 6.

Beef Tenderloin Gravy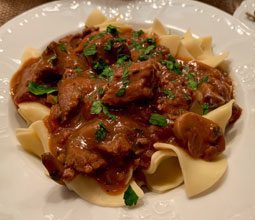 This is what happens when we have leftover beef tenderloin. I'm certain that pork tenderloin would be just as delicious.
2 (14.5-ounce) cans beef broth
1 (2-ounce) package dry onion soup mix
2 (.87-ounce) packages brown gravy mix
1 (14.5-ounce) can petite diced tomatoes
4 cups cubed cooked beef tenderloin or tender steak
1 (8-ounce) can mushroom stems and pieces, drained
Hot cooked pasta
2 tablespoons chopped fresh Italian parsley
Pour beef broth into a stockpot. Stir in onion soup mix and cook over medium heat for 5 minutes. Bring to a boil and add gravy mix. Cook, stirring constantly for 3 minutes or until gravy begins to thicken. Reduce heat and add diced tomatoes, tenderloin pieces and mushrooms. Cook until warmed through. Serve over hot pasta and top with diced Italian parsley. Serves 6.
Lady's Island Rum Cake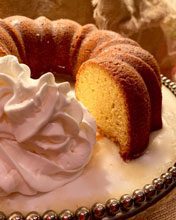 This is an easy-to-make very rummy rum cake. It's a very dense cake but the butter glaze makes it super moist.
For the cake:
1 15.25-ounce) box yellow cake mix
1 (3.4-ounce) box instant vanilla pudding
4 eggs
½ cup vegetable oil
½ cup dark rum
For the glaze:
4 tablespoons butter
½ cup sugar
¼ cup dark rum
Preheat oven to 350 degrees. Grease and flour a standard Bundt cake pan. In a medium bowl combine cake mix, pudding, eggs, oil and ½ cup rum. Beat at medium speed for 2 minutes. Put into prepared pan and bake for 45 to 50 minutes or until a toothpick inserted in the cake comes out clean. Meanwhile, in a small saucepan over medium heat, mix together butter, sugar and ¼ cup rum; stir until sugar is dissolved. Set aside. Remove cake from oven, cool on wire rack for 5 minutes and invert onto plate. Prick top with toothpick or fork. Brush cake on top and sides with half the glaze. Cool. Reheat the glaze and brush tops and sides with remaining glaze. Serve with sweetened whipped cream. Serves 10 to 12.
The writer owns Catering by Debbi Covington and is the author of three cookbooks, Celebrate Beaufort, Celebrate Everything! and Dining Under the Carolina Moon. Debbi's website address is www.cateringbydebbicovington.com. She may be reached at 525-0350 or by email atdbc@cateringbydebbicovington.com.