By Debbi Covington
When Vince and I were first married, what wouldn't we have given
for six weeks alone, just the two of us and our cat? Who would have ever imagined that "beware of what you wish for" would actually come true almost 29 years later? In spite of the pandemic, loss of revenue and missing our friends, we both feel very blessed. Vince and I are still in love with each other. And most importantly, these days especially, we're still best friends. Social distancing has been keeping us in close quarters – with our spoiled rotten and beloved cat, Belle.
Thankfully, being grounded is starting to be kind of fun. We're sleeping late, taking afternoon walks and just hanging out together. I'm even relearning how to cook for two people. When Vince and I were dating and he lived in Beaufort and I lived in Raleigh, Vince would drive up to visit me every two weeks. From the time Vince left after each visit, until his next arrival, I planned our menus. It was such fun! Lately, I'm feeling the old vibe. Cooking for two has once again become my passion. Vince, bless his sweet heart, has actually been enjoying my experiments. I hope you will, too. This week, I'm sharing three of our new favorites. Stay safe, my friends. Stay healthy, stay home and keep on cooking!
P.S. All of these recipes can easily be doubled or tripled to feed four to six people.

Sea Scallops with Roasted Red Pepper Sauce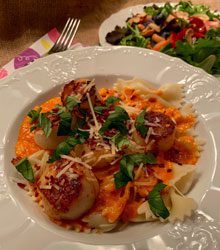 Serve these perfectly seared scallops with yummy red pepper sauce over hot cooked farfalle pasta.
2 cups farfalle (bow-tie) pasta
2 tablespoons butter
½ white onion, finely diced
3 cloves garlic, chopped
1 (12-ounce) jar roasted red peppers, drained and roughly chopped
1 cup chicken or vegetable broth
½ cup heavy whipping cream
Salt and freshly ground black pepper, to taste
12 sea scallops
Cooking spray
¼ cup shredded parmesan cheese
Fresh chopped basil
Roasted red pepper flakes, optional
Cook pasta according to package directions. In the meantime, melt butter in a large skillet over medium-high heat. Add onions and garlic and saute for 2 to 3 minutes until they start to soften. Add chopped red peppers and cook for 2 to 3 minutes until hot. Stir in chicken broth. Remove from heat and let cool for 10 minutes. Carefully transfer the contents of the skillet to a blender. Puree the mixture until completely blended. Pour the red pepper sauce back into the skillet, add the cream and stir to combine. Heat through and season with salt and pepper. Heat a large nonstick skillet over medium high heat. Spray lightly with cooking spray. Pat scallops very dry with a paper towel. Season scallops lightly with salt and pepper. When the skillet is hot, add the scallops to the pan, giving them space between each other so that they sear and don't steam. Cook the scallops for 2 minutes, making sure not to move them or touch them at all. Turn the scallops over and repeat on the other side. Each side should have a golden brown crust. To serve, place hot pasta in a large dish. Top with roasted red pepper sauce and scallops. Garnish with fresh shredded parmesan cheese, chopped fresh basil and a sprinkling of crushed red pepper flakes. Serves 2.

Chicken Tikka Masala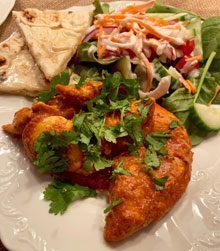 This recipe calls for 3 tablespoons of Garam Masala. I've included a recipe for homemade Garam Masala that makes exactly 3 tablespoons. If you already have a spice jar of  prepared Garam Masala, use it. It will work just as well. Alternately, you can also use store-bought yellow curry paste, too, if you prefer.
For the garam masala:
1 tablespoon ground cumin
1 ½ teaspoons ground cardamon
1 ½ teaspoons ground coriander
1 ½ teaspoon ground black pepper
1 teaspoon ground cinnamon
½ teaspoon ground cloves
For the curry paste:
1 medium yellow onion, quartered
6 cloves garlic
2 (1-inch) pieces fresh ginger, peeled
3 tablespoons garam masala (recipe above)
2 teaspoons ground turmeric
2 teaspoons sea salt
1 teaspoon crushed red pepper flakes
Zest of 1 lemon
For the chicken:
1 pound chicken breast tenders
¼ cup plain Greek yogurt
7 ounces unsweetened coconut milk (½ of a 14-ounce can)
3 ounces tomato paste (½ of a 6-ounce can)
¼ cup chopped fresh cilantro
Hot cooked rice or warmed naan bread, for serving
To make the garam masala: Measure ground spices into a small bowl and whisk until thoroughly combined. To make the curry paste: In a food processor, combine the onion, garlic, ginger, garam masala, turmeric, salt, red pepper flakes and lemon zest. Pulse until a smooth paste forms, about 1 minute. To make the chicken: In a large zip-top bag, combine 1 tablespoon of the curry paste, the chicken and the yogurt. Seal the bag and massage into the chicken to cover completely. Marinate at room temperature for 30 minutes. Heat a large, high-sided skillet over medium heat. Add ¼ cup curry paste and cook until fragrant, about 1 minute. Stir in the chicken, coconut milk and tomato paste. Cover and cook until the chicken is cooked through, about 20 minutes. Remove the lid and simmer until the sauce thickens slightly, about 5 minutes more. Stir in the cilantro and serve over hot cooked rice or with warmed naan bread. Serves 2. Note: Store leftover curry paste in the refrigerator for up to one month, or in the freezer for up to four months.

Succulent Shrimp Scampi 
This shrimp scampi recipe is incredible. Serve with pasta or thick slices of crusty bread for soaking up the delicious sauce.
1 pound shrimp, peeled and deveined
Salt and freshly ground black pepper, to taste
1 tablespoons olive oil
2 cloves garlic, minced
1 cup dry white wine
1 tablespoon worcestershire sauce
5 tablespoons fresh lemon juice
¼ cup chicken or vegetable broth
4 tablespoons butter
2 tablespoons fresh chopped Italian parsley
Lighty season shrimp with salt and pepper. Heat olive oil in a large skillet over medium-high heat. Add the garlic and cook until translucent, about 2 minutes. Add the shrimp and saute until pink and cooked through, 3 to 5 minutes. Remove shrimp to a plate. In the same pan, add the wine, worcestershire sauce, lemon juice and chicken broth. Bring to a boil. Reduce heat to medium and cook until liquid is reduced by half, 6 to 7 minutes. Whisk in the butter and season to taste with salt and pepper. Add shrimp to reheat, tossing with the sauce to coat well, for 1 to 2 minutes. Garnish with parsley just before serving. Serves 2.

The writer owns Catering by Debbi Covington and is the author of three cookbooks, Celebrate Beaufort, Celebrate Everything! and Dining Under the Carolina Moon. Debbi's website address is www.cateringbydebbicovington.com. She may be reached at 525-0350 or by email at dbc@cateringbydebbicovington.com.