I take lots of food photos. Those of you who follow me on Facebook, Instagram and Pinterest know that I also post lots of food photos. I cook so many different things that sometimes it's hard to remember what I've tried and liked. It's fun to scroll back through the photos on my computer and think, "Hey! I forgot about that one. It was delicious. Gotta make it again." That's what this week's column is all about. With the exception of the Lemony Chicken Noodle Soup that I just made for the first time last night, all of the recipes feature cuisine from past Christmas seasons at our house. They're all from meals that I prepared for Vince and me. As you can see from the photos, I like to add salads that include seasonal fruits with our mostly comfort food suppers. Seeing these older pictures has inspired me to try some more new recipes. Of course, I'll share the good ones with you. Keep reading Celebrate Every Day in 2022 and be sure to check out My Fabulous Cooking Show on YouTube. Merry Christmas and Happy New Year!
Lemony Chicken Noodle Soup
If your husband comes home with a box of fried livers and gizzards from the local gas station, like mine did, reheat the soup on medium and add a (14-ounce) can of chicken broth.
 10 cups homemade chicken stock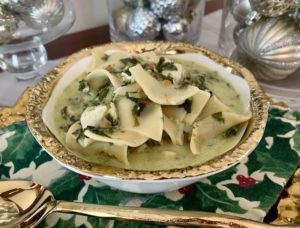 1/3 cup chopped onion (or 1 tablespoon dried minced onion)
½ cup very finely chopped carrots
1 (10-ounce) package frozen chopped spinach, thawed and squeezed dry
2½ cups diced cooked chicken
6 ounces wide egg noodles
3 eggs, at room temperature
Juice of 2 lemons (or 5 tablespoons bottled lemon juice)
Sea salt
Freshly ground black pepper
Place chicken stock, onion and carrots in a stockpot; bring to a low boil and simmer until the onion and carrots are soft. Stir in the chopped spinach. Increase the heat to medium and add egg noodles; cook, stirring often until noodles are tender. While the noodles are cooking, prepare the egg-lemon mixture. Using a fork, in a medium bowl, whisk the eggs until frothy. Add the lemon juice in a steady stream while continuing to whisk. When the noodles have finished cooking, turn off the heat. Ladle about 2 cups of the broth into a bowl. Slowly add the hot broth to the egg-lemon mixture while continuing to whisk. This will temper the eggs and prevent them from curdling once they are added to the hot soup. Stir the egg-lemon mixture into the pot. Add the chicken and heat over very low heat for 5 to 10 minutes or until warmed through. Season to taste with salt and pepper. Serves 6 to 8.
Winter Fruit Salad with Candied Cranberries and Raspberry Vinaigrette
Candied Cranberries are my new favorite thing. I absolutely love them on salads and they're great for snacking.
¼ cup raspberry balsamic vinegar
1/3 cup extra-virgin olive oil
1 tablespoon honey
1 tablespoon dijon mustard
Salt and pepper, to taste
½ cup water
1½ cups sugar, divided
1 cup fresh cranberries
In a small pot, mix ½ cup water with ½ cup sugar. Cook over medium heat until sugar is melted. Set aside to cool. Place 1/3 cup sugar in a shallow bowl. Add cranberries to the cooled sugar-water mixture and toss to coat well. Using a slotted spoon, add a few cranberries at a time to the bowl of sugar. Toss to coat. Let candied cranberries dry on baking racks. Repeat, changing sugar when it gets too wet to stick, until all of the cranberries have been covered in sugar. Store remaining berries in a covered container for 2 to 3 days. Do not refrigerate.
For the salad:
Mixed salad greens
Thinly sliced red onion
Red grapefruit premiums
Mandarin orange pieces
Fresh blueberries
Pomegranate arils
Carambola (star fruit), sliced
Place all of the ingredients for the vinaigrette in a small bowl. Whisk well to combine. Refrigerate until ready to serve. Place salad greens on a large platter. Top with red onion, grapefruit, mandarin oranges, blueberries, pomegranate arils and sliced carambola. Serve with the vinaigrette on the side.
Sour Cream Coconut Cake
Big, beautiful, moist and delicious!  This is one of the recipes for which my mother was famous!  Bake and frost the cake at least three days before you plan to serve it. It actually gets better with age.
1 (24-ounce) carton sour cream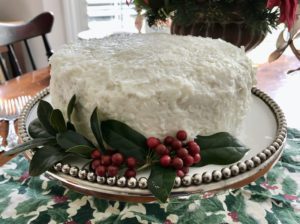 1 cup sugar
1 (14-ounce) package sweetened flaked coconut
1 (18.25-ounce) yellow cake mix
1 teaspoon black walnut extract (optional)
Combine sour cream, sugar and coconut in a medium mixing bowl. Cover and refrigerate for 2 hours. In the meantime, prepare cake according to package directions, with the addition of 1 teaspoon black walnut extract, making two 8-inch layers. When completely cool, split both layers making 4 cake rounds.  Reserve 1½ cups sour cream-coconut mixture.  Spread the rest between layers.  Frost cake with reserved sour cream-coconut mixture.  Seal in an airtight container. Refrigerate for three days before serving. Serves 10 to 12.
The writer owns Catering by Debbi Covington and is the author of three cookbooks, Celebrate Beaufort, Celebrate Everything! and Dining Under the Carolina Moon. For more great recipes and to view her cooking demonstrations, visit and subscribe to Debbi's YouTube channel. Debbi's website address is www.cateringbydebbicovington.com. She may be reached at 843-525-0350 or by email at dbc@cateringbydebbicovington.com.