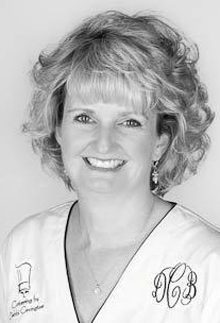 "I well remember that last meal on the Titanic. We had a big vase of beautiful daffodils on the table, as fresh as if they had just been picked. Everybody was gay, and people were making bets on the probable time of this record-breaking voyage."
—First-class passenger Lady Duff-Gordon
Admit it. We're all fascinated with the Titanic! April 14, 2012 marks the one hundredth anniversary of the sinking of the 'unsinkable' ship.  In 1912, the RMS Titianic was the largest ocean-liner ever built and it also carried the most advanced culinary facilities afloat. In three huge galleys, a staff of eighty people toiled around the clock to prepare nearly 6,000 meals every day. About 15 years ago my parents gave me the book, Last Dinner on the Titanic, by Rick Archbold and Dana McCauley. The delightful book describes the ship, the voyage, the passengers and the dining saloons. It also shares first, second and third class menus and recipes from the final meals served the night of the sinking. Have you ever wondered what lavish meals the first-class passengers were served? It seems that they enjoyed French-inspired fare. Every year on April 14th, a surprisingly large number of sentimentalists sit down to a dinner based on the menus that survive from the final day of the Titanic. The recipes this week are adapted from some of the first-class menus featured in Last Dinner on the Titanic. Bon Voyage!
Oysters à la Russe
2 tablespoons vodka
½ teaspoon lemon juice
¼ teaspoon prepared horseradish
Dash hot pepper sauce
Pinch salt
Pinch sugar
1 plum tomato, seeded and finely chopped
1 tablespoon finely chopped chives
12 large oysters
Coarsely cracked black peppercorns
In a bowl, stir together vodka, lemon juice, horseradish, hot pepper sauce, salt and sugar. Gently stir in tomato and chives. Wash oysters under running water to remove any loose sand. Insert tip of oyster knife between shell halves near hinge; twist upward to open shells. Discard top shell. Using blade of oyster knife, sever connective membrane that holds oyster to bottom shell. Place open oysters on a bed of shaved or crushed ice. Spoon vodka relish over each oyster; dust with cracked pepper. Serves 4 to 6.
Potage Saint-Germain (Spring Pea Soup)
1 tablespoon butter
½ cup sliced leek, white part only
¼ teaspoon salt
¼ teaspoon pepper
Pinch sugar
2 cups frozen baby peas
1 cup shredded romaine lettuce
2 tablespoons chopped fresh Italian parsley
6 cups vegetable stock, divided
Fresh parsley sprigs, to garnish
In a large saucepan, melt butter over medium heat; add leeks, salt, pepper and sugar. Cook, stirring, for 5 minutes or until softened. Add peas, lettuce, parsley and 1 cup stock; cover and cook over medium heat for 5 minutes or until peas are tender.  Working in batches and adding remaining stock, puree soup in food processor; blend until very smooth. Strain through a fine mesh sieve and adjust seasoning if necessary. Return to saucepan and reheat until steaming; skim off any foam. Ladle into serving bowls; garnish with a sprig of parsley.  Serves 4 to 6.
Asparagus Salad with Champagne-Saffron Vinaigrette
1½ pounds asparagus
¼ teaspoon saffron threads
1½ tablespoons champagne vinegar
½ teaspoon Dijon mustard
Pinch sugar
3 tablespoons extra-virgin olive oil
Salt, to taste
Freshly ground black pepper, to taste
½ sweet red pepper, diced finely
Mixed lettuces, to plate
Holding asparagus halfway up stalk, snap off woody ends at a natural breaking point and discard.  Cook asparagus in a large pot of boiling salted water for 3 to 5 minutes or until tender but not limp. Drain and run under cold water until completely cooled; drain well.  Meanwhile, in a large bowl, stir saffron into 1 teaspoon boiling water; let stand for 2 minutes or until softened. Stir in champagne vinegar, mustard and sugar. Whisking, drizzle in olive oil.  Season with salt and pepper. Add asparagus and diced pepper; toss to coat.  Arrange on lettuce-lined serving platter. Serves 6.
Lamb with Mint Sauce
For the lamb:
1 (3½ -4 pound) leg of lamb
2 garlic cloves, minced
3 tablespoons olive oil, divided
2 tablespoons chopped fresh rosemary
1 teaspoon Dijon mustard
2 teaspoons freshly ground black pepper
½ cup white wine
½ teaspoon salt
For the sauce:
2 shallots, minced
¼ cup white wine
1 cup chicken stock
2 teaspoons cider vinegar
1 teaspoon sugar
¼ cup chopped fresh mint
Fresh mint sprigs, to garnish
Trim lamb of gristle and excess fat. Stir together garlic, 2 tablespoons olive oil, rosemary, mustard and pepper; rub over surface of meat; marinate in refrigerator for 4 to 6 hours. In a large and heavy skillet, heat remaining tablespoon of olive oil over high heat; add lamb and sear, turning often, for about 5 minutes or until well browned on every side. Place lamb in a roasting pan. Pour wine and salt into skillet and bring to a boil, stirring to scrape up any brown bits; pour over meat. Cook lamb in a preheated 450 degree oven for 15 minutes; reduce heat to 350 degrees and continue to roast for 35 minutes for medium-rare (140 degrees on a instant-read thermometer). Remove roast from pan and tent with foil; let rest for 15 minutes. Meanwhile, place roasting pan over medium heat. Stir in shallots and cook, stirring often, for 5 minutes or until softened. Stir in wine; bring to a boil and cook, stirring, for 1 minute or until reduced to a glaze. Stir in stock, vinegar and sugar. Continue to boil rapidly for 2 minutes or until sauce is slightly thickened; pour through a fine-meshed sieve. Stir in mint. Serve sauce alongside lamb. Garnish with fresh mint sprigs. Serves 6.
Duchess Potatoes
3 large baking potatoes, peeled and cut into chunks
¼ cup butter
¼ teaspoon salt
¼ teaspoon pepper
¼ teaspoon nutmeg
1 egg
2 egg yolks
1 tablespoon butter, melted
In a large pot of boiling salted water, cook potatoes until fork-tender.  Drain well and turn out onto rimmed baking sheet. Bake in a preheated 350 degree oven for 2 minutes or until tray is dry.  Transfer potatoes to large bowl and mash. Using electric mixer, whip butter, salt, pepper and nutmeg into mashed potatoes. With beaters running, add egg and beat until thoroughly combined. Still beating, add yolks one at a time.  Transfer potato mixture to piping bag fitted with star tube.  Pipe potatoes in the shape of nests on a lightly greased baking sheet. Brush with melted butter and bake in a preheated 375 degree oven for 5 minutes or until lightly browned. Transfer to individual serving plates using a spatula. Serves 4.
Creamed Carrots
8 or 9 medium carrots, julienned
1 cinnamon stick
1 tablespoon butter
½ teaspoon salt
½ teaspoon ground cinnamon
¼ teaspoon ground nutmeg
Pinch of black pepper
1 teaspoon lemon juice
1/3 cup whipping cream
2 tablespoons finely chopped chives
Place carrots in a medium saucepan with enough water to cover; add cinnamon stick. Bring to a boil, reduce heat to medium-high, and cook for 6 to 8 minutes or until carrots are fork-tender.  Drain, remove cinnamon stick and return carrots to pan. Add butter, salt, ground cinnamon, nutmeg and pepper; mix well. Add lemon juice and cream; boil for 1 minute or until cream with slightly thickened. Adjust seasonings if necessary. Turn into shallow serving bowl; sprinkle with chives and serve. Serves 6.
Waldorf Pudding
2 large tart apples, peeled
½ cup golden raisins
1 tablespoon lemon juice
1 tablespoon finely chopped crystallized ginger
1 tablespoon butter
1/3 cup sugar, divided
2 cups milk
4 egg yolks, beaten
Pinch finely ground nutmeg
1 teaspoon vanilla extract
¼ cup toasted walnuts, chopped
Thinly slice apples. Toss with raisins, lemon juice and ginger. In a skillet, melt butter over medium-high heat; add apple mixture and cook for 2 minutes. Stir in 2 tablespoons sugar. Cook, stirring often, for 3 to 4 minutes or until apples are lightly caramelized. Scrape apple mixture and syrup into a 10-inch round glass baking dish; reserve.  Meanwhile, in a saucepan set over medium heat, heat milk just until bubbles begin to form around the edges. Add some of the milk to eggs to temper; whisk until well incorporated. Pour milk-egg mixture into saucepan. Add nutmeg, vanilla and remaining sugar; mix well. Pour over apple mixture. Set baking dish inside a large roasting pan; pour enough boiling water in roasting pan to come halfway up sides of baking dish. Place in a preheated 325 degree oven for 45 to 50 minutes or until custard is set but still jiggly. Carefully remove baking dish to cooling rack; sprinkle with walnuts. Cool to room temperature before serving. Serves 6 to 8.
The writer owns Catering by Debbi Covington and is the author of the cookbook, Dining Under the Carolina Moon. Debbi's new cookbook, Celebrate Everything! will be released in June 2012. Debbi's website address is www.cateringbydebbicovington.com. She may be reached at 525-0350 or by email at dbc@cateringbydebbicovington.com.