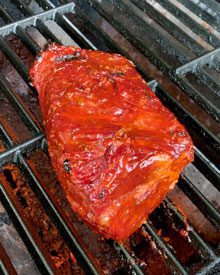 Vince and I are slowly attempting to resurrect our social life. We're easing back into small gatherings, mostly casual dinners with one or two close friends. As much as we (actually, mostly me) long to have a party with a house full of people, we're both come to appreciate the intimacy of sharing a delicious meal with good conversation and laughter that can only be achieved in a small group setting.
I'm finally beginning to see parties and catered events on the horizon. Vince and I are not the only people chomping at the bit to host a soiree. Until then, we'll continue to safely make the best of a sorry situation. My recipes this week are perfect for a small dinner party with dear friends. Happy Cooking!
Grilled Corned Beef Brisket
Corned beef is gently cooked in the crock pot and then slathered with a French-style tomato dressing and grilled to perfection. 
For the corned beef:
1 (4-pound) corned beef brisket
1 cup bottled Catalina (or French) salad dressing 
Drain and rinse packaged corned beef. Place corned beef in a crock pot, fat side up. Add seasoning packet and cover meat with water. Cover and cook on high heat for 7 hours or until meat is tender. Remove corned beef from crock pot and place in a baking dish. Using a fork, gently remove fat and discard. Preheat grill. Continue cooking corned beef, basting with salad dressing, until the meat is slightly charred. To serve,  slice corned beef against the grain, diagonally and thin. Serves 6 to 8.
Watermelon Salad with Bourbon Vinaigrette
Fresh fruit is abundant in the summer months. Add or substitute your favorites. Bourbon vinaigrette pairs well with everything.
For the vinaigrette:
1/3 cup apple cider vinegar
2 tablespoons light brown sugar
3 tablespoons bourbon
2 teaspoons dijon mustard
½ cup vegetable oil
¾ teaspoon salt
½ teaspoon black pepper
For the salad:
Mixed salad greens
Watermelon, cut into bite-sized cubes
Fresh blueberries
Pistachios, salted and roasted
Mix apple cider vinegar with brown sugar, bourbon, mustard, vegetable oil and salt and pepper. Cover and set aside until ready to serve. Place salad greens in a large bowl. Top with watermelon cubes, blueberries and pistachios. Drizzle with vinaigrette before serving. Serves 6.
Lemon Ricotta Pasta with Spinach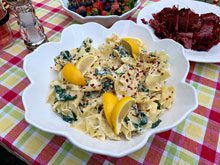 This light and zesty pasta makes a delicious side dish that's ready in less than 15 minutes. Simple with fresh ingredients, delicious flavor and minimal effort.
1 (12-ounce) container ricotta cheese
2 cloves garlic, minced
2 tablespoons lemon infused olive oil (or extra-virgin olive oil), divided
¾ cup shredded parmesan cheese, divided
1 unwaxed lemon, zest and juice
Salt and pepper, to taste
1 (12-ounce) package egg noodles
6 ounces fresh baby spinach, washed
Red pepper flakes, optional
Lemons, to garnish
In a medium bowl, combine ricotta with garlic, 1 tablespoon olive oil, ½ cup parmesan cheese, lemon zest and lemon juice. Season with salt and pepper. In a large pot of boiling water, cook pasta according to package directions until al dente. In the last minute of the pasta's cooking time, add fresh spinach to the pot. Submerge the leaves in the water to cook for 1 minute then drain pasta and spinach. Return pasta and spinach to the same pot and add the ricotta sauce. Stir gently to evenly coat the pasta in the sauce. Garnished with remaining parmesan cheese and drizzle with remaining olive oil. Sprinkle with crushed red pepper flakes. Serve with lemon wedges for an extra blast of fresh lemon juice. Serves 6.
Strawberry Filled Cupcakes with Mascarpone Frosting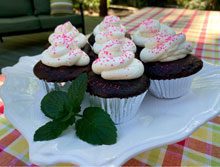 Seriously the BEST cupcakes ever! And SO easy.
For the frosting:
1 (8-ounce) container mascarpone cheese 
1 cup confectioner's sugar
1 teaspoon vanilla extract
Pinch of salt
1½ cups heavy whipping cream 
In a medium bowl, stir together mascarpone cheese, confectioner's sugar, vanilla and salt until smooth. In a separate bowl, beat heavy cream with an electric mixer until peaks form. Gently stir in mascarpone mixture until well combined. Whip again slightly to add a little more air. Store in refrigerator until ready to use.
For the cupcakes:
1 (15.25-ounce) package dark chocolate cake mix
Eggs, oil and water as directed on the cake mix box
½ cup strawberry preserves
Pink sugar sprinkles, to garnish
Bake cupcakes according to package directions. Let cupcakes cool completely on wire baking racks. Using a very small spoon, gently remove a small piece from the center of each cupcake. Spoon strawberry preserves into a piping bag or plastic sandwich bag. Cut off the tip of the bag and pipe a bit of the preserves into the hole in each cupcake. Frost with mascarpone frosting and garnish with sugar sprinkles. Makes 18.
The writer owns Catering by Debbi Covington and is the author of three cookbooks, Celebrate Beaufort, Celebrate Everything! and Dining Under the Carolina Moon. Debbi's website address is www.cateringbydebbicovington.com. She may be reached at 525-0350 or by email at dbc@cateringbydebbicovington.com.