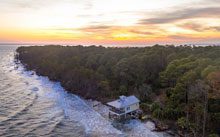 Open Land Trust opposes development of Bay Point
 "The greatest threats to Beaufort County's beaches come from the challenges inherent in building permanent structures in a shifting natural environment. Concern about sea level rise only compounds this issue. In a natural barrier island environment, beach erosion would simply cause waves to break higher up shore. Over time, sand would be carried behind the dune system and the beach would "retreat" inland. Man-made structures interrupt this natural process, create concerns about property loss and may actually accelerate erosion."
– Beaufort County Comprehensive Plan, Natural Resources Element, Beaches and Dunes, Threats, updated 2017
The Board of Directors of the Beaufort County Open Land Trust opposes the proposed resort development on Bay Point Island because it is the wrong development on the wrong site. For the past 50 years the Open Land Trust has worked to protect those special places that are tied to our area's sense of place and natural beauty. Bay Point Island is one of those significant ecological and cultural places that warrant protection.
Among our many concerns, there are four primary reasons that this development should not be approved by County Planning staff or the County Zoning Board of Appeals (ZBOA):
WildlifeBay Point is one of the last uninhabited barrier islands that provide the necessary refuge for thousands of migratory shorebirds, many of which are State or Federally protected. These species can no longer use places like Hilton Head and Hunting Island because of human presence and the built environment.
Shorebird populations have shrunk by 70 percent across North America since 1973. Without places like Bay Point these species will continue to decline dramatically.
Bay Point is not a suitable place for a resort development.
Site
Bay Point is a small island in the Port Royal Sound. Aerial photographs show that the island has changed dramatically over the past 10 years and, like other barrier islands, will continue to shift with the tides and hurricanes. If the current pace of erosion continues, portions of the proposed development could be underwater in the next decade, and a severe hurricane could flood and redefine the entire island.
Bay Point is not a suitable place for a resort development.
Effects of Infrastructure
The proposed 10 septic fields on the island are near the marsh, creating an imminent threat to water quality and wildlife. The fuel for the generators that will supplement the proposed solar array will have to be transported and then stored on island, which is an environmental disaster waiting to happen. The resort will need to pump groundwater creating the risk of saltwater intrusion and further depleting groundwater resources.
Bay Point is not a suitable place for a resort development.
Long-term stability
The logistics associated with building and operating a resort on a remote island make it an immense financial undertaking. In the initial construction estimate of $100,000,000, there is no provision for any of the extensive dockage needed for construction materials and other freight; nor is there any provision for any type of employee housing.
Both of these omissions will not only be costly but will generate significant additional environmental issues. The success of any type of resort on a remote and undeveloped barrier island in the Lowcountry is a risky endeavor and there is serious concern about what will happen to the property if it is built and later abandoned.
Bay Point is not a suitable place for a resort development.
We urge County officials and members of the ZBOA to use the discretion granted to them by the Community Development Code and by the expectations of the Comprehensive Plan to deny this project a Special Use Permit.
Bay Point is not a suitable place for a resort development.

Submitted by the Beaufort County Open Land Trust
This photo of Bay Point Island was taken by Miles Sanders at high tide on May 5, 2020.