It's the most wonderful time of the year and everyone is throwing a Christmas party, including you. Aren't you tired of serving (and being served) sliced ham and turkey with cocktail rolls? A bowl of shrimp with cocktail sauce has been done to death. Cheese and vegetable platters are totally boring fare. Even traditional crab dip is getting old. You're in luck! Your guests are sure to love these three delectable cocktail party recipes. Best of all, they're all simple to prepare and can be made in advance. Want to see how they're made? Please visit My Fabulous Cooking Channel on YouTube to watch the easy preparation of these three great appetizers and a whole lot more. Merry Christmas!
These snacks are addictive! The original recipe calls for 3 to 4 teaspoons of red pepper flakes. I like really spicy foods and I think that 2 teaspoons is a gracious plenty. Fire Crackers make great hostess gifts at Christmastime!
1/3 cup vegetable oil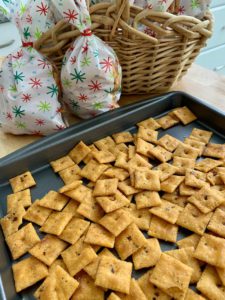 1 (1-ounce) package ranch dressing mix
2 teaspoons red pepper flakes
1 (12.4-ounce) box Cheeze-Its
Preheat oven to 250 degrees. Combine all in ingredients in a large mixing bowl. Toss to coat well. Spread crackers on a large rimmed baking sheet. Bake for 20 to 30 minutes, stirring every ten minutes, until crackers are crispy and completely dry. Cool and store in an airtight container. Serves 8 to 10.
Various sweet and sour sauces are available in the multicultural section of your local supermarket.
1 (3-pound) bag frozen meatballs, thawed in refrigerator
1½ cups sweet and sour sauce
1/3 cup light brown sugar
Preheat oven to 350 degrees. Place thawed meatballs in a large bowl. Add sweet and sour sauce, pineapple juice, brown sugar and ginger to the bowl. Mix well to coat and dissolve the sugar. Pour meatballs into a 2-quart baking dish. Cover and bake for 75 minutes. Garnish with Italian parsley before serving. Serves 10 to 12.
This easy dip is good served hot or cold!
1 (8-ounce) package cream cheese, softened at room temperature
1 cup shredded sharp cheddar cheese
1 (15.25-ounce) can sweet corn, drained
¼ -½ cup diced jalapeno peppers, drained
2 teaspoon2 diced pimentos, drained
Chopped green onion, to garnish
Preheat oven to 350 degrees. Mix all ingredients in a large bowl until well combined. Spread in a lightly greased baking dish. Bake, uncovered, for 15 to 20 minutes. Garnish with chopped green onions. Serve warm with tortilla chips. Serves 6
The writer owns Catering by Debbi Covington and is the author of three cookbooks, Celebrate Beaufort, Celebrate Everything! and Dining Under the Carolina Moon. For more great recipes and to view her cooking demonstrations, visit and subscribe to Debbi's YouTube channel. Debbi's website address is www.cateringbydebbicovington.com. She may be reached at 843-525-0350 or by email at dbc@cateringbydebbicovington.com.