By Debbi Covington
Who needs an excuse to have a party? Those of you who know me, know that I'll make up a reason to celebrate something, even when there's no real occasion. In this case, I think a little party to commemorate a milestone for me – and for Lowcountry Weekly – is in perfect order.
This is my 250th Everyday Gourmet column. Back in 2005, when I first started writing, the column was named "Easy Cooking with Debbi." Eventually it morphed into "Easy Cooking" and finally into "Everyday Gourmet." I've saved every single column that I've ever written. They're all clipped and glued onto poster board. The first columns were only half of a page.
The stack now fills up an entire shelf in our guest room armoire.
The recipes this week are from our little celebratory soiree. It was an intimate gathering of LCW staff, writers and spouses with a few champagne toasts and lots of laughs. In addition to celebrating 250 deadlines (and the occasional late column), we're actually celebrating our friendships. Somehow, over the years, we've all become integral players in each other's lives. We tend to spend holidays and birthdays together. If we attend a local event or festival, it's usually with each other. Isn't it fun when friends become family? As always, the recipes are delicious, easy and fun – excellent party food! Thank you, Mark Shaffer, for taking the beautiful photos.
If you'd like to see all of the recipes from all of the columns from past years, please visit and "like" my new Facebook page, "Everyday Gourmet – with Catering by Debbi Covington." Every column that's archived with Lowcountry Weekly is linked there. I've also shared some old photos of the Lowcountry Weekly gang from back in the day. They're good for a laugh or two. We look so young! Thank you for reading Everyday Gourmet, for purchasing my cookbooks and for supporting Catering by Debbi Covington. I truly appreciate your comments and feedback. I'm still creating yummy new recipes and inventing fun party ideas. Please stay tuned. Here's to 250 more columns!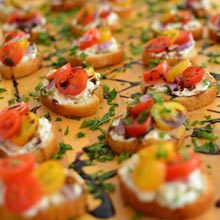 Whipped Feta Crostini with Balsamic Reduction
For the balsamic reduction:
1 cup aged balsamic vinegar
For the crostini:
1skinny French baguette, cut into thin slices
1/3 cup extra virgin olive oil
For the whipped feta:
1 cup feta cheese, crumbled
1 (8-ounce) package cream cheese, softened
1/3 cup heavy whipping cream
1 clove garlic, minced
1 teaspoon dried basil
1 tablespoon dried chives
Garnish:
Grape tomatoes, thinly sliced
Red onion, diced
Italian parsley, chopped

Prepare the balsamic reduction: Pour balsamic vinegar into a small saucepan and place over high heat. Bring to a boil. Reduce heat to low and simmer until the vinegar mixture has reduced to 1/3 cup, about 10 minutes. Set the balsamic reduction aside to cool. Prepare the crostini: Brush both sides of bread slices with olive oil and place on a baking sheet. Preheat broiler; broil bread slices until lightly browned on both sides, turning them once. Set aside to cool. Make the whipped feta: Place feta, cream cheese, whipping cream, garlic, basil and chives in a medium bowl. With an electric mixer, whip until smooth and well combined. To assemble: Spread each slice of bread with the cheese mixture. Garnish with tomatoes, onion and parsley. Drizzle with balsamic reduction before serving.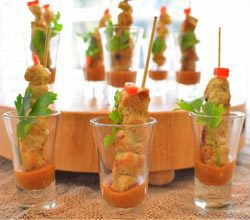 Chicken Satay with Spicy Thai Peanut Sauce
For the sauce:
1 (13.5-ounce) can coconut milk
1 tablespoon red curry paste, or to taste
¾ cup peanut butter
¼ cup brown sugar
2 tablespoons fish sauce
Juice of 1 lime
For the chicken:
8 chicken tenders, cut into bite-sized pieces
½ coconut milk
1 tablespoon curry powder
1 teaspoon coriander
1 teaspoon sugar
1 teaspoon salt
Wooden skewers
Prepare the sauce: Pour coconut milk into a medium saucepan. Add curry paste, peanut butter, brown sugar, fish sauce and lime juice. Cook over medium heat until well combined and thickened. Remove from heat and let sauce cool. Refrigerate leftover sauce. Marinate the chicken: Combine coconut milk, curry, coriander, sugar and salt in a bowl. Add chicken pieces. Cover and refrigerate to marinate for 2 hours. Soak wooden skewers in water for at least 30 minutes before cooking. Thread chicken on skewers and cook on grill or grill pan until chicken is cooked through. Cooking time will depend on how large the pieces are. Serve warm or at room temperature with peanut sauce for dipping. Serves 8.
Torte Milanese
1 (17.3-ounce) package frozen puff pastry

For the eggs:
10 large eggs
1 teaspoon chopped chives (dried)
1 teaspoon tarragon leaves (dried)
Salt and freshly ground black pepper, to taste
3 tablespoons butter
For the rest of the filling:
1 (16-ounce) jar roasted red peppers, drained
1 (10-ounce) package frozen chopped spinach, thawed and squeezed dry
¼ teaspoon nutmeg
2 tablespoons heavy cream
8 ounces Swiss cheese
10 ounces honey ham, thinly sliced
1 large egg, beaten
Prepare the pastry: Spray a springform pan with cooking spray. Unfold one half of the puff pastry and roll on a lightly floured board to make the pastry 10×10 inches. Carefully fit the pastry into the prepared pan, letting any extra pastry hang over the sides. Cover with plastic wrap and refrigerate until ready to use. Wrap and refrigerate the unfolded piece of puff pastry also. Prepare the eggs: Whisk eggs, herbs, salt and pepper together. Melt the butter in a large skillet over low heat and pour in the eggs. Gently stir the eggs around in the pan, pulling the eggs that set into the center of the pan. Slide the eggs onto a plate, without mounding them, and let cool. You want a loose, soft scramble since the eggs will continue to cook in the pastry. Prepare the filling: Drain the roasted red peppers and dry with paper towels. Squeeze the spinach dry and place in a bowl. Season with ground nutmeg. Stir in 2 tablespoons of heavy cream and set aside. Assemble the torte: Remove the puff pastry-lined springform pan from the refrigerator and layer the filling ingredients in the following order. (Quick tip: sprinkle 1 tablespoon dry bread crumbs or grated Parmesan cheese on the bottom of the raw crust to prevent a soggy bottom.) Spread half of the eggs in the puff pastry. Layer evenly with half of the ham, half of the cheese, the spinach, the roasted red peppers, the remaining cheese, the rest of the ham and the last of the eggs. Fold the excess pastry over the filling. Unfold the second piece of puff pastry and place it on top. Tuck excess pastry down the sides and gently push the edge of the top crust down into the pan to seal with the bottom crust. Brush the top with the beaten egg and cut a vent in the center of the crust to release steam. Chill the torte for 30 minutes before baking. Bake the torte: Preheat oven to 375 degrees. Place torte on a baking sheet and bake for 50 to 60 minutes, or until puffed and deeply golden. Remove from oven and let rest on a baking rack for at least 2 hours for filling to become firm enough to slice.  Serve at room temperature. Serves 12.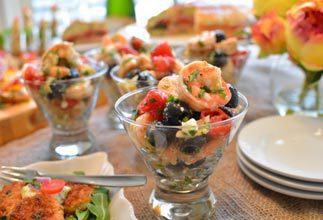 Marinated Shrimp and Artichokes
1 pound large shrimp, peeled and deveined
¼ cup white balsamic vinegar
3 tablespoons olive oil
1 (.75-ounce) package dry Italian dressing mix
2 tablespoons finely chopped Italian parsley
2 tablespoons finely chopped green onion
1 (14-ounce) can artichoke hearts, drained and halved
1 (6-ounce) can large black olives, drained
1 cup grape tomatoes, halved
1 (4-ounce) package feta cheese crumbles
Cook shrimp and set aside to cool. In a medium bowl, combine vinegar, olive oil and Italian dressing mix. Add shrimp, parsley, green onion, artichoke hearts, olives and grape tomato halves. Toss gently to combine. Refrigerate for 4 to 8 hours. Stir in feta cheese crumbles just before serving. Serves 8.
Salmon Cakes with Pickled Aioli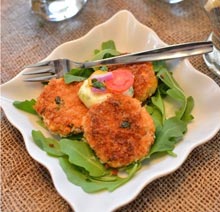 For the aioli:
½ cup mayonnaise
¼ cup sweet pickle relish
For the salmon cakes:
1 (14¾-ounce) can red salmon, drained and flaked
2 tablespoons finely chopped onion
2 tablespoons finely chopped bell pepper (red or green)         
2 tablespoons chopped fresh Italian parsley
½ teaspoon lemon zest
½ cup panko bread crumbs
1 large egg
Additional panko bread crumbs, for dredging
Vegetable oil
Prepare the aioli: In a small bowl, mix ½ cup mayonnaise with ¼ cup sweet pickle relish. Set aside. Make the salmon cakes: Place drained salmon in a medium bowl. Add onion, bell pepper and parsley. (½ cup frozen seasoning blend may be substituted for the onion, pepper and parsley.) Stir in lemon zest, bread crumbs and egg. Mix well to combine. Form into small patties. Heat a small amount of vegetable oil in a large non-stick skillet over medium-high heat. Dredge each patty in panko bread crumbs before cooking. Saute in small batches. Serve hot with prepared aioli. Makes 24.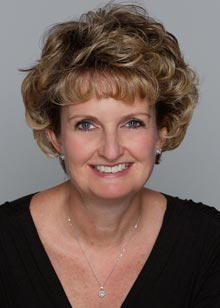 The writer owns Catering by Debbi Covington and is the author of two cookbooks, Gold Medal Winner of the Benjamin Franklin Award, Celebrate Everything! and Dining Under the Carolina Moon.  Debbi's website address is www.cateringbydebbicovington.com. She may be reached at 525-0350 or by email at dbc@cateringbydebbicovington.com.