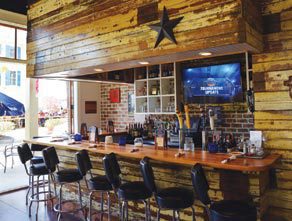 The first thing you notice as you walk into the Spaghetti Club is the gorgeous pine bar and the rustic mass that frames it. This time-worn collection of brick, board and plank looks as if it might have once served in some ancient and storied Lowcountry watering hole – a speakeasy, perhaps – rescued from the wrecking ball to be pieced back together on this genteel corner of Habersham.
It is old, to be sure. Or to be more precise, the pieces of this puzzle are old. It's all the handiwork of tSC co-owner Leo Gannon and an artful exercise in recycling. The boards framing the bar were salvaged from a Savannah cotton warehouse and date back to around 1850. The brick comes out of a reclaimed 19th Century munitions factory in the upstate. And the bar is extra special. The wood is old growth pine milled out of logs dredged up from the Savannah River and polished to a deep amber finish like fine Kentucky whiskey.
   This little corner's quickly become a popular addition to the Habersham social scene, a more casua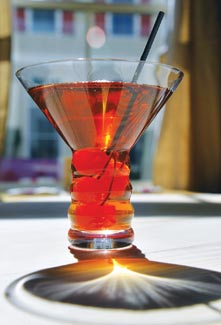 l bookend to Maggie's Pub on the other end of the block. "It's a place where people love to come and hang out," says co-owner Larry Naylor.
   "It's a place where we like to hang out," adds Gannon. "And that's kind of the whole concept."
   The bar reflects the restaurant's commitment to keeping things simple with an emphasis on quality and service. The wine list is built to cover the essentials with value. Nothing's more than $6.50 per glass. Bottle prices start at $18 and top out with the Folie a Deux Pinot Noir, a steal at $28. You won't find a wall of the latest, trendiest "flavored" vodkas behind the polished pine. Bar manager Stacy Tinlin's carefully selected five or six premium labels to cover each major liquor category and done away with the usual "well" brands. Bottle beers cover the popular foreign and domestics while four taps feature hearty and more adventurous selections and seasonals like Bell's Big Two-Hearted Ale and Westbrook from Mt. Pleasant. The specialty drinks menu features a short list of classics like the Cosmo and Manhattan along with Stacy's own creation, the tSC Cream Soda – Stoli Vanilla vodka, ginger ale and a cherry.
   This first Friday of Spring the big French doors are open, the sun is out and the market is buzzing. Regulars begin to wander in and strike up conversations or simply sit and sip a beverage and nosh some antipasto in the warm breeze. The air is heavy with spring fever and I should be getting back to the office. I should be…
www.thespaghetticlub.com
The Spaghetti Club
27 Market, Beaufort, SC 29906
(843) 466-3663