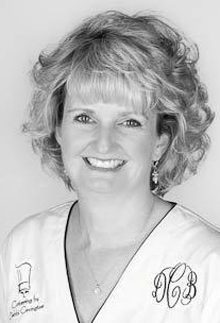 … and yummy salads to help you fit the fashions!
It's that time of year! The 10th annual Friends of Caroline Hospice Fashion Show and Fundraiser will be held at 11:30am on Wednesday, April 24th at The Shed in Port Royal. The theme for this year's event is Emerald Elegance. The festivities include a luncheon catered by me (Catering by Debbi Covington), a live auction announced by the lovely Deanna Bowdish, entertainment by Music to Go and lots of door prizes.
I'll also be signing copies of my new cookbook, Celebrate Everything! with 20% of the proceeds being donated to Friends of Caroline Hospice.
I've been fascinated with the colors and patterns of the new spring and summer fashions. I love the chevron designs and bright colors! Recently, after zooming over to one of my favorite boutiques on a dress-buying mission, I came to the depressing conclusion that I need drop a couple of pounds. I mean, who wants to buy a fabulous new dress and not feel beautiful wearing it? My guess is that I'm not the only Beaufort woman with this little problem. The recipes this week are designed to help. Salads are always the best meals to help cut calories while still filling your tummy. The trick is to find recipes that are satisfying. I think you'll like these! Only 5 more pounds and I'm going dress shopping again. I'm looking forward to viewing the new fashions at The Shed on April 24th for ideas.
Please join us at this year's Fashion Show and support Friends of Caroline Hospice. Friends is a non-profit, United Way organization that has been serving Beaufort residents for over thirty years and relies solely on support from the community to operate. Individual tickets to the Fashion Show are $55 or you can purchase a table for 10 people for $500. Call 525-6257 for more information.
Orange and Red Onion Salad with Raspberry Vinaigrette
This colorful salad lends a festive note to any table!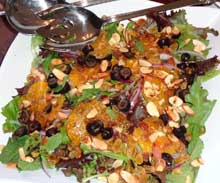 4 ripe oranges, peeled
Mesclun salad greens or green-leaf lettuce, torn
1 small red onion, sliced fine
2 tablespoons raspberry vinegar
5 tablespoons extra-virgin olive oil
Salt
Freshly ground black pepper
4 tablespoons golden raisins, covered for 20 minutes in hot water, then drained
Sliced black olives, to taste
3 tablespoons sliced almonds

Remove the white pith from the oranges and cut the fruit crosswise into 1/4-inch slices. Arrange the salad greens on a serving platter and top with sliced oranges. Scatter with the sliced red onion. In a small bowl, whisk together the vinegar, olive oil, salt and pepper. Spoon the dressing over the oranges and onion. Sprinkle with the raisins, olives and almonds. Serves 6.
Honey-Walnut Bulgur Salad
Bulgur is a quick-cooking form of whole wheat that has been cleaned, parboiled and dried. It's a tasty, low-fat ingredient and an ideal food because of its nutritional value and versatility.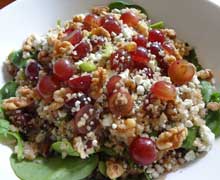 1 cup bulgur
¼ cup diced onion

¼ cup honey
1½-2 cups edamame, cooked and cooled

2 cups seedless red grapes, halved

1 cup walnuts, roughly chopped

Fresh baby spinach
Blue cheese crumbles

Combine bulgur and onion in a bowl. Pour one cup boiling water over and let sit, without stirring) for 30 minutes or until cool. Stir honey into cooled bulgur-onion mixture. Add edamame, grapes and walnuts. Just before serving, stir in baby spinach and top with blue cheese crumbles. Serves 8 to 10.
Mediterranean Crunch Salad

This yummy salad has no oil in the dressing!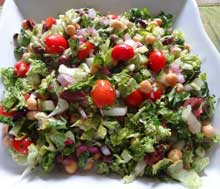 1 (15.5-ounce) can garbanzo beans, rinsed and drained
1 cup cucumber, seeded and chopped
1 cup small broccoli florets
1 cup grape tomatoes, halved
1 romaine lettuce heart, chopped
1/3 cup finely chopped red onion
½ cup sliced kalamata olives
3 tablespoons red wine vinegar
1 clove garlic, minced
1 tablespoon chopped fresh Italian parsley
1 teaspoon chopped fresh thyme
Combine garbanzo beans with cucumber, broccoli, tomatoes, romaine lettuce, red onion and kalamata olives in a salad bowl. Whisk red wine vinegar with garlic, parsley and thyme; drizzle over salad. Chill for a least one hour before serving. Serves 6 to 8.
The writer owns Catering by Debbi Covington and is the author of two cookbooks, Celebrate Everything! and Dining Under the Carolina Moon. Debbi's website address is www.cateringbydebbicovington.com. She may be reached at 525-0350 or by email at dbc@cateringbydebbicovington.com.