Spring is here and I'm party planning. Vince and I are hoping that we'll soon be able to take advantage of a warm Lady's Island evening to invite a few of our friends over for a grilled supper out on the deck. I already have some really fun and yummy recipes in mind. Pimento Cheese Spread is a great appetizer. I suggest serving it with mini toasts or unseasoned crispy crackers. Festive Caesar Salad is always a crowd favorite. The addition of bacon and sun-dried tomatoes takes it over the top. Vince has a hankering for grilled Italian sausages with onions and peppers. They're easy to cook and can be served on a hoagie roll or on a plate without the bread. Apple Turnovers can be made earlier in the day and are delicious served at room temperature. Voila! Dinner is served. I hope you'll have an opportunity to entertain soon. The hot Lowcountry summer will be here before we know it. Happy Grilling!
I think this would be good served heated, too. Place cheese spread in an oven-proof dish and heat in a preheated 350 degree oven until warmed through.
4 ounces cream cheese, at room temperature
1 cup pimento cheese (homemade or store bought)
2 teaspoons chopped fresh chives
Mix all ingredients until well combined. Place in a serving dish. Serve with toasts or crackers. Serves 6.
This delicious and easy to prepare salad recipe uses bottled salad dressing instead of the traditional dressing that includes the yolk of a raw egg.
3 large heads romaine lettuce, chopped into bite-sized pieces
Bottled caesar salad dressing, to taste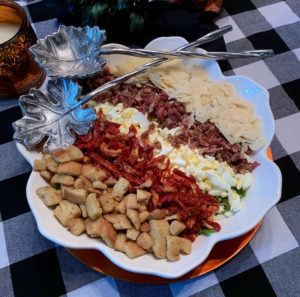 12 ounces bacon, cooked and crumbled
2 (3-ounce) packages of julienne cut sun-dried tomatoes
1 cup freshly grated parmesan cheese
2 (5-ounce) packages caesar flavored croutons
Place chopped lettuce in a large serving bowl. Dress with salad dressing, tossing well to coat. Top with chopped boiled eggs, crumbled bacon, sun-dried tomatoes, grated parmesan cheese and seasoned croutons. Toss before serving. Serves 12 to 15.

Grilled Italian Sausages with Peppers and Onions
Nothing smells quite like the combination of onions and peppers in the spring air. It always makes me a little homesick for eastern North Carolina's baseball season.
12 Italian sausages (combination of hot and sweet)
Dijon mustard
For the onions and peppers:
1 medium green bell pepper
1 medium orange bell pepper
1 medium yellow bell pepper
4 medium sweet onions, sliced
5 tablespoons salted butter
1 tablespoon chopped fresh chives
Heat the grill to medium heat. If you don't have an outdoor grill, you can use a grill pan and cook the Italian sausages inside. Place the sausages directly on the grill and grill for 5 to 7 minutes per side, or until cooked through. When the sausages are done cooking, transfer them to a dish or plate and tent in foil to keep them warm. In the meantime, slice peppers into strips, discarding the seeds and white pith. Cut the onions in half and then into slices. Melt butter in a large skillet over medium-high heat. Add peppers and onions and cook until tender. Remove from heat and stir in chopped chives. Serve the sausages with peppers and onions on a hoagie roll. Garnish with mustard and ketchup, if desired. Serves 12.
This is a super-simple, no-fail fall dessert.
1 (17.25-ounce) box frozen puff pastry, thawed in refrigerator
1 (21-ounce) can apple pie filling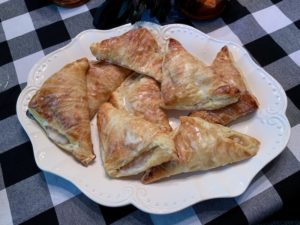 ½ cup confectioner's sugar
2 tablespoons heavy cream
Preheat oven to 400 degrees. Line a baking sheet with aluminum foil. Spray with cooking spray. Using a rolling pin, gently roll the puff pastry sheets just enough to seal the seams. Cut each piece into 4 squares and place on prepared baking sheet. Spoon 1/3 cup of pie filling into the center of each puff pastry square. Brush the edges of the pastry with the beaten egg. Fold pastries over to form triangles, enclosing the filling completely. Press edges to seal. Brush turnovers with remaining beaten egg and sprinkle each with sugar. Bake in preheated oven for 18 minutes or until turnovers are puffed and browned. Cool on wire racks. In a small bowl, mix confectioner's sugar with heavy cream until smooth. Drizzle over cooled turnovers. Serve warm or at room temperature with freshly whipped cream. Serves 8.
The writer owns Catering by Debbi Covington and is the author of three cookbooks, Celebrate Beaufort, Celebrate Everything! and Dining Under the Carolina Moon. For more great recipes and to view her cooking demonstrations, visit and subscribe to Debbi's YouTube channel. Debbi's website address is www.cateringbydebbicovington.com. She may be reached at 843-525-0350 or by email at dbc@cateringbydebbicovington.com.