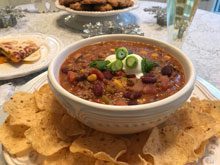 What a wonderful day! Were you in town for the Great Blizzard of 2018? It was a gorgeous and incredibly cold event. Beaufort, SC hasn't seen a snowfall like that in over 25 years. I spent my serendipitous snow day happily ensconced in our warm home doing what I love best -€" cooking.
A toasty kitchen is a fine place to spend a frigid morning and afternoon. Thank goodness we didn't lose power on Lady's Island! A few years ago, my dear friend Becky Trask shared a tummy-warming receipt for Taco Soup with me. I pulled out her handwritten instructions and whipped up a big pot of comfort food deliciousness. The recipe is very simple and freezes beautifully. Much like spaghetti sauce, the soup needs to simmer for at least an hour. When the consistency turns from chili to soup, it's time to eat. Jalapeno-Cheddar Quesadillas are a perfect accompaniment. They're sort of like a thin and crispy grilled cheese sandwich. No snow day is complete without some type of sweet treat. Raisin-Pecan Oatmeal Cookies are yummy fresh out of the oven or served at room temperature. The aroma of the soup simmering and the cookies baking fills the air with a homey warmth. And, that's just what's needed when a blustery snow is falling on a town that's used to 50 degree temperatures in January. Stay warm, my friends. Spring is just around the corner.
Taco Soup
2 pounds ground sirloin
2 cups chopped onion
2 (15.5-ounce) cans dark red kidney beans
2 (15.5-ounce) cans pinto beans
2 (14.5-ounce) cans tomatoes with chilies
1 (14.5-ounce) can diced tomatoes
1 (15.25-ounce) can corn
2 (4.5-ounce) cans diced green chilies
1 (1.25-ounce) package taco seasoning
1 (1-ounce) package ranch dressing mix
Sour cream
Chopped green onions, to garnish
Brown the beef and onions in a large skillet; drain well on paper towels. Transfer beef and onions to a large stock pot. Add the beans, tomatoes, corn, and chilies. Do not drain. Stir in the seasoning packets. Heat until warmed through. Cover stock pot, lower heat and simmer for at least an hour. Serve hot topped with sour cream and chopped green onions. Serves 10 to 12.
Jalapeno-Cheddar Quesadillas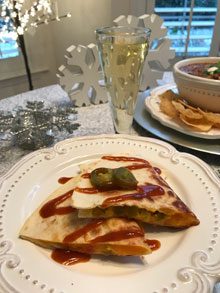 4 (8-inch) flour tortillas
1 cup shredded sharp cheddar cheese
2 tablespoons diced pickled jalapenos, drained well
Taco sauce or salsa
Sprinkle 1/4 cup cheese on half of one side of each tortilla. Divide jalapenos evenly over the cheese. Fold tortillas over to cover fillings. Heat a skillet or griddle. Spray lightly with cooking spray. Cook quesadillas over medium heat for 1 to 2 minutes or until cheese is melted and tortillas are lightly browned and crispy. Cut into wedges. Serve with taco sauce or salsa. Serves 4.
Raisin-Pecan Oatmeal Cookies
14 tablespoons butter, softened
3/4 cup firmly packed brown sugar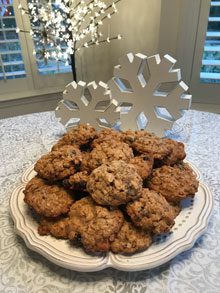 1/2 cup sugar
2 eggs
1 teaspoon vanilla
1 1/2 cups all-purpose flour
1 teaspoon baking soda
1 teaspoon ground cinnamon
1/4 teaspoon salt
Dash ground nutmeg
Dash ground cloves
3 cups oatmeal (quick or old fashioned, uncooked)
1 cup raisins
1 cup chopped pecans
Preheat oven to 350 degrees. Line 3 baking sheets with aluminum foil. Spray each one lightly with cooking spray. In a large bowl, beat butter and sugars with an electric mixer until creamy. Add eggs and vanilla; beat well. Add flour, baking soda, cinnamon, salt, nutmeg and cloves; mix well. Stir in oats, raisins and pecans; mix well. Using a small ice cream scoop, drop dough by rounded tablespoonfuls onto prepared baking sheets. Bake 10 to 13 minutes or until light golden brown. Cool on baking sheets for 3 minutes; remove to wire racks to cool completely. Store tightly covered. Makes 42 to 45 cookies.
The writer owns Catering by Debbi Covington and is the author of two cookbooks, Gold Medal Winner of the Benjamin Franklin Award, Celebrate Everything! and Dining Under the Carolina Moon. Her NEW cookbook, Celebrate Beaufort will debut in April 2018. Debbi's website address is www.cateringbydebbicovington.com. She may be reached at 525-0350 or by email at dbc@cateringbydebbicovington.com.