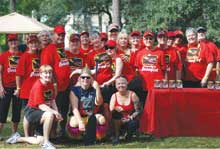 Just over a year ago, "Awaken the Dragon" took Audience Choice and Best Documentary awards at the 6th Annual Beaufort International Film Festival. This poignant message of hope, teamwork and commitment has gone on to win numerous well-deserved awards throughout the United States.
This film is so powerful, it's coming back by popular demand on Thursday, April 11, to USCB's Center for the Arts!
Liz Oakley's extraordinary documentary catapults an unlikely crew of Charleston cancer survivors into a new way of being and seeing themselves. Redefining the word 'sick' and re-framing the meaning of their diagnosis, these individuals transform into a single force of power and beauty. Fully engaged in the ancient Chinese sport of dragon boating that is a feast for the senses, it's a record of nail-biting competition and intimate revelations that challenges traditional medical thinking, revealing a path to wellness that holds hope for all cancer survivors.
"Awaken the Dragon" is a moving, inspiring trip. It has been leaving audiences emotionally drained and has even awakened the dragon within many. Before the premier screening, BIFF Director Ron Tucker, warned "this film is going to change your life," pointing to the weird, dragon-headed craft outside USCB's Center for the Arts. Many in the Beaufort audience were deeply touched, emotional and energized by this film.
Several Beaufort cancer survivors were so inspired, they immediately launched DragonBoat Beaufort, the town's first racing and recreational team. Patterning itself on the Charleston model, DragonBoat Beaufort offers male and female cancer survivors and supporters the opportunity to "hit the restart button" by participating in this fabulous, team-centric wellness program out on the Beaufort River.
DragonBoat Beaufort set two powerful goals: to provide cancer survivors the opportunity to heal and regain physical and psychological strength through the camaraderie and competition of dragon boating and to provide one-on-one assistance to local cancer patients with needs they are unable to afford or for which they lack coverage.

Twenty paddlers sitting two-by-two in a dragon-headed 41-foot-long boat, paddling furiously to the beat of an insistent drummer. The goal is physical wellness and psychological well-being through this thrilling, team-oriented support program. Being cut, radiated and medicated by cancer treatment needs an offset and this fastest-growing international watersport offers an opportunity to get outdoors in a supportive team environment and regain some of what was lost.
Without a boat, DragonBoat Beaufort started by practicing rigorously on Waterfront Park's grass using kayak paddles, broomsticks and deck chairs to simulate a dragon boat. Charleston Dragon Boat acted as mentor, giving the team on-the-water training and granting free entry into their wildly successful Dragon Boat Festival in May 2012 when 66 teams competed in fiercely fought 250-meter heats.
Beaufort generously helped fund the purchase of the team's first boat "Braveheart" through individual and corporate gifts. With the boat's June delivery, DragonBoat Beaufort trained even harder and entered nearby festivals. The team is currently recruiting paddlers to strengthen its competitive side for the upcoming racing season. Dragon Boat Festivals are international, with teams travelling to sites where the boats are provided. Many, but not all, teams are composed of cancer survivors. DragonBoat Beaufort paddlers do not have to be cancer survivors but must be 100% supportive of DragonBoat Beaufort's mission.
And more big news! Beaufort Water Festival is premiering DragonBoat Race Day on Saturday, July 20th. This is Beaufort's chance to support and participate in its own festival and add one more event to the calendar of exciting happenings that draw participants and spectators to Beaufort. Paddles up!
Awaken the Dragon will screen Thursday, April 11, 6:00 pm at USCB Center for the Arts, 801 Carteret Street, Beaufort. Tickets are $10. For more information, call 521-4145. Movie Meal Deals are available that night in downtown Beaufort, with 15% of the proceeds going to DragonBoat Beaufort. Breakwater (203 Carteret Street) will have a special bar menu and cocktails before and after the show, and Lowcountry Produce Market and Café (302 Carteret Street) will offer a 3-course prix fixe dinner after the show. Reservations at 322-1900).