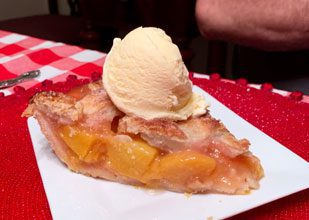 When I was sixteen years old, on the "edge of seventeen" (Stevie Nicks fans will know what I'm talking about), my high school boyfriend turned eighteen, on November 4th, election day 1980. I went with him to the Post Office to register for Selective Service and then stood in line with him for several hours so that he could cast his first vote for the President of the United States.
While Spence was in the voting booth, I waited patiently in my smart wool blazer, wool skirt and high heels feeling so proud to be there with my fellow Americans and looking forward to the time when I would be 18 and old enough to cast own ballot.
Many presidential elections later, and I haven't missed a single one, I still feel the reverence and the responsibility of choosing the best candidate and casting my vote. Voting is both an obligation and a privilege and I'm grateful for our forefathers and foremothers who fought so hard to give that right to me.
Somehow, in all of the upcoming election discussion, the question of American food came up. I suppose we all consider hot dogs, apple pie and pizza American food staples. Intrigued, I started researching some of the cuisine that my colonist ancestors served. With the help of some old cookbooks, I recreated a few recipes that I felt truly represented American food back when America was in her infancy. One thing is for certain. American food is meant to be shared. Lowcountry Weekly Publisher and Editor, Jeff and Margaret Evans joined Vince and me for an old-style American dinner a couple of weeks ago. Jeff even baked dessert. 
Please be sure to vote on Tuesday, November 3rd. God Bless America.
Crabmeat and Artichoke Dip
1 pound jar of artichoke hearts, drained (about 24 hearts)
½ small onion chopped (about 2 tablespoons)
1 tablespoon diced pimentos, drained
4 ounces cream cheese, softened
¼ cup mayonnaise
¼ grated parmesan cheese, plus 1 tablespoon to garnish
1 tablespoon dry sherry
¼ teaspoon garlic salt
8 ounces lump crab meat
Paprika, to garnish
In a medium bowl, mix artichoke hearts with onion, pimentos, cream cheese, mayonnaise, ¼ cup parmesan cheese, dry sherry and garlic salt. Mix well to combine. Fold in crab meat. Turn into a lightly greased baking dish. Sprinkle with remaining parmesan cheese. Garnish with paprika. Bake in a preheated 350 degree oven for 20 minutes or until dip is heated through. Serve with cocktail crackers. Serves 6 to 8.
Boston Lettuce and Arugula Salad with Fruit and Walnut Vinaigrette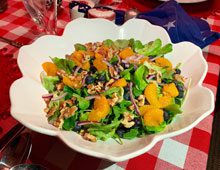 For the vinaigrette:
½ teaspoon dijon mustard
3 tablespoons red wine vinegar
½ teaspoon salt
¼ teaspoon freshly ground black pepper
1/8 cup vegetable oil
¼ cup walnut oil
For the salad:
1 small head Boston lettuce, cored and trimmed
2 cups loosely packed arugula
¼ cup thinly sliced red onion
½ cup mandarin orange slices
½ cup fresh blueberries
¼ cup toasted walnuts, roughly chopped
Place vinaigrette ingredients in a small bowl. Whisk to combine. Arrange lettuce and arugula in a large salad bowl. Top with red onion, mandarin oranges, blueberries and walnuts. Drizzle with vinaigrette before serving. Serves 4 to 6.
Huge Popovers with Herbed Butter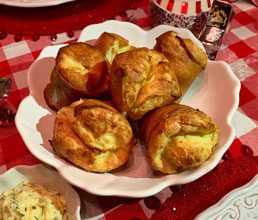 For the butter:
1 stick salted butter, at room temperature
1 tablespoon chopped fresh Italian parsley
¼ teaspoon chopped chives
¼ teaspoon dried tarragon
For the popovers:
1 cup whole milk, at room temperature
1 cup all-purpose flour
3 large eggs, at room temperature
¼ teaspoon salt
2 tablespoons cold butter 
Place softened butter in a medium bowl. Add parsley, chives and tarragon; stir well to mix. Put herbed butter in a small bowl, cover and chill until ready to serve. Before serving, remove from refrigerator for 30 minutes to soften. To make the popovers: place milk, flour, eggs and salt in a blender. It's important that the eggs and milk are not cold. If needed, warm the milk for about 30 seconds in the microwave. Blend all ingredients until the batter is very smooth. Let the batter rest for 15 to 20 minutes. Place oven rack in the center of oven. Preheat oven to 450 degrees. Spray popover pan with cooking spray. Place popover pan on a baking sheet. Place 1 teaspoon of cold butter in each cup of the popover pan. Place pan on baking sheet in hot oven for 1 to 2 minutes, just long enough to melt the butter. Do not stir the batter. Evenly divide the batter into the prepared pan. Each cup should be filled approximately halfway. Bake for 20 minutes until puffed and golden brown. Reduce heat to 350 degrees and continue baking for 10 more minutes until crispy. Do not open the oven door during baking. Serve warm with herbed butter. Serves 6.
Crock Pot London Broil with Vegetables
1 (3-pound) top round London broil
1 (10.5-ounce) can cream of mushroom soup
1 (1-ounce) package onion soup mix
20 baby carrots
8 ounces baby portobello mushrooms, halved
1 head bok choy, cut into bite-sized pieces
Place London broil, cream of mushroom soup and onion soup mix in a large crock pot on high heat. Cover and cook for 5 hours. Add carrots, mushrooms and bok choy and cook for an additional 75 minutes. Turn heat down to low until ready to serve. Serves 6 to 8.
Chive and Horseradish Mashed Potatoes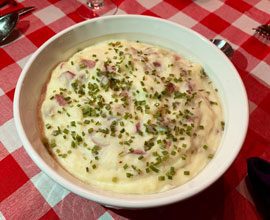 3 pounds red potatoes
½ cup butter
1 tablespoon prepared horseradish
2 teaspoons salt
½ teaspoon pepper
1 cup sour cream
1¼ cup heavy cream
¼ cup chopped fresh chives
In a saucepan, bring potatoes to a boil in enough water to cover.  Lower heat to a simmer and cook until tender, about 15 to 20 minutes. Drain.  Place potatoes, butter, horseradish, salt and pepper in a bowl. Mash until potatoes are softened and butter in incorporated.  Stir in sour cream, cream and chives.  Taste for seasoning.  Place in a lightly greased baking dish and heat in preheated 350 degree oven for 15 minutes just before serving.  Serves 4 to 6.
Publisher's Peach Pie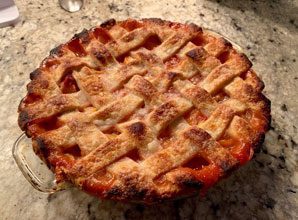 Recipe courtesy of Jeff Evans.
For the crust:
2½ cups all-purpose flour 
1 teaspoon white sugar or 1 tablespoon powdered sugar 
1 tablespoon salt 
1 cup Crisco or ½ cup Crisco and 1 stick cold unsalted butter broken into small pieces
1/3 cup plus 1 tablespoon ice water
For the filling:
2½ pounds of peaches, about 6 peaches, skinned and pitted, halved and cut into slices
¾ cup sugar
4 tablespoons cornstarch
3 tablespoons fresh lemon juice
¼ teaspoon almond extract
1/8 teaspoon salt
2 to 3 tablespoons butter
Milk or cream
2 teaspoons sugar
Whisk dry ingredients together. Cut fat into flour mixture using 2 knives or pastry blender until it has peas sized pieces mixed with course crumbs. Drizzle ice water over flour. Softly blend dough together until mixture forms a rough looking dough. Halve the dough and form each half into a thick round disk. Wrap each disk in plastic and refrigerate for at least 30 minutes or up to 2 days. (May be frozen for up to 6 months.) Preheat oven to 425 degrees and position rack in the lower third of oven. Remove the disks of dough from the refrigerator and roll one out to about ¼ inch thick and fit it into a 9-inch pie dish. Return to refrigerator. Mix together peaches, sugar, cornstarch, lemon juice, almond extract and salt. Set aside for 15 minutes. Roll out second disk of dough for the top crust of the pie. 
Remove pie pan from refrigerator and fill with peach mixture. Cut 2 to 3 tablespoons of butter into small pieces and put on top of peach mixture. Cover pie with top crust or lattice then crimp the edges and trim off the excess. Cut vents in the curst in not using a lattice top and then brush the top with milk or cream and sprinkle with sugar. Bake pie for 25 minutes. Lower temperature to 350 degrees, place cookie sheet under pie and continue baking for another 30 minutes. Let cool completely before cutting.  Serves 6 to 8.
The writer owns Catering by Debbi Covington and is the author of three cookbooks, Celebrate Beaufort, Celebrate Everything! and Dining Under the Carolina Moon. Debbi's website address is www.cateringbydebbicovington.com. She may be reached at 525-0350 or by email at dbc@cateringbydebbicovington.com.