It's that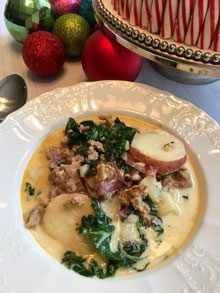 time of year again. It's time to decorate for Christmas. Don't let stringing lights and hanging ornaments become a task, turn it into an event – a Tree Trimming Party! Invite your friends and family over to help you turn your home into a festive winter wonderland. Many hands do make for light work, you know. My recipes this week are perfect for a pre-holiday soiree. If you still need a few more appetizer recipes, visit our Holiday Gift Guide. Happy Holidays!
Spicy Italian Sausage and Potato Soup
Chef's Notes: I don't peel the potatoes. The skins are tender and very healthy. If you're in a pinch for time, use frozen chopped onion. I love shortcuts!
20 ounces spicy Italian sausage, casing removed
1 cup chopped onion
2 cloves garlic, minced
2 (14.5-ounce) cans chicken broth
5 medium red skinned potatoes, thinly sliced
4 cups chopped kale
½ cup heavy cream
½ cup whole milk
Salt and pepper, to taste
Brown sausage in a large stock pot or Dutch oven. Remove sausage and drain on paper towels. Add onion to pan drippings. (You'll only need about 1 tablespoon of sausage grease to cook the onion. Remove any excess.) Cook onion until tender. Stir in garlic and cook for 1 minute. Add chicken broth and bring to a simmer over medium-high heat. Add potatoes and cook until tender, 10 to 15 minutes. Add sausage back to the pot. Stir in chopped kale. Cook until kale is wilted. Stir in heavy cream and milk. Heat through. Season with salt and pepper. Serves 8.
Cheese and Bacon Stuffed Ciabatta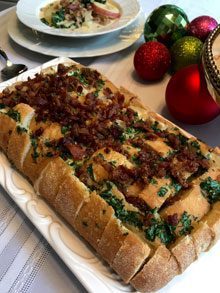 Sourdough bread is a delicious substitute!
1 (16-ounce) ciabatta, unsliced
8 ounces jalapeno-jack cheese, thinly sliced
½ cup butter, melted

1 tablespoon dijon mustard

¼ cup chopped fresh Italian parsley

Garlic salt, to taste
Preheat oven to 350 degrees. Cut the bread lengthwise and crosswise without cutting through the bottom crust. (The bread slices easier if it's a day or two old.) Place a large piece of aluminum foil on a baking sheet. Spray foil lightly with canola oil cooking spray. Place the prepared bread on the foil. Insert cheese slices between cuts. In a small bowl combine melted butter with mustard and parsley; drizzle evenly over bread. Wrap loosely in foil. Bake in preheated oven for 15 minutes. Unwrap the bread and bake for an additional 10 minutes or until cheese is melted. Sprinkle with garlic salt before serving. Serves 6 to 8.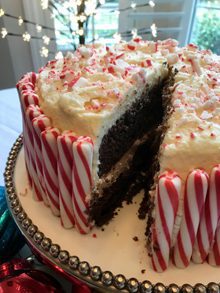 Chocolate Candy Cane Cake
For the cheesecake layer:
2 (8-ounce) packages cream cheese, softened
½ cup sugar
Pinch of salt
2 eggs
¼ cup sour cream
¼ cup heavy cream
¼ teaspoon peppermint extract
¾ cup roughly chopped peppermint candies
Preheat oven to 350 degrees. Spray a 9" springform pan with cooking spray. Place on a baking sheet. In a mixing bowl, using a hand mixer, mix cream cheese with sugar, salt eggs, sour cream, heavy cream and peppermint extract. Stir in peppermint candies. Pour into prepared pan and bake for 40 minutes or until center is set. Cool completely. Refrigerate for 3 hours or until firm.
For the cake layers:
1 dark chocolate cake mix
Prepare cake mix according to package directions. Bake in two 9" round pans. Cool completely on baking racks.
For the white chocolate ganache frosting:
2 cups heavy whipping cream
1 (12-ounce) package white chocolate morsels
½ teaspoon peppermint extract
Heat whipping cream in a microwave-safe bowl until creams begins to steam but not boil. Stir in white chocolate morsels until morsels are melted and mixture is well combined. Stir in peppermint extract. Place bowl in refrigerator for at least 2 hours. Remove ganache from the refrigerator and beat with an electric mixer until frosting is fluffy and stiff peaks form.
To assemble cake:
60 soft peppermint candy sticks
Place one layer of chocolate cake on a cake platter. Top with cheesecake layer. Place remaining chocolate cake layer on top. Frost the cake with white chocolate ganache frosting. Trim soft peppermint candy sticks to the height of the cake. Line the sides of the cake with peppermint sticks. Crush some of the broken peppermint pieces to sprinkle on top of the cake. Refrigerate until ready to serve. Serves 12.
The writer owns Catering by Debbi Covington and is the author of three cookbooks, Celebrate Beaufort, Celebrate Everything! and Dining Under the Carolina Moon. Debbi's website address is www.cateringbydebbicovington.com. She may be reached at 525-0350 or by email at dbc@cateringbydebbicovington.com.