Brunch is one of my favorite meals. I don't know why Vince and I don't host them more often. For real, what's more fun than a cocktail in morning? Fall weather has inspired me to create a fun Tex-Mex style brunch menu. Use your favorite fruits and berries to build a Mexican Fruit Salad. A hollowed-out pineapple makes a great serving dish. The entrée, Breakfast Burritos, feature chorizo and scrambled eggs. Serve them with salsa on the side to add an extra spicy kick. Tequila Sunrise is that cocktail I was referring to. If you don't care for tequila, substitute vodka or leave the alcohol out altogether. It's a beautiful beverage and will compliment your Tex-Mex spread. Happy Cooking!
Mexican Fruit Salad
1 whole pineapple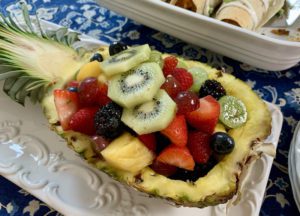 Seedless red grapes, sliced in half
Seedless green grapes, sliced in half
Fresh strawberries, sliced
Fresh blueberries
Fresh Raspberries
Fresh blackberries
Fresh kiwi, sliced
Drizzle of honey
Juice and zest of 1 lime
Dash of chili powder
Cut pineapple in half. Remove pineapple in center of each half and cut into bite-sized pieces. Place pineapple, grapes and berries in a large bowl. Drizzle with honey, lime juice and zest and dash of chili powder. Toss gently to combine. Spoon into a bowl or a pineapple boat and top with fresh slices of kiwi. Serve immediately.
Egg and Chorizo Breakfast Burritos
½ pound Mexican chorizo, cooked and drained well on paper towels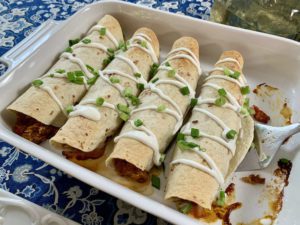 2 to 3 tablespoons butter
10 large eggs, beaten
Salt and pepper, to taste
1 (4-ounce) can green chiles
12 grape tomatoes
1 cup shredded cheddar cheese
5 flour tortillas
Sour Cream
Chopped green onions
Salsa
Melt butter in a large frying pan over medium heat. Add beaten eggs and toss to scramble. Season with salt and pepper. Add cooked chorizo and stir to incorporate. Stir in green chiles and grape tomatoes. Mix well to combine. Remove egg mixture from heat and stir in shredded cheddar cheese. Check for seasonings. Preheat oven to 350 degrees. Spray a baking pan with cooking spray. Fill each flour tortilla with egg and chorizo mixture. Place seam-side down in prepared baking dish. Bake for 30 to 40 minutes until edges are crispy and the burritos are warmed through. Garnish with sour cream and chopped greens onions. Serve with salsa on the side. Serves 3 to 5.
Tequila Sunrise
Ice
2 shots tequila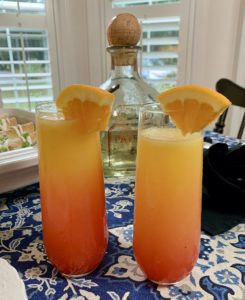 Orange juice
2 teaspoons grenadine
Fresh orange slices, to garnish
Fill a martini shaker with ice. Add two shots of tequila. Add enough orange juice to fill shaker. Shake to mix well. Pour cocktail into 2 glasses. Add 1 teaspoon of grenadine to each glass to make the "sun rise." Garnish with fresh orange slices. Serves 2.
The writer owns Catering by Debbi Covington and is the author of three cookbooks, Celebrate Beaufort, Celebrate Everything! and Dining Under the Carolina Moon. For more great recipes and to view her cooking demonstrations, visit and subscribe to Debbi's YouTube channel. Debbi's website address is www.cateringbydebbicovington.com. She may be reached at 843-525-0350 or by email at dbc@cateringbydebbicovington.com.