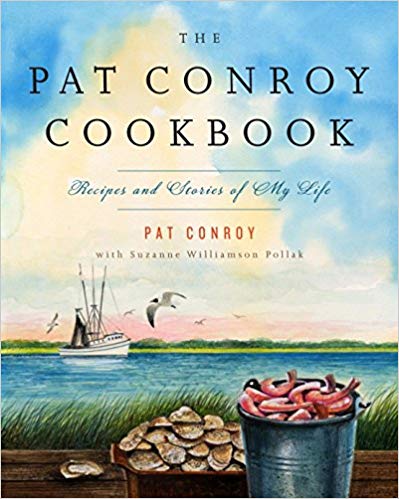 I had been reading Pat Conroy's cookbook, The Pat Conroy Cookbook: Recipes and Stories of My Life, when our telephone rang. Pat's sister-in-law, Terrye, was on the line with a request (actually, bestowing an honor) from the Conroy family for me to cater Pat's funeral reception. That happened back in March of 2016. It seemed like fate or even serendipity, that I had Pat's cookbook on my desk with a folded down corner marking Chapter 15, "Why Dying Down South Is More Fun."
Pat had already planned the menu for me. Following Pat's lead, I attempted to create a menu that represented both Pat Conroy and South Carolina. Three years later, I have the opportunity to honor Pat Conroy and his cookbook once again. On Thursday, November 21st, I'll be the Pat Conroy Literary Center Book Club guest speaker. We'll be discussing The Pat Conroy Cookbook: Recipes and Stories of My Life. As part of the program, I'll be preparing and serving several recipes selected from Pat's cookbook for tastings by the participants. Please join me at the Pat Conroy Literary Center from 5:30 until 6:30. Registration is $20 per person. Seating is limited.
Visit https://patconroyliterarycenter.org/calendar/book-club-discussion-the-pat-conroy-cookbook-led-by-debbi-covington/ by November 17thto register. This week I'm sharing a few of my favorite recipes from Pat's cookbook. I hope to see you at the Pat Conroy Literary Center on November 21st.
Shrimp Salad
(from The Pat Conroy Cookbook: Recipes and Stories of my Lifeby Pat Conroy)
1 pound large (21-25 count) shrimp, peeled and deveined
2 tablespoons mayonnaise
2 tablespoons sour cream
1 tablespoon finely minced fresh tarragon
1 teaspoon fresh lemon juice
1 teaspoon tarragon vinegar
¼ cup finely diced celery
¼ cup finely minced scallions
1 teaspoon coarse or kosher salt
½ teaspoon freshly ground white pepper 
In a medium stockpot over high heat, bring 4 quarts abundantly salted water to a rolling boil. Add the shrimp and cook until just pink, about 3 minutes. Immediately transfer to a colander and run under cool water to stop the shrimp from cooking any further (only takes several seconds, shrimp should still be slightly warm when dressed). Shake the colander to drain any excess water. In a small bowl, mix together mayonnaise, sour cream and tarragon. Set aside. In a medium mixing bowl, toss the warm shrimp with the lemon juice and vinegar. Stir in the celery and scallions. Add the mayonnaise mixture, salt, and pepper and toss to coat. Cover and refrigerate until ready to serve. Taste to correct seasoning. Serves 4.
Dunbar Macaroni
(from The Pat Conroy Cookbook: Recipes and Stories of my Lifeby Pat Conroy)
1½ cups elbow macaroni
4 onions, chopped
2 (16-ounce) cans whole tomatoes, preferably San Marzano, mashed, without their juice
¾ pound sharp cheddar cheese, grated
4 tablespoons butter
Salt and freshly ground black pepper
Preheat oven to 350 degrees. Cook the macaroni. Drain and set aside. Cook the onions in 3 cups boiling water for 5 minutes. Drain. Add the tomatoes and cook over low heat for 10 minutes, until liquid has evaporated. Add the cooked macaroni, cheese, butter, salt and pepper. Mix together and pout into a large greased casserole dish. Bake for 30 minutes, or until lightly browned. Serve hot. Serves 8 to 10.
Crème Brûlée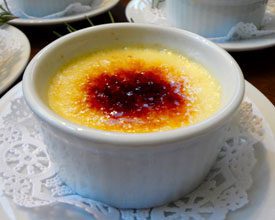 (from The Pat Conroy Cookbook: Recipes and Stories of my Lifeby Pat Conroy)
2½ cups heavy cream 
1 vanilla bean 
6 egg yolks
½ cup granulated sugar
½ cup packed light brown sugar
Position a rack in the center of the oven and preheat to 325 degrees. Pour the heavy cream into a large saucepan and set aside. Split the vanilla bean lengthwise and scrape the seeds from the inside the pod into the cream. Add the pod. Over moderate heat, bring the cream and vanilla mixture to a low boil. Remove from heat, cover, and let the mixture steep for 15 minutes. Remove the vanilla pod. In a medium bowl, whisk the egg yolks and granulated sugar until pale yellow. Slowly whisk the egg mixture into the cream. Pour into four to six shallow broiler proof custard dishes. Set the dishes in a shallow roasting pan and pour boiling water into the pan to come halfway up the sides of the dishes. Bake until custard is set, about 50 minutes. (The tops will still look jiggly.) Remove the dishes from the roasting pan and cool on a rack to room temperature. Preheat the broiler. Press the brown sugar through a fine mesh strainer onto the custards in an even layer. Wipe excess sugar from the rims. Broil about 5 inches from the heat source until the sugar liquefies, then starts to bubble and caramelize. This can take from 1 to 3 minutes. Rotate the pan to ensure even browning and be extremely careful not to burn the tops. Remove the custard dishes and cool on a rack to room temperature. Refrigerate for a least 1 hour before serving. Serves 4 to 6.
The writer owns Catering by Debbi Covington and is the author of two cookbooks, Gold Medal Winner of the Benjamin Franklin Award, Celebrate Everything! and Dining Under the Carolina Moon.  Debbi's website address is www.cateringbydebbicovington.com. She may be reached at 525-0350 or by email at dbc@cateringbydebbicovington.com.