What's more fun than a Friday night with girlfriends? Jodie Miller and I put together a Movin' & Shakin' party over the weekend to celebrate the move of Plum Productions and Susan DeLoach Photography to new locations. We invited some of our favorite moving and shaking friends to join us downtown to sample a few of my new hors d'oeuvres and to have a cocktail or two.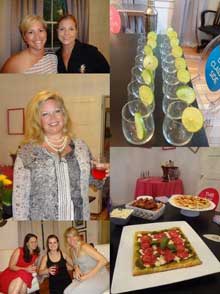 We convened at Plum Productions for the Movin' & Shakin' bash. The planned signature beverage for the evening was cosmopolitans — however, after some creative chemistry from our mixologists and the addition of "redneck coffee" (aka Mountain Dew) our new creation, Uptown Girl, was born! A beverage table with a variety of white wines and water was available for the faint-of-heart. Featured appetizers were Shrimp and Spanish Chorizo Bites; a Tomato, Pesto & Goat Cheese Tart and Bacon-Wrapped Ciabatta served with Brie & Blue Cheese Spread. A short thunderstorm kept us from partying on the porch but it didn't dampen our spirits! Celebrate Friendship! Celebrate Everything!
Shrimp & Spanish Chorizo Bites
Smoky and savory – delicious food on a stick!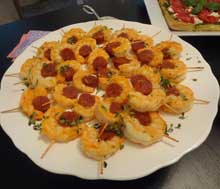 30 large shrimp, peeled and deveined
1 (5.5-ounce) package Spanish chorizo, peeled and sliced into 30 pieces
1 tablespoon dry sherry
1 tablespoon red wine vinegar
1 clove garlic, minced
½ teaspoon dried oregano
1 teaspoon fresh thyme leaves
¼ cup extra-virgin olive oil
Fresh thyme leaves, to garnish
In a gallon sized zip-lock baggie, combine the shrimp, sherry, red wine vinegar, garlic, oregano, 1 teaspoon fresh thyme leaves and olive oil. Marinate in the refrigerator for 2 hours or overnight. Skewer 1 shrimp with 1 slice of chorizo onto wooden toothpicks skewers. Repeat with the remaining shrimp and chorizo. Preheat oven to 425 degrees. Bake shrimp skewers on a lightly greased baking sheet for 7 to 8 minutes, turning after 5 minutes or until shrimp and cooked through. Transfer skewers to a serving platter and garnish with fresh thyme leaves. Serve hot or at room temperature. Makes 30.
Tomato, Pesto & Goat Cheese Tart
Best with very ripe tomatoes!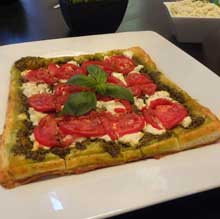 1 sheet of frozen puff pastry, thawed in the refrigerator
1 (6.7-ounce) jar prepared pesto, drained
3 medium tomatoes, thinly sliced
4 ounces goat cheese
Sea salt
Freshly ground black pepper
1 egg
Preheat oven to 400 degrees. Spray a foil-lined baking sheet lightly with cooking spray. Unfold puff pastry on center of baking sheet. Using a sharp knife, score the sides of the pastry about ½ -inch from the edges, being careful not to cut through. Spread psto evenly over pastry, staying within the scored lines. Top with goat cheese. Layer sliced tomatoes evenly over pesto and goat cheese. Season tomatoes with salt and pepper. In a small bowl, beat egg. Brush edges of pastry with beaten egg. Bake in preheated oven for 17 to 20 minutes. Remove from baking sheet and cool completely on a baking rack. Cut cooled tart into 16 pieces. Serve at room temperature. Makes 16.
Bacon-Wrapped Ciabatta
Delicious hot, room temperature, reheated or cold straight out of the refrigerator. You can't go wrong with bacon!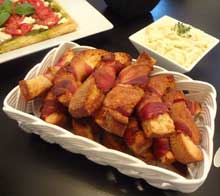 1 loaf ciabatta, cut into 16 pieces
1 pound sliced bacon
Preheat oven to 425 degrees. Wrap each slice of ciabatta with a slice of bacon. Place bacon-wrapped bread sticks on a foil-lined baking sheet sprayed lightly with cooking spray. Bake in preheated oven for 15 minutes, turn bread with tongs and bake for 15 minutes more or until bacon is crispy and bread is toasted. Cool for 5 minutes before serving. Makes 16.
Brie & Blue Cheese Spread
Two of my favorite cheeses – delicious with Bacon-Wrapped Ciabatta!
1 (16-ounce) round brie, rind removed, at room temperature
1 (8-ounce) package cream cheese, at room temperature
½ cup blue cheese crumbles
2 tablespoons chopped onion
2 tablespoons heavy cream
In a food processor, combine all ingredients. Process until smooth and creamy. Spoon cheese mixture into a small bowl and serve with crostini or crackers. Serves 12.
Uptown Girl
This is our version of a southern cosmopolitan with the addition of Mountain Dew!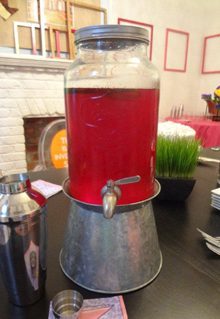 1½ ounces vodka
¾ ounce cranberry juice
½ ounce triple sec
½ fresh lime juice
Mountain Dew, to taste
Ice
Lime slice, to garnish
Combine vodka, cranberry juice, triple sec, lime juice and Mountain Dew in a martini shaker. Add ice. Shake to combine. Pour into a glass and garnish with a slice of lime. Serves 1.
The writer owns Catering by Debbi Covington and is the author of two cookbooks, Celebrate Everything! and Dining Under the Carolina Moon. Debbi's website address is www.cateringbydebbicovington.com. She may be reached at 525-0350 or by email at dbc@cateringbydebbicovington.com.