Are you planning a party? A church luncheon? Are you going to a soiree where you have to take an appetizer? Are you staying at home with family and watching Christmas movies? Whatever's happening, hungry people will certainly be involved. Earlier this week, I tested some new holiday recipes. These three are a few of my favorites. They're easy, delicious and absolutely destined to become annual requested repeats. Merry Christmas!
Christmas Tree Tea Sandwiches
Aren't these sandwiches the cutest things you've ever seen?! Best part is, they're totally easy to make and they're also yummy. You'll need assorted sizes of star shaped cookie cutters. You can buy them year-round at craft stores and online. One loaf of sandwich bread will fashion between 6 and 8 sandwiches, depending on the sizes of your cookie cutters and how many layers you choose to make.
1 (8-ounce) container refrigerated cream cheese and chive spread
1 (4.5-ounce) can chicken breast meat, drained well
Sandwich bread
Roma tomatoes
Salt and pepper
Lettuce
1 (8-ounce) block cheddar cheese, at room temperature
4-inch wooden skewers
Mix cream cheese with chicken in a small bowl. Using assorted star-shaped cookie cutters, cut out bread layers. Slice roma tomatoes, thinly. Season tomatoes with salt and pepper. To make the sandwiches, spread a thin layer of cream cheese mixture on largest bread star. Top with a piece of lettuce, and repeat with two more layers of bread stars, cream chicken mixture and lettuce, using smaller stars as you work your way up. Add a slice of tomato and another bread star, spread with cream cheese and topped with a piece of lettuce. End with a the smallest bread star. Using a very small cookie cutter, cut out a piece of cheddar cheese to top the sandwich. Room temperature is easier to cut and skewer. Cold cheese tends to break easily. Gently run a skewer through the cheese stars and skewer the entire sandwich to make a Christmas tree. Cover and refrigerate until ready to serve.
Shrimpcargot Mushrooms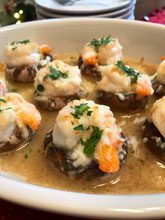 You could absolutely make this elegant shrimp dish in mini ramekins for passing at a cocktail party.
3 tablespoons salted butter
2 cloves garlic, minced
9 large shrimp, peeled and deveined (31 to 35 per pound)
9 white mushrooms, stems removed
1/3 cup shredded mozzarella cheese
Italian parsley, chopped
Preheat oven to 350 degrees. Melt the butter in a skillet. Add garlic and shrimp and cook over medium heat until shrimp just turn pink. Place one shrimp into each mushroom cap and place in a small baking dish. Spoon the garlic butter over the shrimp and mushrooms and sprinkle each with a pinch of shredded mozzarella cheese. Bake uncovered, in preheated oven, until mushrooms are tender and cheese is golden and bubbly, 15 to 20 minutes. Garnish with chopped Italian parsley. Serve with crusty bread to soak up the garlic butter. Makes 9.
Praline Crunch
Baking time may vary, depending on the humidity in the air. Just keep stirring the cereal-pecan mixture every 20 minutes until it's dry and crispy. I like to make Praline Crunch at night and then leave it in the oven after it's done (with the heat turned off) until the next morning, to be sure that the cereal and pecans are completely dry.
8 cups Crispix cereal
2 cups pecan halves
½ cup butter
½ cup light brown sugar, packed
½ cup light corn syrup
1 teaspoon vanilla extract
½ teaspoon baking soda
Preheat oven to 250 degrees. Line a large baking sheet with aluminum foil. Place cereal and pecans in a large bowl. Melt butter in a medium saucepan. Add brown sugar and corn syrup. Bring to a boil, stirring occasionally. Remove from heat and stir in vanilla and baking soda. Pour hot mixture over cereal and pecans. Gently toss to coat evenly. Pour cereal mixture on prepared baking sheet. Bake for 90 to 120 minutes, stirring every 20 minutes, until mixture is dry and crispy. Store in airtight container. Makes 10 cups.

The writer owns Catering by Debbi Covington and is the author of three cookbooks, Celebrate Beaufort, Celebrate Everything! and Dining Under the Carolina Moon. Debbi's website address is www.cateringbydebbicovington.com. She may be reached at 525-0350 or by email at dbc@cateringbydebbicovington.com.