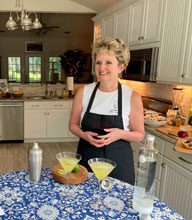 On July 22nd, I taught my very first virtual cooking class for the University of South Carolina Beaufort's Osher Lifelong Learning Institute. Hosted by USCB on Zoom from my kitchen on Lady's Island, the class of 92 students was very well socially distanced while still being able to interact with the hosts and the presenter. My dear friend, local photographer Susan DeLoach, helped me pull off the presentation.
Susan was able to rig my iPad on a rolling stand to follow me around the kitchen so that I could demonstrate the recipes and show the final delicious results. We had such a good time! Evidently, the participants did too. Susan and I have been invited to teach another virtual cooking class on September 30th. Please join us! For more information, call Erica Martin at OLLI. The recipes this week are the three offerings that were shared during our recent presentation. Happy Cooking!

Mushroom French Bread Pizza with White Truffle Oil
1 tablespoon butter 
1 pound sliced mushrooms (baby bella, button or canned)
Dash ground nutmeg
Salt and freshly ground black pepper, to taste
1 (14-ounce) loaf French Bread
½ cup jarred Alfredo sauce
1 cup shaved Parmesan cheese 
¼ cup chopped fresh Italian parsley
White truffle oil, to drizzle
Melt butter in a frying pan over medium heat. Add mushrooms and saute until tender. Season with nutmeg, salt and pepper. Drain on paper towels, if needed. Preheat oven to 350 degrees. Line a baking sheet with aluminum foil or parchment paper. Spray lightly with cooking spray. Split French bread loaf lengthwise and place on prepared baking sheet. Spread ¼ cup Alfredo sauce on each piece of bread. Add cooked mushrooms to bread. Top with shaved Parmesan cheese. Bake for 20 minutes in preheated oven. Remove French bread pizzas from oven and place on a large cutting board. Garnish with chopped Italian parsley and drizzle with white truffle oil. Cut each pizza into 8 slices, 16 slices total. Serves 8 people.

Kale and Arugula Salad with Apples and Blueberries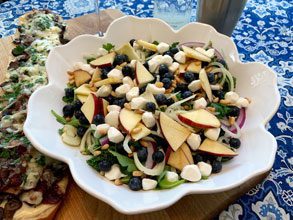 For the vinaigrette:
¼ cup olive oil
2 tablespoons red wine vinegar
1 teaspoon Dijon mustard
2 teaspoons honey
Salt
Freshly ground black pepper
For the salad:
4 cups kale
3 cups arugula
¼ cup thinly sliced red onion
½ fennel bulb, thinly sliced
½ cup fresh blueberries
½ red delicious apple, thinly sliced
1/3 cup fresh bocconcini (baby mozzarella cheese balls)
3 tablespoons pine nuts, toasted
Place the vinaigrette ingredients in a small jar with a tight fitting lid. Shake to mix well. Remove tough stems from kale, roughly chop and place in a large bowl. Add arugula and toss to mix. Add red onion, sliced fennel, blueberries, sliced apple and bocconcini. Drizzle with vinaigrette and toss to mix. Garnish with toasted pine nuts. Serves 4 to 6.

Pineapple-Coconut Martini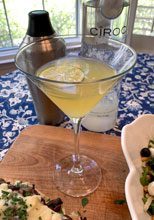 ½ cup coconut vodka
6 ounces pineapple juice
Juice of ½ lime
Thinly sliced lime, to garnish
Fill a martini shaker with ice. Add coconut vodka, pineapple juice and juice of ½ lime. Shake to mix well. Pour into martini glasses. Garnish with a slice of lime. Serves 2.
The writer owns Catering by Debbi Covington and is the author of three cookbooks, Celebrate Beaufort, Celebrate Everything! and Dining Under the Carolina Moon. Debbi's website address is www.cateringbydebbicovington.com. She may be reached at 525-0350 or by email atdbc@cateringbydebbicovington.com.