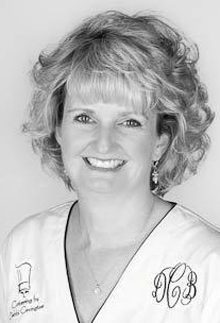 Okay, so I'm going through a "pea" phase. Last week I made cauliflower every which way but loose. This week it's peas! Not just your everyday green peas mind you, all kinds of peas. Black-eyed peas, chickpeas (actually a legume), sugar snap peas, snow peas –the list goes on! Beans and peas are part of the same plant group.
Beans are often starchier with a higher protein count and can be served as a main dish, side dish or mixed with other ingredients. Peas are a lighter vegetable and are enjoyed as a side course or combined with different foods to create a main course. This week's reci-peas are all side dishes to be enjoyed with your favorite entree. All I'm sayin', is give peas a chance!
p.s. For even more fabulous recipes follow me on Pinterest!
Seven Layer Salad
1 pound bacon
1 large head iceberg lettuce, chopped
1 red onion, diced
1 (10-ounce) package frozen peas, thawed
2 cups shredded cheddar cheese
1 cup chopped cauliflower
1¼ cups mayonnaise
2 tablespoons sugar
1/3 cup grated Parmesan cheese
Cook bacon in a deep skillet over medium-high heat until brown and crispy. Crumble and set aside. Place the chopped lettuce in a deep bowl and layer with onion, peas, cheddar cheese, cauliflower an bacon. Prepare the dressing by whisking together the mayonnaise, sugar and Parmesan cheese. Drizzle over salad and refrigerate until chilled. Serves 12.
Southeastern Hoppin' John
3 cups vegetable or chicken broth
1 (10-ounce) package frozen seasoning blend, thawed
1 medium yellow bell pepper, seeded and diced
1 jalapeno pepper, seeded and minced
2 cloves garlic, minced
1 teaspoon ground cumin
1 cup brown rice
1 cup diced smoked ham
2 (15-ounce) cans black-eyed peas, rinsed and drained
3 Roma tomatoes, seeded and diced
½ cup chopped cilantro
Combine broth, seasoning blend, peppers, garlic and cumin; bring to a boil in a medium saucepan. Stir in rice and ham; reduce heat, cover and simmer for 35 minutes or until rice is tender. Stir in black-eyed peas and simmer until liquid is absorbed. Stir tomatoes and cilantro into rice mixture just before serving. Serves 6 to 8.
Lemony Chickpeas
1 can chickpeas, rinsed and drained
½ yellow onion, diced
3 tablespoons chopped fresh Italian parsley
½ vegetable bouillon cube, finely chopped
3 tablespoons fresh lemon juice
2 tablespoons pine nuts
½ cup shredded sharp cheddar cheese
1 tablespoon milk
1 egg, beaten
4 tablespoons bread crumbs
Preheat oven to 425 degrees. Combine chickpeas, onion, parsley, ½ bouillon cube, lemon juice, pine nuts, cheddar cheese, milk and egg in a fairly small baking dish. Sprinkle with bread crumbs. Bake, uncovered, for 25-30 minutes or until bread crumbs are crispy and lightly browned. Serves 4.
Oriental Snow Peas
1 teaspoon soy sauce
1 teaspoon cornstarch
1 teaspoon sesame oil
½ pound fresh snow peas
½ cup carrots
½ cup vegetable or chicken broth
Whisk together the soy sauce and cornstarch in a bowl until cornstarch is completely dissolved; set aside. Prepare a skillet with cooking spray over medium heat; drizzle in the sesame oil. Place the snow peas and carrot in the skillet; cook and stir for 2 minutes. Pour the broth over the vegetables; bring to a boil, cover and reduce heat to low; simmer until vegetables are slightly softened, about 5 minutes. Stir in the soy sauce mixture; continue to cook until the sauce has thickened.  Serves 2.
Country Vegetable Salad
½ cup vinegar
½ cup sugar
½ cup vegetable oil
½ teaspoon salt
1 (8-ounce) can small green peas, drained
1 (12-ounce) can white corn, drained
1 (16-ounce) can French style green beans, drained
½ cup chopped red onion
½ cup chopped sweet onion
½ small green pepper, chopped
½ small red pepper, chopped
1 cup chopped celery
1 (2-ounce) jar pimentos
Combine vinegar, sugar, vegetable oil, and salt in a small container.  Set aside.  Combine and mix all vegetables in a bowl.  Pour marinade over vegetables, to taste.  Toss vegetables in marinade.  Cover and refrigerate at least 6 hours before serving. Serves 10.
Lemon-Scented Sugar Snap Peas
2 pound fresh sugar snap peas
2 tablespoons butter
2 garlic cloves, minced
1 tablespoon fresh lemon juice
2 teaspoons grated lemon rind
½ teaspoon salt
¼ teaspoon freshly ground black pepper
Cook peas in boiling salted water for 5 minutes or until crisp-tender. Drain and plunge into ice water to stop the cooking process; drain. Melt butter in a medium skillet over medium-high heat; add peas and saute for 3 minutes. Add garlic and remaining ingredients. Saute for 2 minutes more or until thoroughly heated through. Serves 4.
Black-Eyed Vinaigrette
2 (15-ounce) cans black-eyed peas
1 small onion, minced
1 red bell pepper, diced
½ cup fresh parsley, minced
½ teaspoon dried dill weed
¼ cup olive oil
¼ cup red wine vinegar
Salt
Pepper
Drain and rinse peas.  Toss gently in a mixing bowl with onion, pepper, parsley, and dill.  Sprinkle with equal amounts of oil and vinegar, until well moistened.  Season with salt and pepper to taste.  Marinate in the refrigerator for several hours before serving. Serves 6 to 8.
The writer owns Catering by Debbi Covington and is the author of two cookbooks, Celebrate Everything! and Dining Under the Carolina Moon.  Debbi's website address is www.cateringbydebbicovington.com. She may be reached at 525-0350 or by email at dbc@cateringbydebbicovington.com.