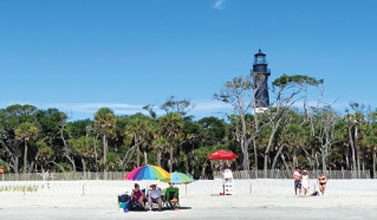 Despite flooding, hurricanes, unpredictable weather, the rugged but always beautiful barrier island remains South Carolina's shining jewel.

By Mindy Lucas
It's a weekday morning at Hunting Island State Park. Just past the fee station a line of cars and trucks has slowed to a crawl.
A recent downpour has caused widespread flooding, forcing the park to close for several weeks. It has now re-opened, though standing water covers the road making it nearly impossible to tell where the paved path begins and where the endless jungle of palms and ferns on either side ends.
Fortunately, park staff have planted markers along the shoulder, and a handwritten sign encourages drivers to keep moving. 
"It's only 3 inches. You can make it," the sign reads.
While not as damaging or unnerving as a hurricane, the flooding still serves as a subtle reminder that here, in this place most Beaufort County residents think of as their own veritable paradise, the forces of nature are always at work. 
They may go largely unnoticed to the more than million visitors who pour in to her 5,000-acres each year, marveling at her lush, maritime forests, majestic lighthouse, and unspoiled beaches, but make no mistake about it, they are definitely here.
As Park Manager J.W. Weatherford says, it's a wild, rugged barrier island. 
"And sometimes it wants to go back to that wild, rugged barrier island and does not want to be the beautiful, peaceful state park."
No one knows that better than Weatherford who stepped in to the head post in the fall of 2017, in the aftermath of Hurricanes Irma and Matthew. 
While very different storms in terms of their makeup, both left their calling cards in the form of flooding and destruction – Matthew causing the most damage.
The Category 1 hurricane, which only glanced the Lowcountry in 2016, uprooted a number of the island's trees and vegetation, destroyed bathroom facilities and washed away roads and entire dune systems. 
When it was all said and done, Hunting Island had sustained an estimated $5.5 million dollars in physical and debris damage, according to a 2018 report presented to South Carolina's House Legislative Oversight Committee.
To add insult to injury, Irma came through less than a year later. 
While it had weakened to a tropical storm by the time it neared the Palmetto state, Irma went on to leave more widespread standing water on the island than Matthew, park officials said at the time.
"I was pretty much the cleanup guy for Irma," Weatherford says, good naturedly.
The Gaffney native who has nearly 15 years of park service experience, moved into the manager's house in October of 2017, while the park was still closed from flooding.
Unlike other state parks which see very little in terms of the dramatic, sometimes volatile changes a place like Hunting Island can see, the park is known for the special challenges staff and volunteers who work there sometimes face.
"Hunting Island is a difficult park to manage and park managers know that," Weatherford said. "When you apply for Hunting Island, you know you are signing up for some challenges."
This most recent in fact, caused by an unnamed storm, had the park closed for a large part of July. The downpour started just after the Fourth of July weekend and did not quit until it had dumped 17 inches of water on the island. 
It was more rain than what the island had gotten during the 1,000-year flood of 2015, Weatherford said, making it something of an unusual rain event.
"Seventeen inches is not what you get in a normal afternoon storm," he said.
Tent campers woke to water-filled tents and parking lots began filling like bathtubs. 
About 50 campsites were soon flooded, and four of the six miles of the island's road system were covered with water – some over a foot deep. 
In places in the park where the land is below sea level, water simply had no place to go, Weatherford said.
To get water out of the parking lots and off the roads, the park rented three pumps for about $10,000 for a two-week period.
It's an effort that may seem like a lot just so visitors can to take a stroll on the beach or climb the lighthouse steps, but as one of the top revenue generating parks in South Carolina's park system, revenue from Hunting Island helps to support the entire state parks system. The park had previously been the top revenue generating property for the state until it lost about 100 camp sites from Matthew, but it remains in the top five, Weatherford said.
And when the park is closed, the loss of revenue can be felt. An estimated $2 million was lost in visitation revenue after Matthew ground operations to a halt.
Often touted as the jewel of the South Carolina Lowcountry or state park system, the park is such a prized resource that the state committed $17 million to a beach restoration project, recently completed in June.
The project, which had been in the works before Hurricane Matthew, added 1.2 million cubic yards of sand to the beach in an area that runs from the campground almost down tothe southernmost groin.
In addition, 9,000 feet of sand fencing was added, 3,000 feet of rope fencing was installed to protect dunes and mark beach entrances, 100,000 plants – a variety of dune vegetation – was planted along rebuilt dune systems, and a number of groins were repaired and capped.
The renourishment project was the largest of its kind since a similar effort in the 1980s. It's something the park tries to do about every ten years, Weatherford said.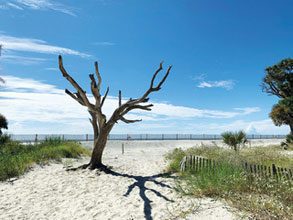 Prior to restoring the beach, the park launched a massive effort to remove trees and driftwood from a two-mile stretch on the park's north end near the lighthouse. However, the removal of the "boneyard" was not without controversy. 
Visitors and residents alike took to social media to sound their outrage at the trees' removal, while conservation organizations voiced concerns over threats the work presented to nesting sea turtles. At least one coastal geologist called it "beach destruction."
While the clearing of the boneyard set the stage for the restoration project to begin, the primary reason for its removal was out of concerns for visitor safety, Weatherford said.
From minor scrapes and cuts from run-ins with submerged, barnacle-covered tree trunks, to more serious injuries involving piercings or puncture wounds, accidents were so frequent that park staff were completing accident reports every weekend, he said.
Many times, visitors from other parts of the country or the world, unfamiliar with the unique aspects of a boneyard beach, would suddenly find themselves pushed or slammed into the underwater forest by incoming tides.
"Especially here," Weatherford said, referring to the north end, which receives the largest percentage of visitors to the park.
"So one of the most dangerous things on the beach was also at our most crowded beach access," he said. "We had to stop people from getting hurt."
The boneyard at the south end of the island, which typically receives fewer visitors or families with small children, was left intact, Weatherford emphasized.
Since the completion of the restoration project, visitors have returned to the beach in droves. In addition there have have no accidents from encounters with trees on the beach since the boneyard was removed, Weatherford stated. 
Asked if he was concerned that another storm would damage the island or take away all that recently added sand now that the 2020 hurricane season is here, Weatherford said the answer involved a bit of math.
While the island may lose a portion of sand, or so many feet from its beaches each year, project planners are fine with losing some ground to storms and erosion – as long as the rest of the island is protected.
"That's sacrificial sand," he said, pointing out toward the beach. 
"When we put that sand there, we know most of that is going to be eroded over time, and we're OK with that as long as we're not losing this property," he said, referring to the land behind the dunes where the lighthouse sits.
While the idea of beach renourishment has been controversial in itself at times, it's not only part of Hunting Island's management plan, it's part of just about every municipalities' planning where a beach is the tourist draw, Weatherford said.
"It's a preventative measure," he said, adding that the restored dunes also act as another protective element.
While it's hard to say what the damage would be to the island, or Beaufort County for that matter, if it were to endure a direct hit from a major hurricane, the dunes go a long way in protecting the rest of the island from lower grade storms or other weather events.
"Having those dunes there gives me all the peace of mind possible," he said.
It's also important to remember that barrier islands, like Hunting Island and others along the South Carolina coast, protect the mainland, he said.
"That's what it does and it does a great job of that," he said. "It has done its job very well since 2016."

A Bright Future
Visitors to the park may soon notice some additional improvements as long overdue maintenance begins in three critical areas.
First, the park's roads will be raised and paved– a project expected to begin around Labor Day.In some places the road will be raised two feet to help protect it from flooding and erosion, Weatherford said.
Then, after the road paving, construction to repair the fishing pier, which sustained heavy damage from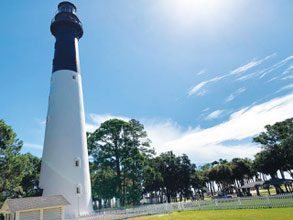 Matthew, will begin. Depending on the weather and scope of work, the park hopes to have the pier finished sometime between New Year's Day and spring of 2021.
Finally, the lighthouse will get some attention with repair work on the 160-year-old historic structure also set to begin in 2021. 
An assessment conducted by a Charleston engineering firm found that while the light house is in "extraordinarily good shape" for a structure thatis open to the public, it isin need of repairs and restoration to its brick masonry and cast iron work.
That project is expected to run between $2 million to $3 million, Weatherford said.
In addition, the park would eventually like to add back about five to 10 rental cabins, though that project is considered long-term, or something that would take place in the next three to five years.
The park lost the last of its beachfront cabins after Matthew with only one, behind the lighthouse, still intact. The cabins will be inland, however, instead of on the beach, to avoid erosion or damage fromstorms again.
And last, but certainly not least, is arguably the most exciting addition to the park system – the much talked about St. Phillips Island.
Now part of Hunting Island State Park,the 4,680-acre barrier island,has been open to visitors since June.
Purchased by the state in 2017 from media mogul Ted Turner, a proponent of conservation, the island is accessible only by boat. 
Hunting Island has contracted with Charleston-based tour company Coastal Expeditions,which offers day trips to the island. The trip includes a naturalist-led tour along the Story River to the island's dock. 
Once on the island, visitors board a tram that carries them down a canopy covered forest road to the beach where they can spend time fishing or walking or can opt to hike the island's interior trails.
"It's obviously Beaufort's newest ecotourism, and I would venture to say it's probably the best day adventure that Beaufort has now," Weatherford said. 
As he finishes ticking off the list of repair projects and new amenities in store for the park, Weatherford said by the end of 2021, it will be like having a brand new park.
"New beach, new roads, new fishing pier and new lighthouse," he said. "The future of Hunting Island is extremely bright."

For more information 
Admission to Hunting Island State Park is $8 for adults, $5 for S.C. seniors, $4 for children ages 6-15, free for children age 5 and younger. Park passes are also available. Lighthouse admission is $2 per person though must be reserved. Reservations can be made on the same day at the park, if space is available or by calling (843) 838-4868. For more information visit www.southcarolinaparks.com/hunting-island.
Day trips to St. Phillips Island are available 9 a.m. – 2 p.m. and 11 a.m.- 4 p.m., Tuesdays, Thursdays, Fridays and Saturdays. The cost is $45 for adults, $25 for children 12 and younger.For information visit www.coastalexpeditions.com/product/st-phillips-island-ferry.