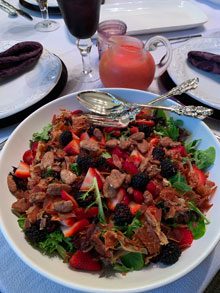 'Tis the season! The season for outdoor gatherings, that is. Spring in Beaufort is the most wonderful time of year to invite friends over for cocktails on the deck while you're grilling vegetables to go with dinner. Of course, the no-seeums will run you back into the house when it's actually time to eat supper, but that's part of Beaufort's charm. Vince and I recently hosted a dinner party for some of our Lowcountry Weekly friends.
It offered a great opportunity for me to experiment with a couple of new recipes and revisit some old favorites. I hope you'll enjoy them as much as we did. I'm already looking forward to the next gathering around our dining room table. Bon Appetit!
Mixed Greens Salad with Strawberry Vinaigrette
This is the best berry vinaigrette ever! It's quick and delicious. 
For the vinaigrette:
1 (8-ounce) package frozen strawberries, thawed in refrigerator
2 tablespoons honey
2 tablespoons apple cider vinegar
2 tablespoons vegetable oil
¼ teaspoon salt
Freshly ground black pepper, to taste
For the salad:
6 pieces prosciutto, very thinly sliced
8 cups mixed salad greens
Fresh strawberries, sliced
Fresh blackberries
Candied pecans or almonds, to garnish
In blender, process strawberries with honey and vinegar. Slowly add vegetable oil to form an emulsion. Season with salt and pepper. Refrigerate until ready to use. Preheat oven to 350 degrees. Place prosciutto on a parchment-paper-lined baking sheet, bake for 12 to 15 minutes or until crispy; set aside to cool. Place salad greens in a serving bowl. Top with strawberries, blackberries and crumbled prosciutto. Garnish with candied nuts. Serve with vinaigrette on the side. Serves 6.
Roasted Beef Tenderloin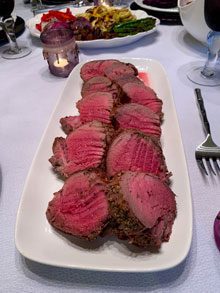 Always a favorite at dinner parties!
1 whole (4 to 5 pounds) beef tenderloin, trimmed and tied*
1/3 to ½ cup steak seasoning 
*Ask your butcher to trim and tie the tenderloin. Preheat oven to 450 degrees. Cover a baking sheet with aluminum foil for ease in cleaning. Spray foil lightly with cooking spray. Place trimmed and tied tenderloin on baking sheet. Coat all sides liberally with steak seasoning. (You can't over-season the beef tenderloin. More is better.) Place prepared tenderloin in preheated oven. Cook for 30 to 35 minutes. Remove from oven and immediately cover tenderloin with aluminum foil. Press foil around sides of tenderloin to retain the heat. Let meat rest under the foil for 30 to 45 minutes. The tenderloin will continue to cook under the aluminum foil. Transfer to a carving board and cut into slices. Serves 8 to 10.
Roasted Sweet Potatoes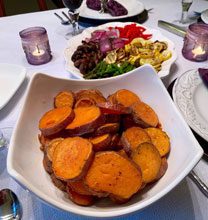 Use the smaller, skinny sweet potatoes. They're the most tender. Large sweet potatoes are often stringy inside. This is an excellent recipe to use a flavored olive oil! I love any type of citrus flavor with sweet potatoes.
4 sweet potatoes
3 tablespoons olive oil
Freshly ground sea salt
Freshly ground black pepper 
Preheat oven to 425 degrees. Slice sweet potatoes into ½-inch rounds. (Peeled or unpeeled, it's up to you. I don't usually peel my roasted sweet potatoes.) In a large bowl, toss potato slices with olive oil. Season liberally with salt and pepper. Spread potatoes, in a single layer, on a baking sheet sprayed lightly with cooking spray. Roast in preheated oven, turning frequently, until potatoes are soft and golden brown, 30 to 40 minutes. Serve hot or at room temperature. Serves 6.
Grilled Vegetables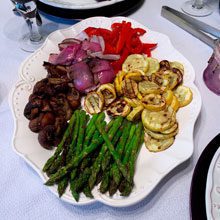 Fresh vegetables are wonderfully delicious when they've been cooked on a hot grill. Mix and match using your favorites. 
1 bunch asparagus spears, trimmed
8 ounces whole mushrooms, halved
2 medium yellow squash, sliced into rounds
1 red bell pepper, cut into strips
1 red onion, quartered
Olive oil
Coarse sea salt
Freshly ground black pepper 
Place prepared vegetables on a baking sheet. Drizzle with olive oil; season with salt and pepper. Preheat grill to medium. Cook vegetables on hot grill until crisp-tender. Serve warm or at room temperature. Serves 6.
Dark Chocolate Fruit Bites
What a healthy way to do dessert! These mendiants are made with anti-oxidant rich dark chocolate filled with fruits and nuts. Coarse sea salt makes them even more delicious.
16 ounces good quality dark chocolate
¼ cup chopped pecans
¼ cup chopped walnuts
½ cup total – dried cranberries, pineapple, mango, cherries, apricots and/or goji berries, diced
3 tablespoons toasted pumpkin seeds (pepitas)
2 tablespoons candied ginger, diced
Coarse sea salt 
Toast the nuts in a preheated 350 degree oven for 5 minutes; set aside. Chop the dried fruit and candied ginger into small chunks, set aside. Spray 2 small silicon ice cube trays with cooking spray. Melt the chocolate in a double boiler or microwave safe bowl. Remove chocolate from heat and stir in chopped nuts and fruit. Divide chocolate mixture in the ice cube trays. Sprinkle with coarse sea salt. Refrigerate for 2 hours to set chocolate. Carefully pop out of trays and store in air tight container. Makes about 20.
The writer owns Catering by Debbi Covington and is the author of three cookbooks, Celebrate Beaufort, Celebrate Everything! and Dining Under the Carolina Moon. Debbi's website address is www.cateringbydebbicovington.com. She may be reached at 525-0350 or by email atdbc@cateringbydebbicovington.com.