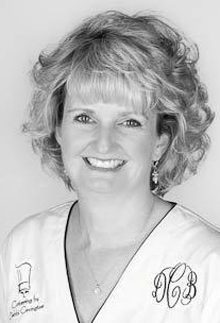 I loved cooking for my father!  Daddy's favorite foods were few in number, and as a young girl, they were the first things that I learned how to prepare.  Almost every Saturday morning, when I was in junior high, I used to bake a chocolate cake with chocolate icing.  The cake would still be warm when Daddy came in around lunchtime expecting a slice.  I can almost hear him saying "Sugar, is that cake ready yet? How about a taste?"
On Saturday nights, when I was a very little girl, Daddy would let me go outside with him to cook rib eye steaks on the grill. Sometimes we would eat in front of the television while watching Lawrence Welk and The Honeymooners and later, Hee Haw and Sanford and Son.  We always had an appetizer of sour cream mixed with dried chives served with Mister Salty pretzel sticks while waiting for the potatoes to finish baking.  My daddy loved Italian food, too! When traveling to visit my grandmother, we would often stop in Fayetteville for spaghetti, buttered Italian bread and a tossed salad – always with French dressing.  One of Daddy's favorite foods was potato soup.  He actually used to eat it spooned over slices of white loaf bread!  Growing up in Wilson, barbecue capital of North Carolina, pulled pork barbecue was a staple. Family dinners from Parker's Barbecue were typically "combination" dinners that included fried chicken.  Daddy always requested a "long leg." (A thigh or breast was out of the question!)  After dining, Daddy would pass out miniature York Peppermint Patties to everyone in our party.  He liked his coffee hot and black. He ate crumbled cornbread and milk out of a glass. And, he had a knack for leaving a trail of Hershey's Kisses (better known as "silver points") wrappers around the house and tangerine peels in the decorative dish on the coffee table.  I miss cooking for my Daddy!  The last time that I cooked for my father was during his birthday weekend in September of 2008.  He requested a coconut pie. I baked two (one to eat, one to share) and of course, he ate both of them.  I have very happy memories of cooking for my daddy and would like to share the recipes for some of his favorite foods with you.  Happy Father's Day to our fathers everywhere, the ones here on earth and the ones in heaven!  
French Dressing
2/3 cup ketchup
½ cup white vinegar
¼ cup sugar
2½  teaspoons dry mustard
1 teaspoon salt
¾ teaspoon pepper
1 teaspoon Worcestershire sauce
1 cup vegetable oil
Combine first 7 ingredients in the container of an electric blender; process until smooth.  Drizzle oil, ¼ cup at a time, processing after each addition.  Cover and chill for a least 2 hours before serving.  Yield: 2 cups.
Granny's Summer Salad
½ cup cider vinegar
3 tablespoons sugar
¼ teaspoon salt
¼ teaspoon pepper
6 medium sized tomatoes, seeded and diced
3 large cucumbers, peeled and diced
Mix vinegar, sugar, salt and pepper in a small bowl.  Place tomatoes and cucumbers in a salad bowl.  Drizzle with the vinaigrette.  Cover and refrigerate until ready to serve.  Serves 6.
Tarheel Hushpuppies
1 cup cornmeal
½ cup all-purpose flour
2 teaspoons baking powder
½ teaspoon salt
½ cup minced onion
1 egg, beaten
1 cup milk
Vegetable oil, for frying
Combine first 5 ingredients in a mixing bowl.  Add remaining ingredients; stir well.  Let batter sit for 5 minutes.  Drop batter by tablespoons into deep hot oil (375 degrees).  Cook only a few at a time; turning once.  Cook 3 to 5 minutes or until golden.  Drain on paper towels.  Serves 6.
Potato Soup
2 cups finely chopped sweet onion
2 tablespoons butter
4 cups chicken broth
2 cups baking potato, peeled and diced
¼ teaspoon salt
1/8 teaspoon ground white pepper
1/3 cup whipping cream
2 tablespoons minced fresh chives
Saute onion in butter in a large Dutch oven until tender and barely golden.  Stir in broth, potato, salt, and pepper; bring to a boil.  Reduce heat and simmer, uncovered, 15 minutes or until potato is tender.  Process half of potato mixture in container of electric blender until smooth.  Repeat with remaining mixture; return to Dutch oven.  Stir in whipping cream. Heat through. Garnish with fresh chives. Serves 6.
Outer Banks Clam Chowder
1 pint clams
4 slices bacon, diced
1 small onion, chopped
1 cup clam liquor and water
1 cup diced potatoes
½ teaspoon salt
Pepper
1½ cups whole milk
½ cup heavy cream
Chopped parsley
Drain clams and save liquor.  Chop clams; set aside.  Fry bacon until lightly brown.  Add onion and saute until tender.  Place bacon and onion in a medium saucepan.  Add clam liquor and water, potatoes, seasonings, and clams.  Cook for about 15 minutes, or until potatoes are tender.  Add milk and cream; heat.  Garnish with chopped parsley. Serves 6.
Eastern North Carolina Barbecued Pork
1 (3 to 4) pound Boston butt pork roast
1 cup cider vinegar
1 teaspoon black pepper
2 cups cider vinegar
¼ cup crushed red pepper flakes
Black pepper
Place pork in a Dutch oven with 1 cup vinegar, 1 teaspoon black pepper, and enough water to cover.  Bring to a boil.  Reduce heat.  Partially cover and simmer for 2 to 2½ hours.  Preheat oven to 300 degrees.  Drain pork.  Place on a rack in a roasting pan.  Bake for 2½ hours or until meat is very tender.  Brush every 15 minutes with sauce made by combining 2 cups vinegar, red pepper, and black pepper.  Remove pork from oven.  Serve with remaining vinegar and pepper sauce. Serves 6 to 8.
Coconut Pie
2 (9-inch) frozen pie crusts, thawed
4 eggs, beaten
1¾ cups sugar
2 cups whole milk
¾ butter, melted
¾ cup all-purpose flour
1 tablespoon vanilla
2 cups flaked unsweetened coconut
This recipe makes two 9-inch pies. Prick the sides and bottoms of pie crusts and bake in a preheated 350 degree oven for 10 minutes until lightly browned. Remove from oven and cool. Combine all ingredients in a large mixing bowl and stir until well blended. Divide the mixture evenly between the two pie crusts.  Bake at 350 degrees for 30 minutes or until golden brown.  Chill before serving. Serves 12.
Sour Cream Coffee Cake with Spiced Peaches
2 (29-ounce) cans sliced peaches in heavy syrup, undrained
1 teaspoon cornstarch
½ teaspoon ground cinnamon
½ teaspoon ground cloves
¼ teaspoon grated orange rind
1/8 teaspoon ground nutmeg
1/8 teaspoon ground allspice
1 (18.25-ounce) box yellow cake mix
½ cup sugar
¾ cup oil
1 cup sour cream
4 eggs
3 tablespoons brown sugar
3 teaspoons cinnamon
1 cup chopped pecans
2 tablespoons milk
½ teaspoon vanilla
1 cup powdered sugar
Drain peach halves, reserving syrup; set peach halves aside.  Combine syrup, cornstarch, and next 5 ingredients in a small Dutch oven.  Bring to a boil, stirring constantly.  Reduce heat.  Add peach halves and simmer 1 minute.  Remove from heat and cool.  Cover and chill peaches up to 24 hours.  In a medium mixing bowl, combine cake mix and next 3 ingredients; mix well.  Add eggs, one at a time, mixing well.  In a separate bowl, combine brown sugar, cinnamon, and pecans.  Sprinkle half of sugar mixture into greased and floured Bundt cake pan.  Pour half of batter over sugar mixture.  Add remaining sugar mixture. Top with remaining batter.  Bake at 350 degrees for 50 to 60 minutes.  Cool cake on a wire rack for 15 minutes before removing from pan.  Mix 2 tablespoons milk, vanilla, and powdered sugar together.  Pour over cake while still warm.  Serves 10.
The writer owns Catering by Debbi Covington and is the author of the cookbook, Dining Under the Carolina Moon. Debbi's new cookbook, Celebrate Everything! will be released in June 2012. Debbi's website address is www.cateringbydebbicovington.com. She may be reached at 525-0350 or by email at dbc@cateringbydebbicovington.com.