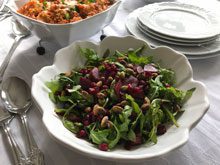 What a crazy-busy time of year we're in the midst of! While we're all rushing around in an attempt to make the Christmas holidays perfect for our friends and families, we often don't take the time to catch our breath and enjoy this happy season. At least that's how things are at my house. Between the parties, decorating, community events and family stuff, I find that Vince and I are either eating out way too often or eating junk food too late at night.
Tonight we're going to stay home (and it's a Saturday!), watch Christmas movies on television and eat an easy-to-prepare, healthy and delicious supper. All three recipes this week are brand new to my repertoire. They're perfect for a weeknight meal, a Sunday luncheon or even a Christmas Eve supper. Take some time for yourself. Eat a good meal and have a healthy and happy December.
Beet and Pomegranate Salad
1 (15-ounce) can beets
1/3 cup pomegranate arils
3 cups baby arugula
2 tablespoons tangerine balsamic vinegar
Roasted and salted pistachios
Rinse and drain beets; chop roughly into bite-sized pieces. In a salad bowl, mix beets with pomegranate arils and balsamic vinegar. Toss with arugula. Top with pistachios before serving. Serves 2 to 4.
Lowcountry Shrimp Pie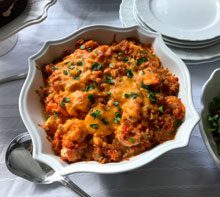 1 1/2 pounds shrimp, peeled and deveined
1/2 (10-ounce) bag frozen seasoning blend (onions, celery, bell peppers)
1 (14.5-ounce) can diced tomatoes
4 slices bread, crumbled
2 cups shredded sharp cheddar cheese, divided
10 drops hot sauce
1 tablespoon Worcestershire sauce
1/4 teaspoon sugar
Salt and pepper, to taste
Chopped fresh Italian parsley, to garnish
Cook shrimp in boiling water until just pink. Place in a large bowl with thawed seasoning blend. Process tomatoes and bread in a food processor. Add bread mixture to shrimp and vegetables. Stir in 1 1/2 cups shredded cheese, hot sauce, Worcestershire sauce, sugar, salt and pepper. Spoon mixture into a greased 1 1/2 quart casserole dish and top with remaining 1/2 cup of cheese. Bake, uncovered, in a preheated 350 degree oven for 30 minutes or until bubbling. Garnish with chopped parsley before serving. Serves 6 to 8.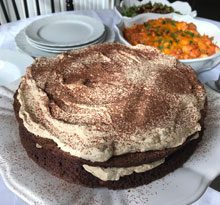 Mocha Brownie Torte
1 (18.4-ounce) package fudge brownie mix
1/2 cup finely chopped walnuts
1 1/2 cups heavy whipping cream
1/3 cup light brown sugar, packed
1 tablespoon instant espresso powder
Cocoa powder, for dusting
Preheat oven to 350 degrees. Grease and flour two 9-inch layer cake pans. Prepare brownie mix according to package directions; stir in nuts. Spread mixture into prepared pans. Bake 25 to 30 minutes. Cool 5 minutes in pans; remove from pans and cool completely on wire racks. In a chilled bowl, beat whipping cream until it begins to thicken. Gradually add brown sugar and instant espresso powder; continue beating until stiff. Fill layers with cream mixture. Frost with remaining cream mixture. Dust with cocoa powder. Chill for at least one hour before serving. Serves 10 to 12.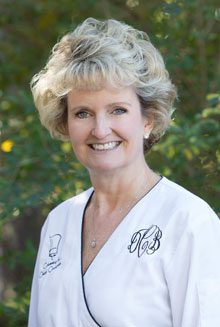 The writer owns Catering by Debbi Covington and is the author of two cookbooks, Gold Medal Winner of the Benjamin Franklin Award, Celebrate Everything! and Dining Under the Carolina Moon. Her NEW cookbook, Celebrate Beaufort, will debut in April 2018. Debbi'€™s website address is www.cateringbydebbicovington.com. She may be reached at 525-0350 or by email at dbc@cateringbydebbicovington.com.